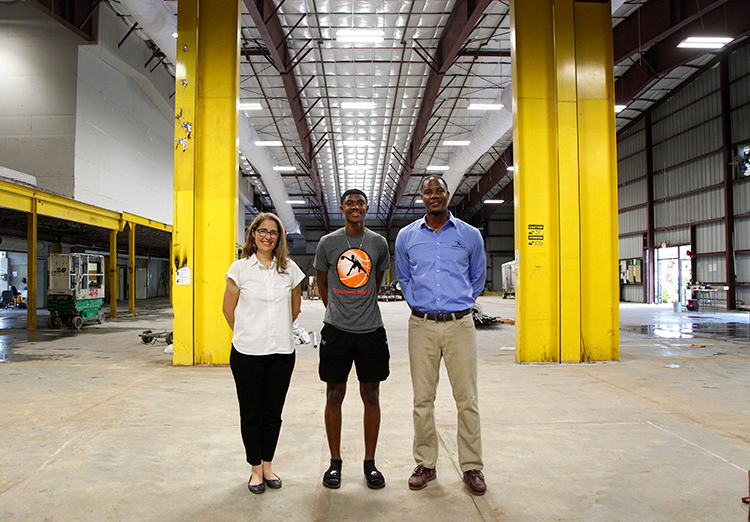 Crossover Mission is continuing to grow, quite literally, in leaps and bounds. The nonprofit organization, founded in March 2014 by Antoine Jennings and Cathy De Schouwer, motivates at-risk students through basketball, using athletics to advance academic excellence.
To meet current growth and expand into the future, Crossover is in the process of refurbishing a 30,000-square-foot former citrus packing house, so that athletics and academics can be housed in one location.
Phase One of the multi-phase project has been funded and includes laying flooring on the ground floor, which will primarily be their sports area, installing indoor stairs to the second level, where academics will be housed, and putting in a firewall there.
"We expect that to all be finished by mid-October, which means we hope to have a temporary certificate of occupancy at that time, so we can use the basketball court," said De Schouwer, Crossover's executive director.
Phase Two is the build-out of the academic area, partially funded through a 2021 Impact 100 grant, which they hope to have completed by February. A downstairs café area already has some appliances and furnishings but will likely not be completed until Phase Three.
With the project underway, they are now in the quiet phase of a Capital Campaign to buy the building. Its $2 million purchase price was part of their three-year lease-to-buy agreement. It was signed in March 2020, just as COVID hit, which slowed everything down.
"We hope to accomplish that by the end of this calendar year, whether it's partial like a mortgage or collecting likeminded people who are willing to invest in it now," said De Schouwer. "Because of all the investment in the building, we need to buy it, whether we mortgage it or not, because you can't invest millions in something you don't own."
As Crossover grew, their programs were frequently on the move. Academics are currently housed in office space on 14th Avenue owned by the Banack family, which also owns the warehouse.
"They've been awesome," said De Schouwer.
Basketball takes place in the gyms at Gifford Middle School and occasionally Oslo Middle School, as school schedules allow.
"We often are there on the weekends; Sundays are a very usual day for us to be there practicing," said De Schouwer.
There are now 78 students, ages 8 to 18, in their weekly mentoring and basketball program, and they hope to have 90 by year's end.
About a dozen are girls, described as "amazing athletes." Jennings, Crossover's chief operating officer, said they plan to have a girls basketball team in the spring.
"The middle school group is growing dramatically and that's good because we like to start them young, in upper elementary," said De Schouwer. "The earlier you get them, the more they get accustomed to the academic structure of what we do, and they're training earlier, so their skillset is rising faster."
An adult basketball league is being formulated, consisting of program alumni ages 18 to 21, and they often host large camp groups, either their own or with the school district. Still others sign on to their competitive travel teams, minus the academic portion of the program, but they must maintain strict academic and attendance standards.
"I think the majority of the kids originally come here for basketball and then over time they start developing interests and understanding the importance of academics," said Jennings.
"They don't see it at first; we have to convince them that academics are important. And then you see the shift. They build confidence and see that all their hard work and effort has paid off."
Older students often mentor the younger ones, sharing their own experiences about the commitment and sacrifices needed to succeed.
"So everything that we try to teach them in the beginning, that they seem to resist, towards the end they really get it. There's a sense of gratitude and appreciation for all the people that have helped them along the way," said Jennings. "But I think the bigger part is their sense of belonging and family. We're all really close; our staff, the kids, mentors. I think that's the part that really keeps them here. It's almost like home away from home."
"When we lost Bidensky (Termidor), the young man who drowned, there was even a closer bond that formed," said De Schouwer. Termidor, a Saint Edward's School graduate and one of Crossover's founding student athletes, was a beloved "rising star" at the time of his tragic death. "Kids we hadn't seen in a while, all the way back, they all came back. It was amazing.
There's this very interesting connection that we all feel."
Initially, Jennings said, staff would corral the students for activities and encourage them to support each other. Now they do it on their own, carpooling or walking together to attend games.
"It's really amazing to see how much they've bonded together and to see the newer kids identifying with them. They're already picking it up," said Jennings. "I think that the new kids are going to buy into the program a lot more easily, because the others have already laid the foundation."
Students who are now in college or working continue to stop by or attend games when they're able.
"And then, of course, while they're in college, we are very much in communication, because they still have constant needs," said De Schouwer.
One of their more motivating activities has been taking students to summer basketball camps; this year at Florida State University. Additional funding from an angel donor enabled them to double the number of students.
"We had 23 that went to FSU this year and it was awesome; it was so awesome," said De Schouwer. "It was just wonderful for them to meet the coach and work with the players. The players were their coaches, so when they watch FSU on TV this year, they can say, 'I know that guy!'"
Students stayed on campus in dorms, and during dinner they talked about everything from what it takes to get into FSU, including coping with the extensive application, financial aid and scholarship processes, to the overall college experience.
Their own sons, AJ Jennings and Louis De Schouwer, set the creation of Crossover Mission in motion in 2013, when Jennings began training Louis in basketball alongside AJ.
AJ graduated from Saint Edward's this year and is now playing basketball for Northland Community College in Minnesota. De Schouwer said Louis, who graduates from St. Edward's this year, will likely attend FSU.
After visiting larger university settings, Jennings said his son was among those opting for colleges with smaller, more personal class sizes.
"Some of them, well I think all of them, wanted Division 1 schools in the beginning. And then they started feeling like, maybe Division 1 is not for me," said Jennings, adding that many smaller and junior colleges are becoming feeder schools for athletics.
De Schouwer said they continue to cultivate interested supporters, financially and as volunteers willing to academically mentor students and help them reach their full potential through positive guidance.
To schedule a tour of the facility, call Jennifer DeHaven at 772-257-5400 or, for more information, visit crossovermission.com.
Photos by Kaila Jones