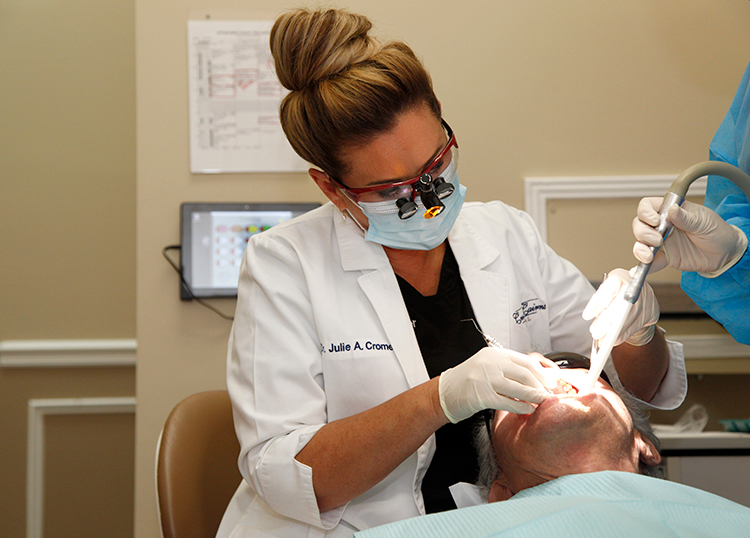 Dr. Julie Cromer, of Cromer and Cairns Dental, learned early on that there's more to dentistry than just fixing cavities.
Good oral health is important to overall health, with gum disease linked to a wide range of secondary health problems, including dementia and heart disease. Teeth, too, are critically important to health – they are needed to properly chew and digest food and are an important factor in self-image and social confidence. For those reasons and more, when teeth fail, people don't want to go without them for an extended period of time while dentures or partials are being made in a distant lab.
To meet that need, Cromer and Cairns Dental has its own in-house lab which can cut the time to make the dentures from a couple of months at an outside lab, to a couple of weeks.
Having an in-house lab allows the dentist to take impressions of your teeth and oral tissues and control each step, eliminating the need to refer them out for fabrication of the restoration or appliance. With her in-house lab, Dr. Cromer has complete quality control over your treatment from beginning to end, accurately and precisely customizing your restoration using advanced, leading-edge technology.
"A lot of dentists don't like doing partials or dentures because if you have a situation where the lab is not right there, it can be difficult," Dr. Cromer said. "Over the years my lab technician and I have perfected the process and we are able to do what we need to do in-house and make it a very quick turnaround. We can make any adjustments right here without having to send it back and forth to an outside lab. We also use the best materials to give the most natural appearance."
Having your dentures made in house also gives you the ability to change the look and fit immediately. Some patients will try them on and decide they want to make the front teeth larger or smaller or shift the arch forward or backward.
With an in-house lab, those modifications can be made on the spot to achieve a better look and fit. Wearing dentures is a huge adjustment and Dr. Cromer spends as much time as needed to assure a flawless fit and appearance.
Finding a dentist with an in-house lab is important when it comes to denture repairs, too.
People drop their dentures and don't have the time to stay home toothless while their dentures are being sent out to a lab. At Cromer and Cairns Dental they can get them fixed the same day and be at a dinner party that night. They can even modify the fit of a denture constructed elsewhere.
"Veneers and crowns fit over the tooth, so we do send those out to a lab in Jacksonville," explained Dr. Cromer. "We used to do them on-site but we found the strength wasn't quite as good as when they were fired overnight. That being said, the turnaround time is still very quick, and I will construct a temporary crown, so the patient is never without a tooth. Our patient's self-esteem and confidence are just as important as their dental health."
The atmosphere in Dr. Cromer's office is calming and serene and she has been chosen to work with the Veterans Administration in Orlando and West Palm Beach to treat veterans' dental needs. "We see veterans with PTSD, and they are anxious and sensitive to loud noises. We calm them with compassion and understanding, and while we do have valium for sedation, about 99 percent of them will get the work done without medical intervention. It's all about making them feel comfortable."
Choosing the right dentist shouldn't be taken lightly. You should trust your dentist to look out for your best interest and listen to your concerns, whether it's about routine checkups, cosmetic dentistry or a dental emergency. Of course, you'll want a dentist whose office is easy to access from your home with convenient office hours. And you may want to find one with its own in-house lab. You can ask a trusted friend or relative for a suggestion or check with your local dental society for a referral. Visit the office and meet with the dentist to get a feel for your comfort level and a scope of their services.
In addition to general dentistry, Dr. Cromer and her 10 female colleagues offer an array of cosmetic and dental services and surgeries including bridges, composite bonding, dentures, dental implants, dental fillings, Invisalign, teeth whitening, tooth extractions and emergency dentistry.
Dr. Julie Cromer graduated from West Virginia University School of Dentistry and has practiced dentistry in Florida since 2005. She opened Cromer and Cairns Dental in Vero Beach in 2011 and is committed to providing her patients with the best dental and oral services in Vero Beach. She welcomes you to stop in her office at 1225 U.S. 1, Suite 3, in Vero Beach, or call 772-562-5051 for an appointment.