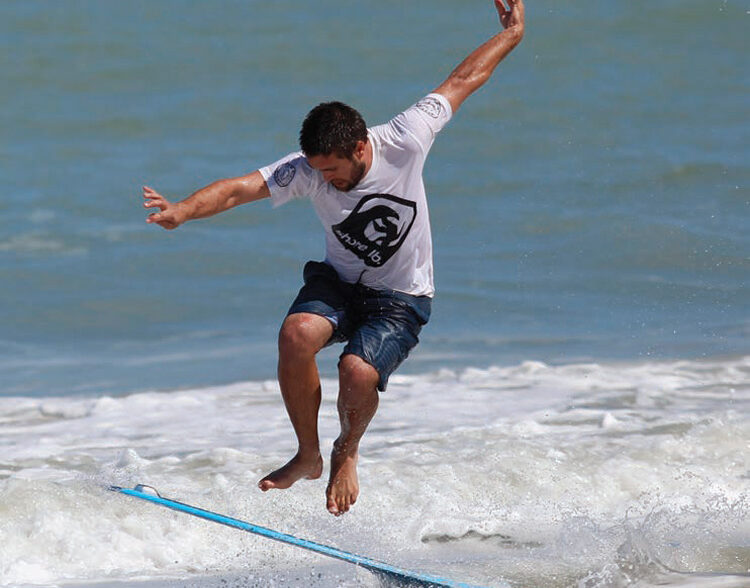 The best way to begin Labor Day weekend in Vero Beach might by mellowing out to a casual, relaxed First Friday Gallery Stroll. This is the monthly event where you find art lovers gathering in a congenial manner to amble through Vero Beach's Historic Downtown Arts District. Dip into galleries, enjoy some refreshments and see what's new. Chat up some artists. Meet new people. See and be seen. You can even settle into some inviting restaurants for a leisurely drink or dinner. And, most of all, take your time. The event runs 5 p.m. to 8 p.m. Friday, Sept. 3 along 14th Avenue, from 19th Street to 23rd Street. All the galleries open are free to the public.
Both amateur and professionals will be showing off their skimboarding skills at the 14th Annual Mulligan's Skim Jam Saturday morning at Sexton Plaza in Vero Beach. This the final skim contest of the season for the Skim USA Tour. It attracts board skimmers from around the world. The event is hosted by "shore lb." By the way, "shore lb." is surfer slang for the way waves crash onto the beach. Learn more about that organization and see some of its "merch" at shorelb.com. The competition begins 9 a.m. Saturday at Sexton Plaza, 1050 Beachland Blvd. Registration is online at https://liveheats.com/events/5758. Riders will meet at 8:30 a.m. The awards ceremony will be held 6 p.m. Saturday at Walking Tree Brewery, 3209 Dodger Rd., Vero Beach. There will also be raffles and other prizes handed out at the awards ceremony. For more information call 772-360-7166 or visit shortlb.com.
And speaking of Walking Tree Brewery, that business is loaded with things to do. Here's what's happening there in the next few days alone: Stay Rooted Running Club, which meets there 6:30 p.m. to 7:30 p.m. every Thursday; the Souljam band, which plays cover tunes and its own songs 8 p.m. to 11 p.m. Saturday, Sept. 4; Vero Vintage WV Meet-Up invites those with a love of vintage "VeeDubs" to meet up from 5 p.m. to 8 p.m. on the first Tuesday of every month; Harry Potter Trivia Night 6:30 p.m. Tuesday, Sept. 7; Tacos & Trivia Tuesdays, 6:30 p.m. to 8:30 p.m. Tuesdays; Brews & Bingo 6:30 p.m. to 8:30 p.m. Wednesday, Sept. 8. Whew! Just reading this could make you thirsty for a nice cold one. Call 772-217-3502 or visit WalkingTreeBrewery.com.
If a more sedate activity appeals, then consider a lesson in SUP – Stand Up Paddle Boarding. You can learn SUP basics from a PaddleFit certified coach 9:30 a.m. to 10:30 a.m. this Saturday at Sea SUP Go, 40 Royal Palm Pointe, Vero Beach. The cost is $10 per person. The organization supplies all the equipment needed. They teach in the quiet, protected cove alongside their shop. You'll learn how to get on and off that paddleboard, basic paddle stroke and more. Space is limited. Call 772-217-8708 or visit SeaSUPgo.com.
You have until Sunday, Sept. 5, to see the Christo & Jeanne-Claude exhibit at the Vero Beach Museum of Art. You can also get a museum experience by visiting its website, VBMuseum.org, which is easy to navigate and filled with engaging items in its "Museum Extras" menu. "Anke's Art Moment" serves up weekly short videos in which museum's senior curator, Anke Van Wagenberg, highlights artwork from either the museum's collection or from an exhibition, such as her discussion on Christo and Jeanne-Claude's iconic project of "Surrounded Islands" in Miami's Biscayne Bay. "Flick Picks" presents museum films studies coordinator Diane Thelen suggesting films, most current of which is the uplifting and inspiring "Edie," in which a widow shuns her family's desire for her to move into a senior living community and instead sets out to hike the Scottish highlands. "Museum Stories" presents Miss Jane speaking to young children about art, such as her charming video about Christo and Jeanne-Claude's wrapping of the Arc de Triomphe. "Art Tutorials" are short video lessons by various instructors who help you wake up that inner muse. "A+ Art" has a collection of longer videos designed for teens and young adults on the Autism spectrum or those with special needs. The Vero Beach Museum of Art is at 3001 Riverside Park Dr., Vero Beach. Call 772-231-0707 or visit VBMuseum.org. Regular hours are 10 a.m. to 4:30 p.m. Thursdays through Saturdays, and 1 p.m. to 4 p.m. Sundays. Admission is $8 general, $7 seniors, free to members, children and active military. The museum is closed on Labor Day.