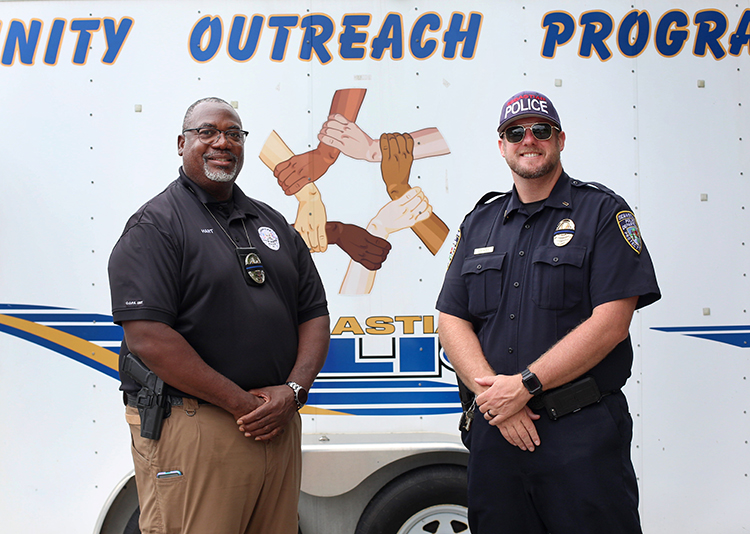 The Sebastian River Area Chamber of Commerce was battling a trifecta of obstacles at this year's recent Grill Out Night – the rising number of COVID cases, blustery wind and showers from Tropical Storm Fred and, as if that wasn't enough, paraskevidekatriaphobia (a fear of Friday the 13th).
However, while the number of participating businesses and eventgoers were each fewer than in years past, those who did persevere enjoyed a really nice night on the town. At this year's Polynesian-themed event, SRA Chamber businesses opened up their doors and welcomed people in with an assortment of nibbles, drinks and entertainment.
Most visitors stopped by the Chamber's Pelican Porch Visitors Center first to pick up a map of participant locations as well as what goodies each was offering.
"The Chamber is here to support our local businesses," said Cheryl Thibault, the Chamber's operations director. "This year it's a little smaller than it has been in the past because of the rising COVID cases, but people are still out having fun."
The Sebastian Police Department parked its Community Policing Trailer in the parking lot of the Visitors Center, where they offered popcorn and icy snow cones.
"Our job is to go out into the community with our outreach trailer to enhance the relationship between the businesses, the community and law enforcement," said SPD Officer Donald Hart, noting that they also support organizations such as Toys for Tots, Shop with a Cop and local food banks, and they teach young children and women how to be safe through their Rad Kids and Rad Women programs.
Having just opened San Telmo's Décor in December 2020, Grill Out Night was a great way for co-owners Manuel Lopez and Jorge Buffa to introduce themselves and their lovely shop to visitors. Located in Sebastian's Village Square, the boutique showcases art – some of it local – antiques, vintage items and décor. An exhibit of artists from Cuba, Spain and Miami will be featured there beginning Sept. 11.
The Hair Tiki was the furthest from the main participant area so, in addition to offering burgers, family-friendly mocktails and chances to spin and win merchandise, they had a drive-thru option for anyone worried about the pandemic.
Pareidolia Brewing and Mash Monkeys Brewing each made special brews for the occasion – a Coconut Blonde Ale and a Pina Colada Kolsch, respectively, and each were doing a brisk business.
"We're finding out a lot about Sebastian that we didn't know," said Carol Ernst, while trying her hand at playing cornhole in the parking lot of Mash Monkeys Brewing.
Mission accomplished – that was just what the Chamber had hoped for.
For more information, visit sebastianchamber.com.
Photos by Kaila Jones