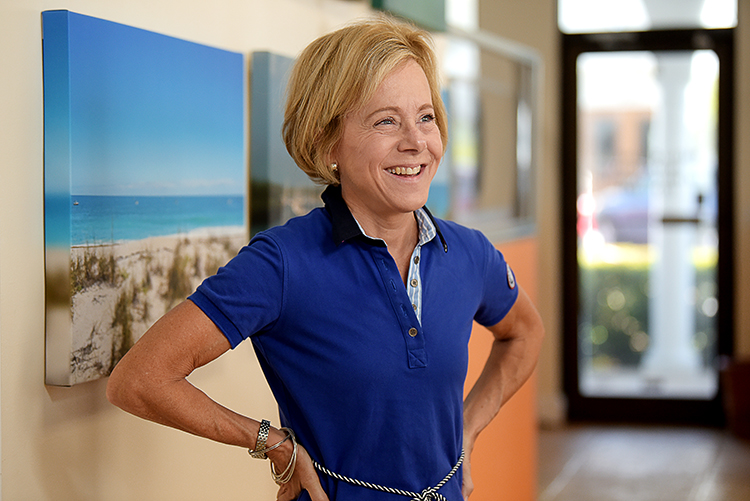 With the rise of the all-cash buyer and the intense competitiveness of the Vero real estate market these days, buyers who put a mortgage contingency in their home purchase offer don't stand much of a chance of getting the keys, according to island broker Sally Daley.
"We are seeing buyers lose out, time and time again, when they make their offer contingent on loan approval," says Daley. "These are good, qualified buyers, putting 20 percent down or going FHA, with the ability to make the mortgage payment.
"They do their homework and get a pre-approval, but they keep losing the deals because sellers don't want to take the risk that the loan won't go through or will be delayed for some reason – not when they have a cash buyer waiting in line with no risk."
To reduce this "friction in the market," Daley began to sketch out a concept for a new type of bridge loan that would help her mortgage-contingent buyers compete, planning to take her idea to Bill Penney at Marine Bank to see if he could help.
"That was on a Thursday last month, but before I could put everything together, literally just a few days later, I came across an article about Knock and realized someone had already come up with a product to meet the need."
Knock, one of the growing crop of "proptech" companies popping up around the country, offers a program called Home Swap that essentially makes buyers who need a mortgage into cash buyers.
The company approves a buyer based on the value of their current home and their credit file, fully underwriting the loan so that the buyer can offer cash when they make a purchase contract.
The underwritten loan is not tied to a specific purchase property so buyers can search the market for what they want, knowing they have a certain amount of cash on hand.
When the buyer finds a house, "the loan is attached to that collateral," says Daley.
Knock also helps in other ways, providing up to $25,000 in an interest-free equity advance to help with a deposit, fix up the buyer's current home, or pay the mortgage on the old house so the buyer isn't stuck paying two mortgages.
"The great thing about the equity advance is, you can move into your new home and have work done on your old home while you are not living there to spruce it up, so it sells for top dollar," says Daley. "You don't have to keep the house perfectly straightened up all the time for constant showings while trying to live your life with kids and pets and jobs and activities."
Buyers have to have 30 percent equity in their current home to qualify for the advance.
Home Swap is well-suited to Vero's current residential real estate conditions in ways that go beyond competitiveness in a tight, high-speed market.
Under normal market conditions, most people would be afraid to go out on a limb and buy a new house before their old house sold, but today, with houses selling at break-neck speed, fear of getting stuck with two homes/mortgage payments long-term is greatly reduced.
Also, Knock provides a backup offer at the beginning of the transaction to buy the old house for a specified price at the end of six months if by some chance it doesn't sell.
Daley and her six agents have taken classes to learn about the program and just became Knock-certified agents.
She says she has not done any home swap deals yet but is "talking to a number of interested buyers" who are considering it.
Knock was started by CEO Sean Black and COO Jamie Glenn, both part of the team that founded Trulia, which went public in 2012 and was acquired by Zillow for $3.5 billion in 2014.
According to TechCrunch, Knock has raised over $430 million in venture funding and another $170 million or so in debt.
Earlier this year, the company hired Goldman Sachs to advise it on an IPO intended to raise another $400 million to $500 million through an initial public offering at a valuation of about $2 billion, according to Bloomberg and TechCrunch.
Knock, headquartered in New York and San Francisco, launched its Home Swap program in three cities in July 2020, and Black told TechCrunch demand for its targeted mortgage loans has "exceeded all expectations."
The company expected to be operating in 21 markets by the end of 2021 but already has expanded into 59 markets in 11 states, including 16 markets in Florida.