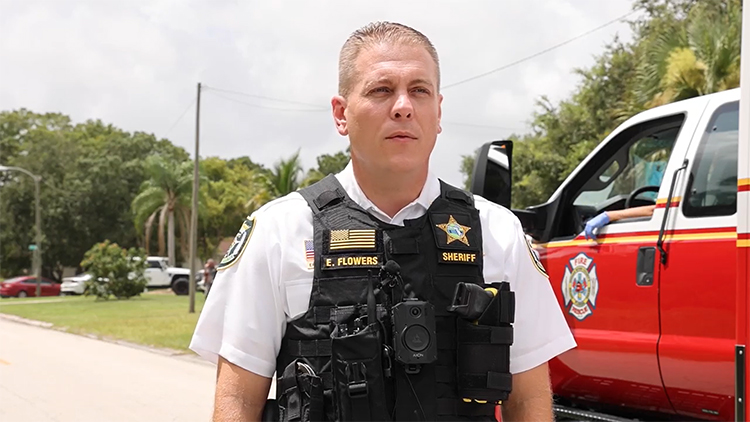 INDIAN RIVER COUNTY — No injuries were reported after crisis negotiators were able to convince a man – threatening suicide with a gun – to peacefully surrender, sheriff's officials said.  
Deputies said the unidentified man had barricaded himself inside his home. The sheriff's Hostage Negotiation Team talked to the man for more than two hours before he surrendered, Indian River County Sheriff Eric Flowers said.
"Today is a great day because we're walking away with him alive," Flowers said in a Wednesday video update posted to the agency's Facebook page. "He's going to get some help today."
Sheriff's officials said the incident happened about 11 a.m. Wednesday at the residence in the 2400 block of 17th Avenue in south county. Flowers said deputies responded to reports of a disturbance about a relationship.
Deputies were able to remove a woman from the home and get her to safety. Flowers said the man in the residence had a firearm and threatened suicide by cop.
Sheriff's officials blocked off the roadway in the immediate area for about four hours.  Deputies evacuated nearby homes.
Several sheriff's patrol vehicles, a fire rescue ambulance and another fire rescue vehicle could be seen in the area.
911 dispatchers initially talked with the man over the phone. Crisis negotiators then spoke with the man when they arrived on scene, Flowers said.
"Everyone is safe. There were no shots fired," Flowers said. "I'm really proud of the efforts of our team. They did an amazing job. Their training kicked in."
The man eventually surrendered to deputies. Residents were allowed back in their homes about 3 p.m.
Photos by Nick Samuel