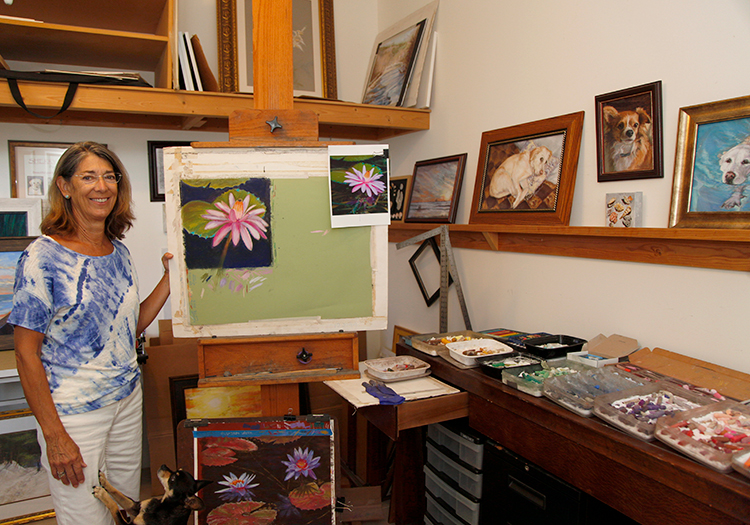 When they're young and starting out in life, some individuals will put their artistic talents on the back burner, choosing instead to follow more conventional courses in order to pay the bills. But for award-winning artists Chuck and Sherry Haaland, following the paths of their creative abilities was a smart decision that brought in money as it expanded their worlds.
A digital photographer, Chuck Haaland is the latest addition to the Artists Guild Gallery on 14th Avenue in Downtown Vero Beach, where Sherry, a pastel artist, has been a member for a few years.
Photography became a second artistic career for Chuck, whose initial vocation was building furniture.
His introduction into carpentry began in the 1980s, assisting his father in building houses in Connecticut. At his father's urging, Chuck experimented in woodworking, and soon began making wooden decoys with an antique look to them, as well as furniture items such as coffee tables, chairs and desks.
In his early entrée into commissioned work, a storeowner asked him to make a large table for $300, which at the time Chuck thought was a pretty nice price. He quickly wised up.
"I used to just drop them off at the store," he recalls. "One day, the salesgirl showed me the invoice. It was like $2,500 for this table that he was giving me $300 for. So I tripled my price."
Haaland says that day changed him. He began making coffee tables and offering them for $1,000. They sold like hotcakes. "I was making them as fast as I could make them."
He sold his creations in high-end boutiques in Greenwich, Conn., and it was there that one of his coffee tables attracted acclaimed actress Glenn Close, who was renovating a home in nearby Bedford Hills, N.Y. She asked to meet the artisan who made it, and she soon became his No. 1 customer.
"She had just done 'Fatal Attraction,'" Chuck says. "She was building a farmhouse and I said, 'Meet my dad.' He got the job. That was a three-year re-do of the house. It was an incredible journey. I ended up making everything in her house. The whole house was almost built around my little coffee table."
Chuck would eventually build numerous other furniture pieces for her homes, and soon after she asked him to manage her properties when she was away. It evolved into a relationship that lasted 25 years. In a letter, she called him "one of the most gifted craftsmen that I have ever met."
Their affiliation was so warm and convivial, in fact, that Close invited Chuck to be one of the 15 townspeople sharing the stage with her when she hosted "Saturday Night Live" in 1992.
You can see her opening monologue on YouTube; Chuck is the young man in the center, wearing a red flannel shirt.
There's also the vivid memory of Close inviting the couple to the premiere of the 1996 movie "101 Dalmatians." Close even loaned Sherry a Geoffrey Beene outfit.
"It was a party to die for," Chuck says. "We were plopped down in the midst of all this glamor."
While Chuck was expanding his career as a craftsman, Sherry, who had always wanted to be an artist, was managing a sign shop.
"My mom used to send us in the summer to a lady down the road who did classes," Sherry says. "There was one painting I did of forsythia. My mother liked it and had it on her secretary forever and ever. I was so proud of that."
At the sign shop, Sherry hand-lettered custom signs and would sometimes find opportunities to embellish the signs with a bit of art.
"For me, it was like I needed to produce something I knew could make money," she says.
"When I moved down here, I told myself I wasn't going to get a full-time job. I was going to do my art. Luckily, that's what happened."
The two have a natural, easy-going relationship marked by some affectionate teasing when recalling how they began dating.
They grew up in Mahopac, N.Y., and went to the same small high school, where they were not a couple but did know each other casually. In fact, Chuck was dating Sherry's best friend.
Chuck says he was "more quiet and reserved" in high school, whereas Sherry was a baton twirler for the school's football team.
During their college years, they returned home for a visit and, at a party, rekindled their friendship.
"I was with my girlfriend who used to date him, and she was like 'No, I don't want to be with Chuck,'" Sherry says. "When she said that, it was like, open."
They married in 1979.
The couple moved to Vero Beach in 2006, and while Chuck worked as a carpenter for the Windsor Club, Sherry, who received a B.S. in art education from State University of New York at New Paltz, taught art at schools throughout Vero.
It wasn't until he retired that Chuck became fully engaged in photography, although his interest in it actually began when he was about 7 years old. At the time, his father was remodeling the country home of famed photographer Carmine Schiavone.
"(Schiavone) was big back then," Chuck says. "He gave me a bunch of stuff – a big enlarger for black and whites, an old camera, a tripod. I learned how to develop pictures in a darkroom I made under the cellar stairs. They came out good."
Today, Chuck experiments with printing, primarily printing his vivid, color-saturated images on a special aluminum medium, but canvas and fine art paper have also caught his eye.
His photography has won him awards, including First Place in the manipulated imagery category at the 2019 A.E. Backus Museum & Gallery "Through the Eye of the Camera," the gallery's annual juried photo exhibition.
Not to be outdone, Sherry won Third Place at the Backus' "Best of the Best" juried art exhibition in 2012 in her category, and has won a First Place award for pastel/graphics in the Vero Beach Art Club's 2013 and 2016 Art by the Sea shows, held annually at the Vero Beach Museum of Art. She is now co-chair for that event.
Visitors to the gallery are drawn to their art, says Fran San Miguel, treasurer of the Artists Guild Gallery.
"Sherry does a lot of commissioned work of people's pets," she says. "Chuck does wonderful photography. He manipulates it, plays with the colors, experimental about the way he has it printed. It's quite striking."
Photos by Kaila Jones