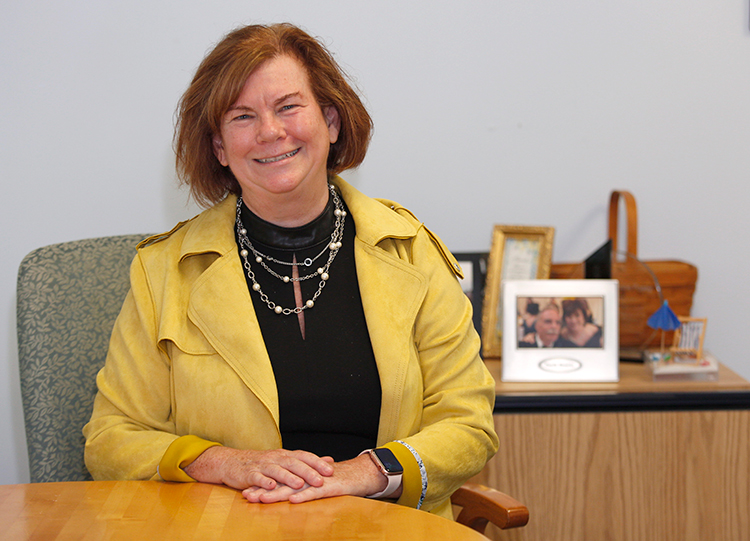 When Olympic star Simone Biles withdrew from competition due to mental health issues, it shocked the world. But the spectacularly talented U.S. gymnast is far from being the only athlete who has struggled or is struggling with mental or emotional problems.
And these problems are not limited to elite athletes. Kids participating in high school and college sports and younger children competing in sports like gymnastics can face similar issues.
"It's more common than you might think," said Anne Posey, director of the Behavioral Health Center at Cleveland Clinic Indian River Hospital. "The most important thing to remember about athletes is that they are people, too. A lot of athletes are coming forward about pre-existing mental health issues and how they've struggled over the years with anxiety and depression."
While Posey has never met or treated Biles, her own daughter competed in gymnastics, so she is familiar with the sport and the dangers that can come with it. "A gymnast has to make their brain and body connect. Sometimes when they are under a great amount of stress with different things going on in their lives, their brain can kind of shut off and they lose where they are in the air," she said. "When they are trying to twist in the air you have to have a good body awareness. Years ago, it was called balking, today it's called twisties. Kids are not able to perform stunts they had done every day. It's a mental block."
There's a lot of pressure on these athletes to perform, not only in sports but in their public lives. These Olympic games were especially difficult because athletes' families weren't allowed to attend, the athletes had very limited movement outside of their bubble, and they were constantly being tested for COVID.
"The fact that they could be tested and be COVID-positive weighed heavily on these athletes," Posey said. "Everything they worked their whole lives for could be over. It actually did happen to a few of them.
"Then you have the added pressure of social media where fans freely voice how they feel about your performance. Everyone thought Simone Biles would come in and dominate like it was a walk in the park. There is a huge amount of pressure to power through. If they have trouble coping, they are considered to not have the heart of the champion. Yet if they compete with a mental or physical injury, they can end up ending their career or worse their lives."
Such was the case with Elena Mukhina, a Russian gymnast who broke her neck doing a skill so dangerous it is now banned. She actually told her coach she was going to break her neck doing that stunt, but her coach responded that people like her did not break their necks.
The 20-year-old felt she couldn't refuse. She knew what the public expected of her as the star of the upcoming 1980 Olympic Games. Less than a month before the Moscow Games, Mukhina underrotated the maneuver and landed on her chin. She was permanently paralyzed and died in 2006 at the age of 46 from complications of quadriplegia.
The history of women's gymnastics is filled with stories of athletes who sustained life-altering or life-ending injuries after being pressured to attempt skills they knew they couldn't do safely.
Happily, Simone Biles had the courage to say 'no more' when she lost her bearing in the middle of a vault and barely landed on her feet. She knew it was too dangerous.
"There's a lot of stigma around athletes that they are supposed to push through at all costs," Posey explained. "If a gymnast has the twisties, they can turn to mental health counseling so they can compete better. Competition has been the focus instead of the pressure and issues they are coping with that may be the real cause and need to be evaluated and treated."
These mental lapses happen in all sports, not just gymnastics. High school athletes often struggle with identity and their entire self-image is tied to their sport. Excelling in a sport might be their ticket to college or means to support a family. There is a lot of pressure competing at a in their sport while going to school and oftentimes working, too.
"Being an athlete is a full-time job," Posey said. "They go to school full time. They have to maintain a certain grade point average and they may train six days a week for four hours a day. That's not counting the competitions in and out of state. People don't understand the level of pressure on these kids.
"Add to that the disappointment of a high school athlete not getting a college scholarship, and that athlete may have trouble adjusting. After all, for years they've been devoting themselves to perfecting their sport and now that opportunity is gone."
One in five adults in the United States live with mental illness in normal times, and according to the CDC the number has increased to two in five since the onset of the pandemic.
"Thirty-three percent of college students experience depression and anxiety, and of that group 30 percent will seek help," Posey continued. "Yet only 10 percent of the college athletes will get help. Athletes are human. They are not superheroes. They have their own lives, their own struggles and their own challenges. Yet many perceive mental health problems as a weakness."
Athletes, their families and their coaches need to recognize that anyone can have mental health issues. They need to help the athlete maintain a healthy balance and engage in activities away from their sport. They also need to help the athlete understand that their identity is more than how they compete in their sport. Parents, teachers and coaches should watch for warning signs like seeing their athlete anxious or depressed, or having trouble eating, sleeping or concentrating. And they should make the effort to talk to them about what is going on.
"When someone has a heart attack or stroke, we know what to do," Posey added. "But when we see someone having a mental health challenge, we're very uncomfortable, so we don't know how to talk to that person or help them. Mental Health First Aid (www.mentalhealthfirstaid.org) is a skill-based web training course that teaches participants about mental health and substance abuse issues. It teaches you how to talk to someone you think may need help. Knowing what to say could save a life."
"Generally, an athlete is able to work through the mental break with time and support," Posey concluded. "In Simone's case, she needed to go back to the basics. Fortunately, mental health treatment is becoming more accepted, and people now realize that the safety of the athlete should be paramount whether the injury is physical or emotional."
The Behavioral Health Center is an inpatient psychiatric hospital and a Baker-acted receiving facility. Cleveland Clinic Emergency Room will see mental health walk-in patients 24/7, but not all are hospitalized. After an evaluation they may be referred to other mental health facilities with less restrictive rules. The Behavior Health Center will soon be starting a new outpatient program for adolescents as a way to keep them out of the hospital. Behavioral Health Center professionals also engage in community outreach programs to create awareness about mental health problems and treatment options. The Behavioral Health Center is located at 1190 37th St., Vero Beach. The phone number is 772-563-4666.