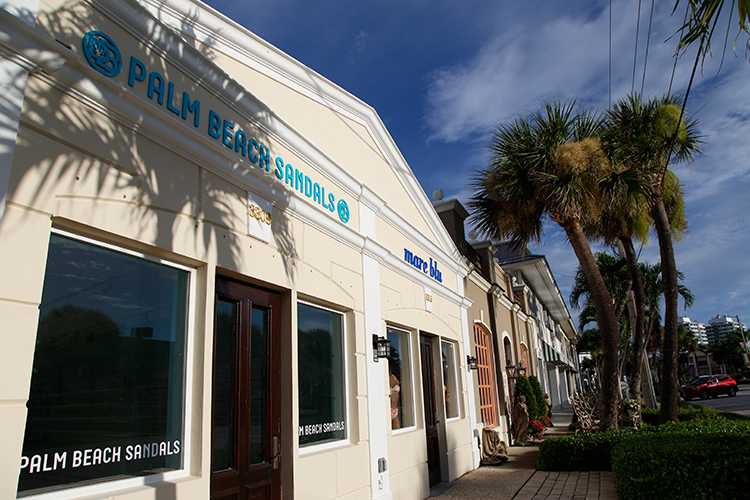 It is a great time to own commercial property in Vero Beach. Lease rates weren't knocked down by the pandemic, demand for retail and prime office space is surging, and property values are rising, according to commercial real estate brokers and owners.
The boom appears to be driven by many of the same factors pushing the Vero housing market to record heights – a continuing influx of wealthy people fleeing large urban areas and bringing their purchasing power and business activities to the Treasure Coast.
This migration includes executives looking for satellite office space and entrepreneurs launching new businesses to meet demand for goods and services that's growing along with the population.
The good times are most apparent on the island but extend to the mainland as well.
"Leasing activity right now is the strongest I have seen in my career," says developer and landlord Michael Rechter, who owns two large plazas on U.S. 1. between 17th Street and 12th Street.
"We were worried last April and May, but the market surprised us. We typically stay pretty full, 90 to 91 percent leased up, but now it is more like 98 percent leased, which is a huge difference.
"More new businesses are being funded than ever and there is almost no vacancy in our Vero centers," says Rechter, president and CEO of Fort Lauderdale-based Integra Real Estate Company, who has approximately 100 Vero tenants occupying half a million square feet of retail and restaurant space.
"We don't get reports from every tenant, but the ones we know about are doing very well."
On the island, Josh Stalls, managing member of Backus Land Management, says "we have filled up in the past two months and we continue to get phone calls every day from people looking for space. We are starting wait lists."
Backus owns three properties on the island, including Pelican Plaza on A1A and buildings on Cardinal and Dahlia, with 74 office, retail and restaurant tenants.
"Everybody seems to be very positive," says Stalls. "I can't tell you how many times I have heard from people that they are having their best year ever. We have seasonal people we usually find office space for, but we may not be able to find them those 4- to 6-month leases this winter the way we have in the past."
Commercial real estate brokers see the same picture.
"The market is very active," says Derek Arden, a broker with Avison Young Commercial Real Estate who handles many of the leases on Ocean Drive. "We have filled a lot of the vacant space in the past few months."
"Retail vacancies on the beach are few and far between," says Billy Moss, a broker with Lambert Commercial Real Estate who specializes in retail and restaurant properties. "You see a lot fewer for-lease or for-sale signs these days."
Lease rates are strong, too, as much as $50 per square foot in prime island locations and as high as $35 per foot on Miracle Mile.
"Landlords have stuck to their asking prices," says Moss.
The busy leasing environment is driven by favorable economic conditions, according to Bill Penney, president and CEO of Marine Bank & Trust.
"Commercial real estate is local, based on the strength of the local economy, and Vero's economy is very strong," says Penney, basing his assessment on the unemployment rate, housing starts, housing values and other metrics tracked by Marine Bank, which has a loan portfolio equally split between residential mortgage loans and business loans.
"We haven't seen the negative impacts we feared going into the pandemic," adds Penney.
"Big retail is struggling, but neighborhood centers are doing well, hospitality is doing very well and there is strong demand for office space."
"Office space is probably the most challenging segment in commercial real estate today" in many locations, says Mike Yurocko, vice president/broker at SLS Commercial Realty & Development.
"Fortunately, we don't have an overbuilt market, especially on the island. I represent the owner of the Transocean office building and we are getting close to full. I'd say there are fewer office vacancies today than before the pandemic began. The influx of people moving here is creating great demand in a place with static supply. You have people opening satellite offices and if they live on the island, they prefer to have their office on the island, too, so they are close to home."
"Even with all the home offices, many people moving down here want a small office outside the house where they can work in peace," says Moss. "There are still some office vacancies on the island – some tenants moved to the mainland, where lease rates are lower, and others have downsized.
"But the beach remains attractive for many businesses, such as financial services companies that have clients on the island who don't want to have to drive across the bridge."
Surging demand is pushing commercial property values higher, too – though it is difficult to come up with a clear-cut percentage of increase.
Arden says commercial property sales on the island are rare, which makes it hard to compute a precise trend line, and even those buildings that are sold are scattered around in distinct sub-markets where values are inherently different. Property values – and lease rates – are much higher on Ocean Drive in Central Beach than in other parts of the island, for instance, so it doesn't do much good to compare a sale there to a prior sale a mile north or south along A1A.
The best way to get a sense of what is happening with values is to compare a recent sales price with the prior sales price of the same building. But even going that route is a challenge because the details of many commercial real estate transactions are masked in county property records, which often show a building changing hands for $100.
Nevertheless, the records that are available do indicate an upward trend. For instance, a small office condo at 3418 Ocean Dr. in central beach that sold five years ago for $300,000 is currently listed for $625,000, more than double the last sales price, and a small retail property at 3309-3315 on Ocean that includes two storefronts is listed for $2.5 million, more than four times the last recorded sales price.
That prior sale was nearly 20 years ago, so it's hard to read too much into the price increase, but the building certainly has not lost value.
Moss says buildings that are "move-in ready" are commanding the highest prices, with end-users, including national tenants, willing to pay a premium for finished space instead of facing the escalating costs and long delays involved in building or extensively remodeling a property.
"Oh yeah, existing buildings have gained value," says Penney. "The time and cost to build have gone up and if you are in need of space you're probably willing to pay a premium for move-in ready."
"Right now, prices are very high … probably overheated, in my opinion," says Rechter.
At the same time, Rechter thinks the current economic boom and good times for commercial real estate "will keep going for the foreseeable future – at least the next couple of years."
"We watch carefully for hints of bubbles and haven't seen any indications," says Penney.
"All the bubbles in history, right back to the Tulip Mania in the 17th century and including the stock market crash of 1929, have come after periods of easy financing. Today, mortgage underwriting is more realistic. You don't have the very easy access to financing that preceded all prior bubbles."
"The inflow of people is what will keep us going," says Moss. "With more people you have more revenue, and you still have a lot of people coming down, which is why it is still a seller's market."