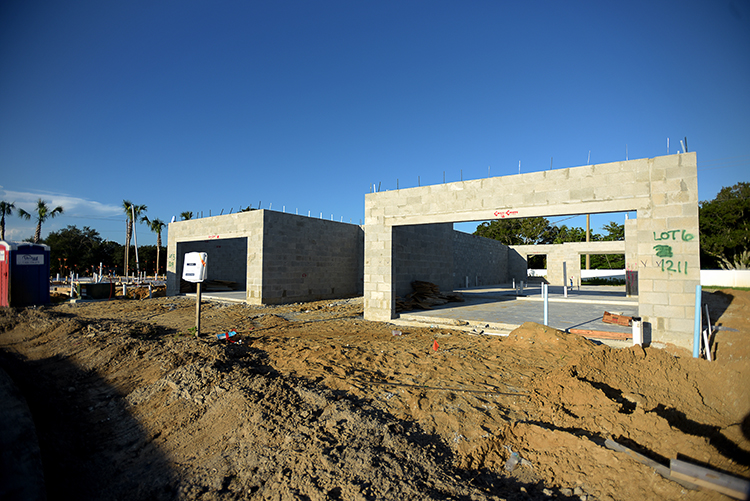 Five years after an ambitious developer bought an 8-acre tract on 12th Street near downtown Vero Beach, construction is finally underway on 54 townhouses at Preston Estates.
The long-awaited construction comes a month after national homebuilding giant Lennar Homes purchased the project from its original developer, Nicholis Rauch-Heine of NHR Homes, paying $3.1 million for the finished lots and subdivision infrastructure, which includes a circular road and small lake.
Lennar signs are now prominent at the site on the north side of 12th Street just west of Old Dixie Highway and numerous slabs have already been poured. The block walls of duplex structures are rising, and air conditioning and plumbing hook-up work is under way.
Although Lennar so far has declined to provide details about its plans or timeline, Rauch-Heine says he has heard that the homebuilding giant is considering renting rather than selling the units.
All a Lennar customer representative would say about that possibility was "we haven't even had a meeting about it yet."
Rauch-Heine bought the undeveloped tract for in 2016 for $572,000, according to county records. His original plans for the duplex townhouses included homes ranging from 1,300 to 1,600 square feet with 1- or 2-bay garages, 2 bedrooms and 2 baths or 2 bedrooms and 2.5 baths, starting at $199,000.
Rauch-Heine, a third-generation member of a South Florida real estate family, announced details of the project in early 2019. The land was cleared that February and installation of infrastructure began shortly afterward, but the project almost immediately ran into a series of delays.
First, some 20 endangered gopher tortoises were found and had to be carefully extracted and relocated. Then there were problems with getting needed roadway access and delays in the plan-approval and permitting process.
As holdups continued, Rauch-Heine decided to put the subdivision on the market as a finished site with ready-to-build lots for $3.3 million – reserving the option to go ahead and build it himself if no buyer emerged.
That seemed to be the route he was going in November 2019 when Rauch-Heine told Vero Beach 32963 he was "back on track," with plans to complete site work by early 2020, go vertical thereafter and complete the project by the end of that year.
But then came the pandemic and another lengthy delay, leaving Preston Estates at a standstill with weeds sprouting up to obscure the cleared lots.
Activity eventually resumed at the site and infrastructure work was finished in recent months. Now, with the sale to Lennar, the subdivision appears to be on track for completion within the next year, based on Rauch-Heine's original build-time estimate.
When they move in, residents of Preston Estates will be within walking distance of shops and restaurants on 12th Street, U.S. 1 and Old Dixie Highway and not very far from the pubs, shops, restaurants and galleries of Vero's downtown art and dining district.
Profitable for Rauch-Heine, the Preston Estates venture is not the developer's first in Vero.
His Bridgehampton subdivision, a community of 29 single-family homes priced between $300,000 and $400,000 on the north side of State Road 60 across from Sonny's BBQ, is one home away from being sold out, he says.