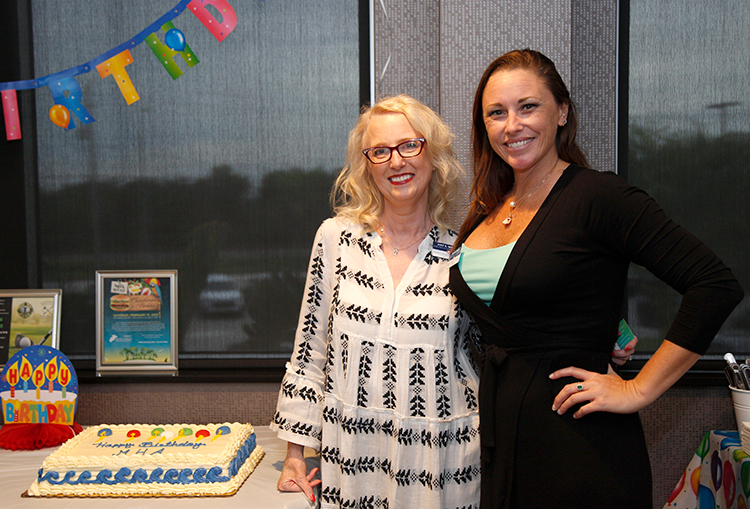 The Mental Health Association in Indian River County teed up an evening of fun recently, with a 63rd Birthday Par-Tee at Big Shots Golf. Attendees swung away in support of the MHA's mission to "provide immediate access with no barriers to mental health care."
"Everyone missed a birthday in 2020, including us," said Sheana Firth, MHA director of marketing, adding that the celebration was, in essence, a birthday party for everyone.
"We are the frontlines of mental health in our community, and we've been doing that for 63 years now," said MHA CEO Philip Cromer, Ph.D. "Now more than ever, it's critical to have the support of the community. There is a tremendous need for mental health services in Indian River County and all over the world right now."
In the wake of the pandemic, the need for mental health care has increased exponentially, becoming even more acute than before, said Cromer.
"The shutdown and staying in the house for three months affected everyone's mental health.
For those without good coping skills and mechanisms, it sent them into a critical point in their lives," said Cromer, adding that there has been a noticeable increase in drug and alcohol use as well as suicides.
What makes the MHA different, said Cromer, is that they offer free walk-in screenings, and no one is ever turned away.
His goal is to increase their psychiatric services, provide additional support for children in schools and in after-school programs, and offer continuing education to local mental health professionals.
The MHA is also in the process of developing additional programs to support individuals suffering from anxiety or depression, and creating treatment platforms that meet everyone's comfort levels by offering in-person, telehealth and virtual access.
Their Veterans Support group was launched last spring once COVID restrictions were lifted. Participants meet each Wednesday, and on every third Wednesday they have added guided meditation.
Another new edition to the program is Health Talks, a series of free informational presentations by local mental health professionals on various topics, which is offered in-person at the Intergenerational Center.
The MHA has partnered with Friends of the Sebastian Inlet to hatch a plan to raise mental health awareness and to encourage people to visit the great outdoors as a way to reduce stress. A 5-foot TurtleTrax sea turtle, painted by artist Steve Diossy, will be displayed on the grounds of the Sebastian Inlet State Park.
"There is a really strong correlation between being in nature and mental health. There is so much in nature that calms your spirit and helps center you," said Firth.
The MHA is also teaming up with other nonprofits to shine a light on mental health.
"As the saying goes, 'We're all in this together,'" said Amy Wagner, director of fund development.
Wagner said they are partnering on Oct. 4 with the Indian River Firefighters Benevolent Association to host an inaugural Golf Tournament, and on Nov. 7 will partner with the American Gold Star Mothers of IRC for the third annual Walk-A-Thon for Military Suicide Awareness.
"I think there is definitely power in numbers," said Wagner. "I'm so very proud that the MHA is involved with both of these very important causes."
For more information, visit mhairc.org.
Photos by Kaila Jones