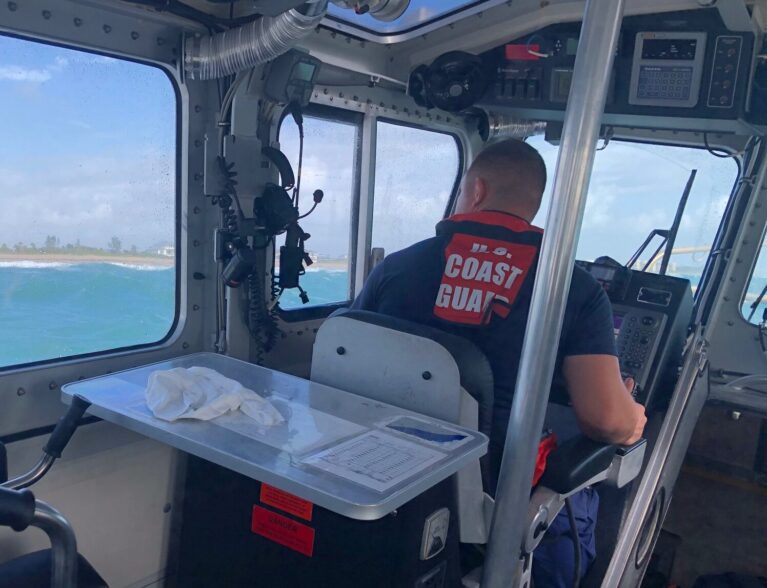 U.S. Coast Guard Southeast aircrafts continued to search the sea Thursday for missing kayaker Donald Waters, whose kayak was recovered Wednesday afternoon by Vero Beach police.
Coast Guard officials, along with Indian River sheriff's helicopters and boats, have been combing the ocean since late Tuesday – the day Waters was last seen – in hopes of finding the man. Still, no trace of him has been found, other than his red and gray inflatable Excursion Pro kayak.
Waters, 42, Vero Beach, left in his kayak from Sexton Plaza about 9:40 a.m. Tuesday, authorities said. Police said Waters' friend last spoke to him by phone about 10 a.m. the same day.
The friend said Waters was unsure of his location and could not see land, police said. The friend called police late Tuesday.
Police said the Coast Guard was tracking Waters' cell phone. His phone's last ping – from 9:40 p.m. Tuesday – showed he was about 1.5 miles east in the ocean and about five miles north of Vero Beach.
Police on Wednesday spoke to boaters who found a kayak Tuesday afternoon about 2.5 miles southeast of the Sebastian Inlet State Park. Officers met with the boaters and positively identified the kayak as Waters' canoe, officials said.
Police said they also found Waters' vehicle still parked at Sexton Plaza Tuesday night. The vehicle was turned over to Waters' mother.
Meteorologists said there were light winds Tuesday morning in Vero Beach. But, storms rolled in later about 1:40 p.m., bringing showers, lightning and 32 mph south winds, National Weather Service in Melbourne Meteorologist Kole Fehling said.
The storms continued into the evening, Fehling said.
Forecasters issued a special marine warning that lasted from 1:25 p.m. to 3:30 p.m. Tuesday for Vero Beach, Meteorologist Krizia Negron said. Special marine warnings are alerts to warn boaters of hazardous sea conditions.
Waters was described as a white man who is 6-feet 2-inches tall. Anyone with information on Waters' whereabouts should call the U.S. Coast Guard Sector Miami Command Center at 305-535-4472.
Those with information can also dial 911 or contact the Vero Beach Police Department at 772-978-4604. The search for Waters continues.