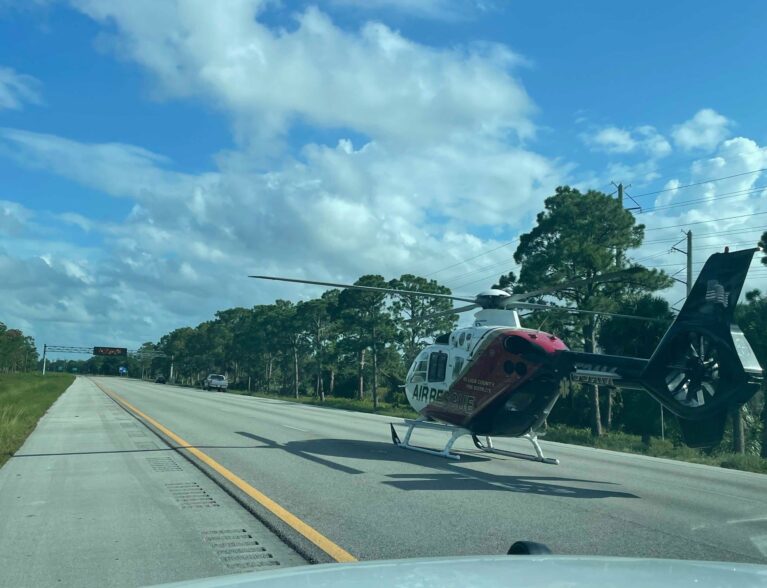 INDIAN RIVER COUNTY — A Lake Park woman died Sunday after her sedan collided with another vehicle, then veered into a tree before bursting into flames, Florida Highway Patrol troopers said.
The 56-year-old woman was flown to Lawnwood Regional Medical Center & Heart Institute in Fort Pierce, where she was pronounced dead, according to FHP and sheriff's officials. The driver of the other vehicle, a 70-year-old South Carolina man, and his two passengers, a 72-year-old Fort Pierce woman and a 71-year-old Fort Lauderdale woman, were not hurt.
Florida Highway Patrol is no longer releasing the names of crash victims because of privacy reasons. The crash on southbound Interstate 95 was one of two fatal wrecks to occur over the weekend in Indian River County.
Sunday's crash involving a sedan and a sports utility vehicle happened just before 5 p.m. near the 149 mile marker on I-95. Authorities blocked southbound traffic for several hours after the wreck, according to the Indian River County Sheriff's Office.
Troopers said the Lake Park woman was driving the sedan southbound in the center lane, while the South Carolina man was in the SUV headed south in the left lane.
For an unknown reason, the left side of the sedan crashed into the SUV's right side, authorities said. The impact caused the Lake Park woman's sedan to roll off the roadway and onto the grass shoulder, where the vehicle struck a tree.
The sedan then became fully engulfed in flames, troopers said. The South Carolina man pulled over the SUV in the median.
The crash remains under investigation.