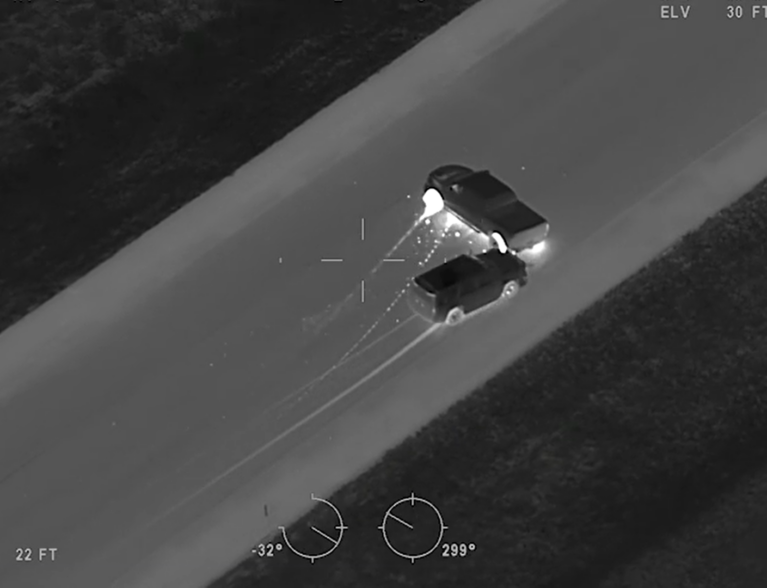 INDIAN RIVER COUNTY — A Palm Bay man was jailed late Tuesday after authorities said he led deputies on a 21-mile, two-county chase along southbound Interstate 95.
The chase started in Brevard County and ended in Indian River County, officials said. Indian River County deputies on Thursday released dashboard and helicopter camera footage of the pursuit.
Edward William Burgess, 48, was charged with aggravated fleeing and eluding, violation of probation felony offense, willful wanton reckless driving, felony violation of driver's license restrictions and driving under the influence. Burgess was booked Thursday into the Indian River County Jail, then transferred to the Brevard County Jail, where he was being held without bond.
The incident unfolded shortly before midnight Tuesday near the 168 mile marker in Brevard County. A motorist on the highway reported a driver of a blue Dodge Ram who was unable to stay in a single lane, sheriff's officials said.
A Brevard sheriff's deputy began following the Dodge. The deputy saw the Dodge driver veer off the roadway and go into the grassy median, sheriff's officials said.
Other drivers had to hit their brakes to avoid a crash, deputies said.
The Brevard deputy activated the emergency lights and siren on his patrol car, and also used a speaker to tell the Dodge driver to stop. But, the Dodge driver continued, sheriff's officials said.
Indian River County deputies rolled out stop sticks as the vehicle headed south into the county. The stop sticks flattened one tire on the Dodge, sheriff's officials said.
As the Dodge driver continued traveling, an Indian River patrol deputy used his vehicle to bump the Dodge on its left rear side. This caused the Dodge to spin and come to a stop.
Deputies then arrested the driver, identified as Burgess.