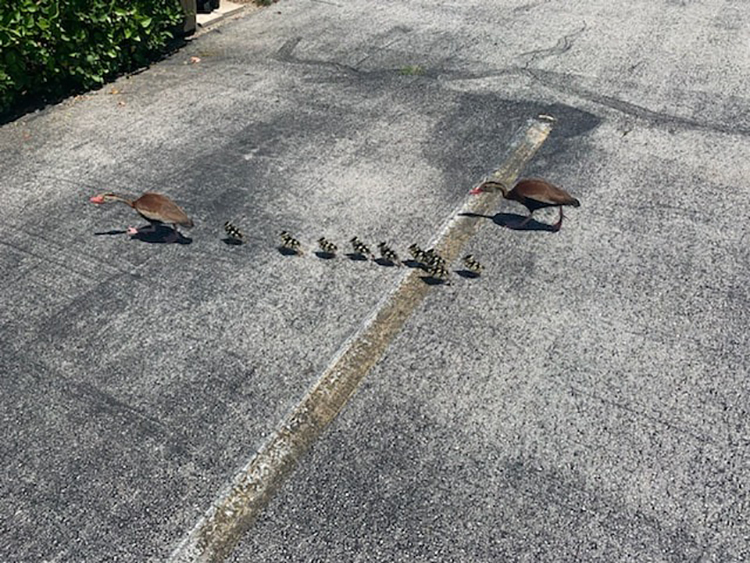 VERO BEACH — It all started with a phone call from a concerned citizen who heard noises coming from underneath a covered storm drain Monday in the Miracle Mile Plaza.
The noises were from eight ducklings, who police said had fallen into the storm drain near TooJay's Deli restaurant. Two ducks – the mother and father – stood about 20 feet away quacking away as the commotion drew rescuers, City Manager Monte Falls said.
"They could hear the baby ducks making noise," said Falls, who went to the area to help save the ducklings. The rescue was a united effort between the city's Water and Sewer Department employees and police officers.
The ducklings were not hurt, Vero Beach police spokesperson Master Officer Darrell Rivers said.
A citizen called Falls about 10:30 a.m. and told him ducklings were stuck in the drain. Falls said he then called police and the Water and Sewer Department.
The grate covering the drain weighed 400 pounds, Falls said. Falls said Water and Sewer Department employees Cameron Jones and Jose Maldonado, along with officers Jeremiah Willis and Paul Wickert, together pulled off the grate to reach the tiny ducklings.
Officers put the ducklings in a box, covered them with a towel and took them to their parents, Falls said. Police escorted the family of ducks across State Road 60 near 6th Avenue.
The ducks were taken to a nearby neighborhood where they would be safe from traffic and more storm drains, Falls said. Rivers said all officers had animal control training in March at the Humane Society of Vero Beach & Indian River County.
Falls said he's happy the rescue had a positive ending.
"The officers and city workers were very compassionate," Falls said. "I think it was a good outcome."
Photos provided by Vero Beach Police Department