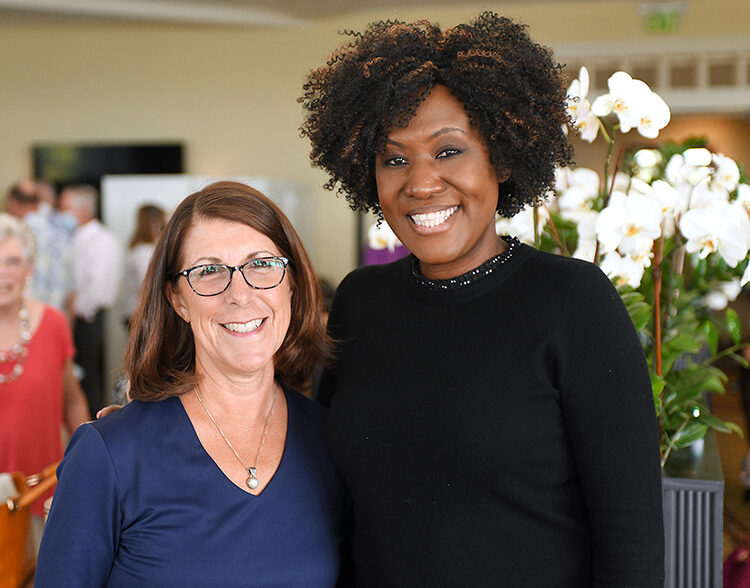 Members of the Moorings Classic Habitat Weekend committee and representatives of the Moorings Yacht and Country Club gathered last Monday evening for a celebratory cocktail reception, where they presented a check for $660,000 to Sheryl Vittitoe, CEO of Indian River Habitat for Humanity.
"This has been a fun experience this year and it's been an interesting one, because we've all worked very hard together as a team and yet this is the first time that we're actually all meeting together," said Chris Johns, chairman of the Moorings Classic Habitat Weekend fundraiser, before recognizing everyone involved in the event.
Johns said that through their collective efforts, the Moorings Habitat partnership will be able to build six new homes, repair 10 houses and award 15 scholarships to Habitat homeowners and children.
Despite modifications to accommodate pandemic precautions, Johns said this year's fundraiser, held over Valentine's weekend, raised $490,000. "That's a tremendous thing. Better yet, our expenses were half of what they were," said Johns.
Numerous adjustments were made, from the way information was disseminated to the actual events and auctions. Over the summer, some new online systems were created that helped streamline the operation, as did changing much of the media and communications to an online format.
Johns credited the leadership volunteers heading the various committees, saying they would take the areas they were in charge of and "just run with it," often making creative changes that may continue.
Outdoor activities – such as croquet, golf, tennis, pickleball and a run/walk/bike event – went on with limited capacity. Others, such as bridge, went virtual.
"It was just phenomenal. We had a lot of participants and it went off without a flaw," said Johns, adding that the raffle and auctions also went virtual and did exceptionally well.
"So all of you, thank you so much. It was an honor to serve with you guys this year; it was just a wonderful experience," said Johns.
He gave special thanks to the leadership and staff of the Moorings saying, "At the end of the day, we can say we coordinated all this stuff, but they're the ones who have been doing it for a long time and make it easy. They make sure that everything is taken care of, and so that really makes it wonderful."
Maggie Selby, president of the Moorings board of governors, also thanked everyone for an "amazingly successful year."
She said that more than $10 million has been donated to Habitat since 1999 when the Moorings Habitat partnership began.
"Part of that contribution comes from participating in the Community Contribution Tax Credit Program," said Selby. "CCTCP is a Florida State affordable housing program that enables the club to divert sales tax dollars from the state to Habitat. Under this program, the club provides volunteer hours through members working at build sites or at the Habitat ReStore."
Selby said that this year, the Moorings Yacht and County Club is contributing $170,000 in sales tax, which goes directly toward next season's home building, adding that since 2004, the club has contributed $2 million through that program.
After thanking everyone for their contributions, Vittitoe introduced Brandy Bryant, a single mother of four boys who will soon close on her own Habitat home.
Vittitoe said that throughout the pandemic, Habitat "just pushed through" and that because "we have families to serve," they never stopped building, repairing homes or awarding scholarships.
In the early days of the pandemic, she recalled hearing a newscaster say that people "may need to shelter at home."
"Those words still ring in my ears. Because when you're told that on the national news and you're in a Habitat program and you don't have a home to shelter in, boy that just puts the spotlight on it. It became an immediate need for families like Brandy. These homebuyers were chomping at the bit to continue working on their homes and one another's homes."
Vittitoe said that a recent Habitat Florida study indicated that for every dollar invested in affordable housing, $1.40 is reinvested in the local economy. She also noted that among the six Habitat homes the Moorings is supporting this year are 14 children, who will grow up in a safe, stable environment.
"Again, thank you all for your partnership over the years and for your continued partnership," said Vittitoe. She added that despite the challenges of this year's event, "you not only showed up, you showed off."
Photos by Brenda Ahearn