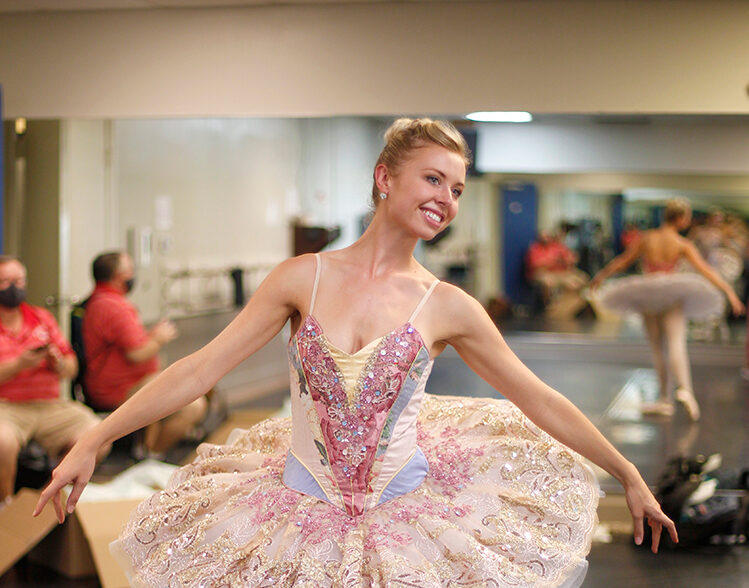 Ballet Vero Beach will conclude its 2020-21 season with the debut of "The Sleeping Princess," an abridged but no less impressive version of the beloved classical ballet "The Sleeping Beauty," April 16-18 at the Vero Beach High School Performing Arts Center.
Adam Schnell, BVB founder and artistic director, says he had fallen in love with the classic version as a young dance student and has always wanted Ballet Vero Beach to perform a version of it.
"The struggle with us is always, what does it mean in terms of our overall mission?" says Schnell.
The difficulty, he explains, is in finding a ballet that will entertain their most ardent fans, the ones who, under normal circumstances, can travel to attend performances anywhere, as well as those residents who are still getting used to having a professional ballet in their community.
Additionally, Ballet Vero Beach has always sought approaches to engage the youngest members of our community. One way has been through their free Student Matinee Series, offered to all local students.
"It's really sort of a perfunctory thing, right? You're an arts organization, so you should have shows for school kids," says Schnell.
Schnell adds that several years ago he became involved with the Learning Alliance through the Moonshot Community Action Network, and "it just snapped a lot of things into focus for me."
He befriended Debbie Arseneaux, an educational consultant and teaching artist with the Learning Alliance, who has a background in theater and arts education.
"We immediately clicked," says Schnell. They began contemplating ways to expand the matinee program and introduce ballet in the classroom.
"We have three separate matinees that we do: one for first-graders, one for third-graders and one for fourth-graders," says Schnell. He adds with a laugh that when people ask about second grade, he responds that they would happily add it "when people give us more money."
He explains that first grade is meant to introduce ballet and target any children who may have had difficulty in kindergarten. Third is important in terms of the Learning Alliance goals, which aim to improve reading scores by the end of third grade, and fourth will hopefully reinforce what they've learned.
A strategy was devised whereby Ballet Vero Beach would invest money in three separate hour-long, one-act ballets over the next three to five seasons, with the Learning Alliance taking responsibility for developing an arts integration curriculum for the different grade levels.
"Arts integration is when you take an art form and you apply it to an academic subject to help with memory, retention, cognition, all of that," Schnell explains.
Once everyone was on board, he says, they opted to start with the first-graders.
"I think it's best to build from the bottom. If we get the first-graders this year, by the time they're third-graders, we should have the third-grade matinee ready, and they can actually go through the entire program."
The next hurdle was deciding on a ballet, and Schnell says he immediately thought to do a shortened version of "The Sleeping Beauty."
Schnell needed to condense Tchaikovsky's longest ballet (nearly four hours with intermission), cutting down the story line but still using portions of the classical choreography that he needed, and interweave it all together.
In relation to scenery, costumes and cast, he says "The Sleeping Princess" is their second largest production next to "Nutcracker on the Indian River," and he is particularly pleased they could pull it off during these difficult times. There are 15 dancers in the performance – their three BVB resident dancers plus a dozen from their sister company, Dimensions Dance Theatre of Miami.
They also chose to modify some aspects of the story, such as the 'gift of beauty,' envisioning her as a sleeping princess rather than a sleeping beauty.
"So, we didn't want to put in some preconceived notion of beauty and that princesses have to be gorgeous. We're trying to be equitable and inclusive; we want the kids to see themselves reflected in the story," Schnell says.
"One reason I love the story and landed on it so quickly is in the classical ballet there is so much of what we call ballet mime. In my opinion it's one of the most mime-rich classical ballets," says Schnell.
He explains that it is replete with gestures such as putting your hands over your heart to express love, or pointing to yourself to say 'I,' or to your eyes to say 'see.'
"Debbie and I discussed that for the first-graders we wanted to attach words to gestures, because that helps the kids retain knowledge in what's called embodied cognition," says Schnell.
"So I thought, this is the perfect ballet to start with for that type of curriculum. And then doubling back to our most ardent fans, it provides really, really meaty classical dancing, so it's something that anyone can come and enjoy."
He adds that there is also plenty of spectacle, with beautiful costumes and scenery, making it "the perfect marriage of what I'm always trying to do, which is to serve all constituencies of our mission."
They have been working on translating the ballet into their own text to use going forward with the students, but he says it's been slow-going because of the pandemic.
There are already versions of the story put out by major ballet companies, including the New York City Ballet, so they mined a little bit from that text for the current iteration of the student workshops. Eventually, they hope to have their own texts for all of the ballets.
"One of the things that's really important is having the kids experience a read-aloud of whatever book we're using," says Schnell, explaining that either BVB artists or the classroom teachers can read it to them with a little bit of acting.
"It's just one other part of the curriculum and the experience that helps kids get excited about reading, with retaining that vocabulary work and being able to apply that to other texts. It's using an arts subject to buoy and strengthen learning in an academic subject."
Once the educational component was developed, Arseneaux and Liz Remington, Learning Alliance co-founder and director of professional development, began training Ballet Vero Beach dancers on how to deliver the curriculum.
"It's not just come in and dance around and learn a word," says Schnell. "The Learning Alliance needed to teach us how to deliver the content; to put it out there in a way where it actually made sense to the kids."
They have developed a four-component curriculum for first-graders and classroom teachers: a pre-workshop; the read-aloud; the performance itself, which for now will be delivered as a video; and a post-performance workshop, either virtual or in class, to reinforce what has been learned.
The offer was made to all elementary school principals and, to date, they have held virtual sessions at Pelican Island and Rosewood elementary schools, and in-person sessions at Sebastian, Fellsmere and Glendale elementary schools, for the entire first-grade levels of each school.
Additionally, shortened versions of all this season's BVB stage performances were provided for the third- and fourth-grade levels, with lessons plans that could be tied into them.
Schnell says that as their longtime costume designer, Travis Halsey, passed away last spring, they recruited some of his friends and colleagues from around the world to each contribute a costume design to the production.
"We have a lead designer, Amy Voogd, but then everybody took one of the designs and said, 'I'm really going to infuse Travis into this.' So, the 16 costumes in the production have come from all over the world and are going to be a wearable tribute to him," says Schnell.
"You know us; there's always more than meets the eye. It's never just a pretty ballet."
Live performances of "The Sleeping Princess" will take place April 16-18 at the Vero Beach High School PAC, 7:30 p.m. Friday, 2 p.m. and 7:30 p.m. Saturday, and concluding with a family-friendly performance at 2 p.m. Sunday for families with pre-school-aged children.
A watch-at-home version will be available for viewing from April 23 through May 9.
For more information, visit balletverobeach.org.
Photos by Kaila Jones