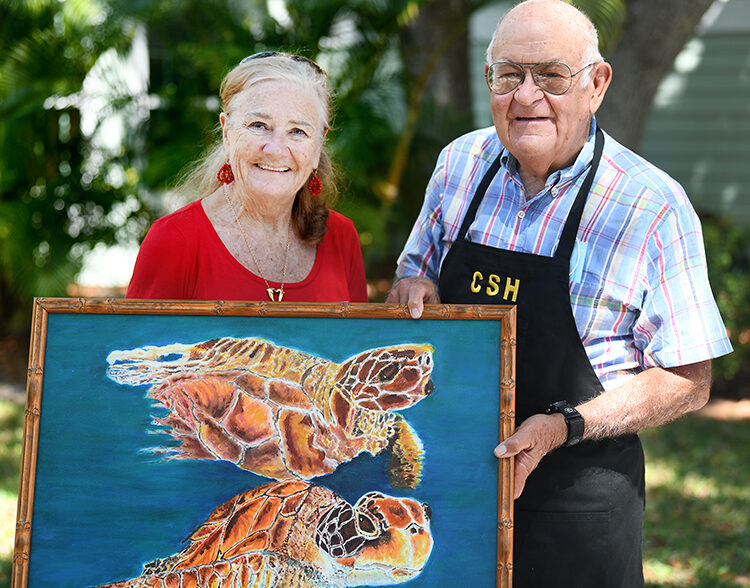 The burgeoning Sea Oaks Arts & Crafts Stroll, an exhibition and sale, celebrated its 11th year recently, opting this year for the first time to take the show outdoors, said event chair Deborah Timmermann. And what a glorious day it was.
Sea Oaks Beach & Tennis Club residents and guests meandered along Bent Oak Lane, an oak canopied cul-de-sac, stopping in the driveways of select homes to view and purchase a spectacular array of paintings, photographs, sculptures, jewelry, flowers, pottery and gift items.
"We have a lot of artists here. For some reason, it [Sea Oaks] draws artists," said Timmermann. She added that the community has an arts and crafts group where residents can interact with other creatives.
Attendees biked, walked and even brought along their canine pals to peruse an impressive variety of works cultivated by artists and artisans, much of which was created during the pandemic. Unable to socialize with their neighbors at the clubhouse, folks had made use of the isolation to enhance their creativity.
The Sea Oaks Trio entertained the shoppers as they milled about and caught up with their neighbors, feeling a little safer in the outdoor setting.
"We haven't done anything in the community, really, because of COVID. We have 31 artists. This is more than have ever wanted to be in the show. We've been cooped up, and it's outside. People are more excited about it than ever," said Timmermann.
Marilyn Fezza, the "Bay Ridge Baker," said she had turned her creative energy toward her passion for baking, and was turning over the proceeds from the sale of her delectable baked goods – an impressive batch of scones, brownies, salted toffee bars and tarts – to the Sea Oaks Employees Holiday Fund.
"I love to bake. It's good for me. It's good for my friends. I baked a lot during COVID and gave it away to my neighbors," said Fezza, watching as the delicious goodies were gobbled up. "There's so much suffering and so much need. The Beach Club employees got hit hard. They feed us so it feels like a natural thing."
Additionally, attendees of the show were asked to support the Sea Oaks Employees Holiday Fund, for staff members who worked through the pandemic.
Photos by Brenda Ahearn