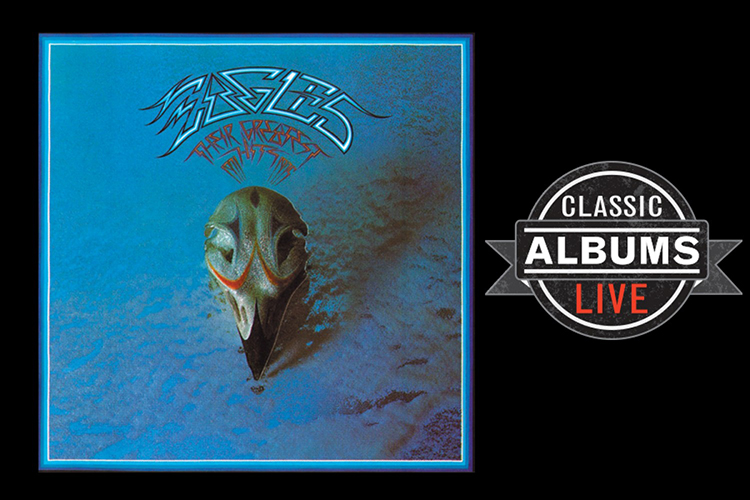 There is music for every taste this weekend. From classical, to bluegrass, to rock and more, you'll have something to applaud.
The downbeat begins Thursday at the Emerson Center when Classic Albums Live performs "The Eagles' Greatest Hits." The concert, presented by Live! from Vero Beach, will bring out the best of that mellow sound of California Roots Rock. It is a performance of this iconic 1976 album, which went on to win the American Music Award for Favorite Pop/Rock album. Songs include iconic tunes like "Take It Easy," "Desperado," "One of These Nights" and "Best of My Love." The only problem is that once you hear a Classic Albums Live concert, you are going to want more. The music is solid and performed by professional studio musicians and soloists who are simply great at perfecting the sound of the original. The concert begins 7 p.m. Thursday, April 8 at the Emerson Center, 1590 27th Ave., Vero Beach. Doors open at 6 p.m. Tickets are $30 to $80. Wear a mask. Practice social distancing. No intermission. Call 800-595-4849 or visit MusicWorksConcerts.com.
Say thank you to technology. Not only has it kept you engaged this past year, but it also is bringing into your own home a chance to enjoy a free recital on Saturday by world-renowned violinist Midori. She will be accompanied by pianist Ivea Jokubaviciute. After, there will be a question-and-answer session with Midori. The concert is being presented by Midori's foundation, Partners in Performance, in collaboration with the Melbourne Chamber Music Society, one of only three organizations chosen by Midori's foundation for collaboration. The MCMS is run by dedicated professionals, including Vero Beach residents CPA Ann Witte and jazz/classical pianist Paul Tardif, both retired university professors. The online Midori concert begins 2 p.m. Saturday, April 10. It is free, but you do have to register for it ahead of time. Go to MelbourneChamberMusicSociety.org or call 321-213-5100.
Bluegrass and folk music take center stage Friday at the First Presbyterian Church in Vero Beach. That concert features internationally acclaimed musicians Mike Block and Hanneke Cassel performing folk, classical and original music. By the way, Cassel is a U.S. National Scottish Fiddle Champion and Block is a Grammy Award-winning cellist/singer/composer from Yo-Yo Ma's famed Silk Road Ensemble. In fact, Ma called Block "the ideal musician of the 21st century." Block, who graduated from the Juilliard School, is an associate professor at the Berklee College of Music. So, yes, there will be some gravitas to this blue grass. The concert begins 7:30 p.m. Friday, April 9 in McAfee Hall, which is on the campus of First Presbyterian Church, 520 Royal Palm Blvd. Admission is free, but a $20 donation would be a splendid thing to do. Proceeds will benefit the Mike Block Strings Camp Scholarship Fund. Seating is limited to 120 guests. Masks and social distancing required. The concert will also be streamed at FirstPresVero.org and on the church's Facebook page. Fore more information, call 772-562-9088.
Now take Broadway music and to it add nuns, humor, a witness on the run and gangsters, and you'll have the stage musical "Sister Act." The show runs through April 25 at Vero Beach Theatre Guild. This show has music by Alan Menken and Glenn Slater and is based on the 1992 movie starring Whoopi Goldberg as witnessing a murder committed by her hoodlum boyfriend. She finds herself ensconced in a convent, which is about to go broke. Her sassy ways help bring the sisters into the 21st century to try to save the convent. It performs 7:30 p.m. Tuesdays through Saturdays, and 2 p.m. Saturdays and Sundays. Tickets are $17.50 to $35. Masks and social distancing required. Reduced audience capacity. The Vero Beach Theatre Guild is at 2020 San Juan Ave. Call 772-562-8300 or visit VeroBeachTheatreGuild.com.
Young children are the audience at the Space Coast Symphony Orchestra's "Once Upon an Orchestra." This delightful 40-minute musical story time will be held twice: 10 a.m. and 11 a.m. Saturday, April 10 at the McKee Botanical Garden. The program is designed for preschool- and kindergarten-aged children. It not only entertains but also teaches about musical instruments. Admission is free with a regular McKee admission, which runs $15 general with discounts for seniors, students, military and children. Free admission to children under 2 years of age and to members. The McKee Botanical Garden is at 350 U.S. 1, Vero Beach. Call 772-794-0601 or visit McKeeGarden.Org or SpaceCoastSymphony.org. 