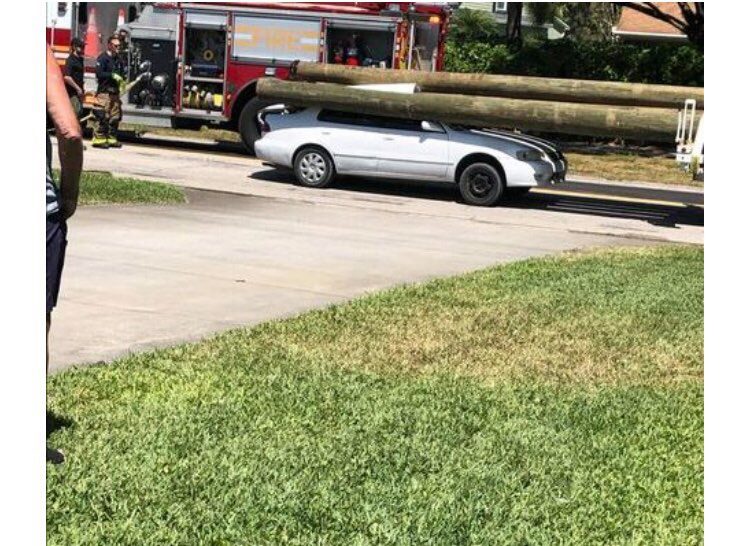 INDIAN RIVER COUNTY — A 19-year-old Vero Beach woman was seriously hurt after driving into the back of a truck carrying telephone poles, causing two poles to pierce through her vehicle, fire rescue crews said Monday.
The woman was taken by ambulance to Lawnwood Regional Medical Center & Heart Institute in Fort Pierce with serious injuries, Indian River County Fire Rescue Battalion Chief Roger Dion said.
The poles smashed through the Toyota Corolla's front windshield and went through the back window, officials said. Firefighters had to use the "jaws of life" rescue tools to free the woman from the car.
The truck driver was not hurt, Dion said. Florida Highway Patrol was investigating the cause of the wreck.
Fire rescue responded to the collision about noon in the 800 block of Highland Drive Southwest, west of U.S. 1. The wreck involved the white Toyota and the truck, which was parked on the right shoulder, FHP spokesman Lt. Yanko Reyes said.
The truck was carrying at least four telephone poles on a trailer, Dion said. One of the poles partially struck the side of the woman's face as it went through the car, Dion said.
Firefighters pried open the Toyota's driver's side door to free the woman, Dion said. There were no passengers in the car.
It was unclear how fast the car was traveling.
The collision briefly closed Highlands Drive Southwest from 8th Avenue Southwest to 10th Avenue Southwest, Reyes said. The road has since reopened.
The crash remains under investigation.