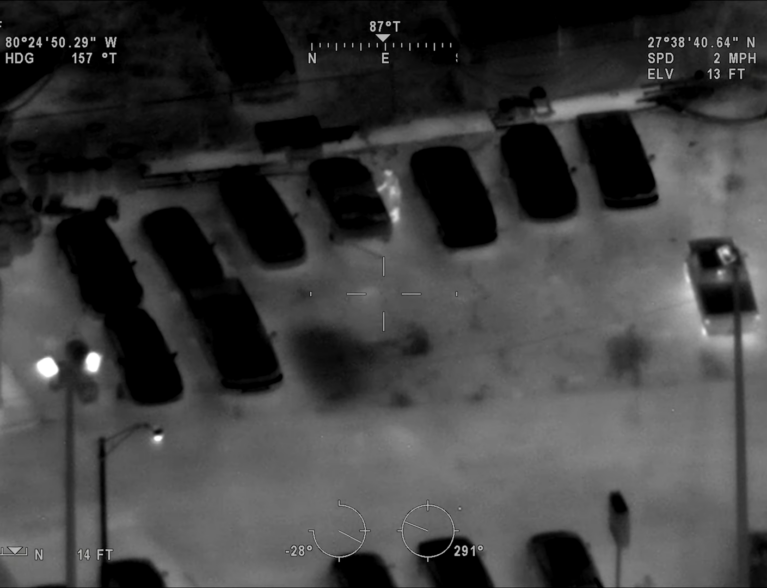 INDIAN RIVER COUNTY – A 40-year-old Okeechobee man was jailed after a sheriff's helicopter tracked him stealing seats from a pickup truck at an auto store last weekend, authorities said.
"He apparently needed new seats," Indian River County Sheriff's Sgt. Christopher Reeve said in a statement. The sheriff's office released helicopter surveillance footage this week of the incident.
The man in the video, Christopher Hoover, was already suspected of stealing several catalytic converters in Martin County, authorities said. The sheriff's offices in Indian River, St. Lucie and Martin began surveillance on Hoover after they were notified he was possibly involved in auto burglaries across the Treasure Coast.
Hoover was charged with burglary, theft, possession of burglary tools and driving with a suspended license. Hoover was released Tuesday from the Indian River County Jail on $11,500 bond.
The probe began the evening of March 27 when Martin County Sheriff's Office Task Force members tracked a green Ford Ranger, driven by Hoover. St. Lucie and Indian River deputies also tracked the vehicle as it headed northbound.
An Indian River sheriff's helicopter spotted the Ford pull into AR Auto Services in the 2500 block of U.S. 1, south of Aviation Boulevard. Deputies said Hoover parked on the closed property, got out of his vehicle and walked up to another Ford truck.
Hoover then used tools to remove two seats – worth $400 – from inside of the other truck. Hoover placed one of the seats next to his vehicle, reports show.
Deputies detained Hoover and booked him into the county jail. Hoover has an arraignment at 8:45 a.m. May 21, court records show.
Martin deputies continue to investigate claims that Hoover stole car parts in the area. Additional charges for Hoover are possible, authorities said.