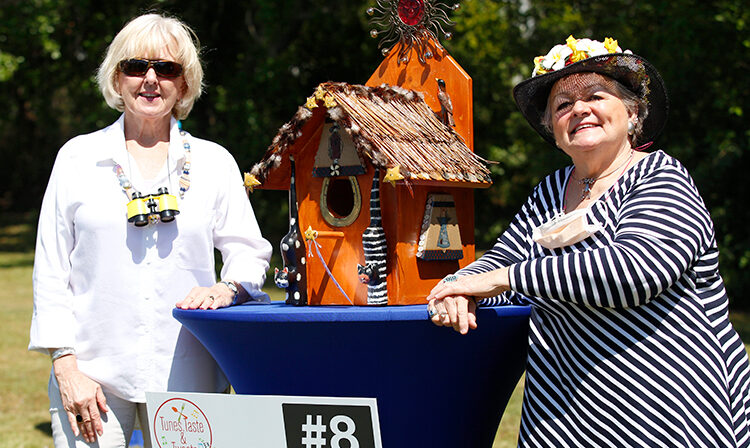 An inaugural Tunes, Taste & Tweets fundraiser to benefit Indian River Habitat for Humanity was one "for the birds," as winged friends making their homes in the trees surrounding the Habitat campus tweeted in envy over a selection of 25 colorful birdhouses being auctioned off during the event and online.
Habitat staff and volunteers had constructed the wooden birdhouses before turning them over to be decorated by local artists and community members. Themes included a spring-influenced cottage with a pink feathered roof, an autographed Jake Owen shack, and one that was indeed for the birds, inspired by the Alfred Hitchcock movie "The Birds." Others sported flamingos, mermaids, flowers and shells, and another honored the Alma Lee Loy building that houses the Indian River County Chamber of Commerce.
Binocular-wearing birdwatchers wandered about to assist with bidding and answer questions throughout the gorgeous, sunny afternoon. After viewing the birdhouses, attendees bid for and voted on their favorites, before settling in to enjoy music by the Bobby Owen Band as they noshed on a boxed lunch from Maryland Fried Chicken.
The People's Choice winner was Elizabeth Gerrald's "Lulu's Bait Shack," which clearly struck a chord with local anglers. Gerrald created an authentic-looking bait and tackle shop with such details as a shark and buoys hanging on the front porch, seashells drying beneath a window, a rusted metal roof and weathered siding.
"What greater way to come together and learn more about what Habitat is doing across the community than for us to be able to be out on a beautiful Sunday afternoon. More than anything just to pull us together as a community during a time when we've all been cooped up for many months," said Sheryl Vittitoe, IRHH president/CEO, adding that the pandemic hadn't prevented their ongoing work.
"We never stopped building, and we never stopped repairing homes, and we never stopped awarding post-secondary scholarships. We may be going at a slower pace, but we've never stopped. That's a win."
Vittitoe explained that some Habitat homeowners had been significantly impacted by COVID job losses and cutbacks, making it difficult to make their mortgage payments on time.
"We were able to work with the Treasure Coast Homeless Services Council and United Way to bring some relief to our homeowners," said Vittitoe. Citing the importance of collaboration in serving families in need, she added "many times, we're serving the same families. When we lock arms and we do it collaboratively, we're more impactful."
When Americans were first told to shelter at home, Vittitoe said they had to close the ReStore temporarily but were able to continue with construction, despite limited access to materials and supplies.
"We will meet our goal for the number of new homes that we will construct, scholarships that we will award, and number of repairs," she added.
Indian River Habitat recently received news they are still among the top 40 affiliates across the country in achieving its mission to "help working families achieve safety and stability through homeownership."
Looking ahead, Vittitoe said they will continue building and repairing homes, including a renewed focus on veterans.
"Our veterans in this community should be living in safe, decent, affordable homes themselves. They fought for our freedoms. While we've been cooped up, we may have felt like some of our freedoms were being taken from us. They fought for the freedoms that we take for granted every day and that we enjoy. We want to be sure and pay attention to them and meet those needs. Some of them have a greater need today than ever before," said Vittitoe.
Proceeds from Tunes, Taste & Tweets will help fund home repairs and the construction of a home for a local family.
For more information, visit irchabitat.org.
Photos by Kaila Jones