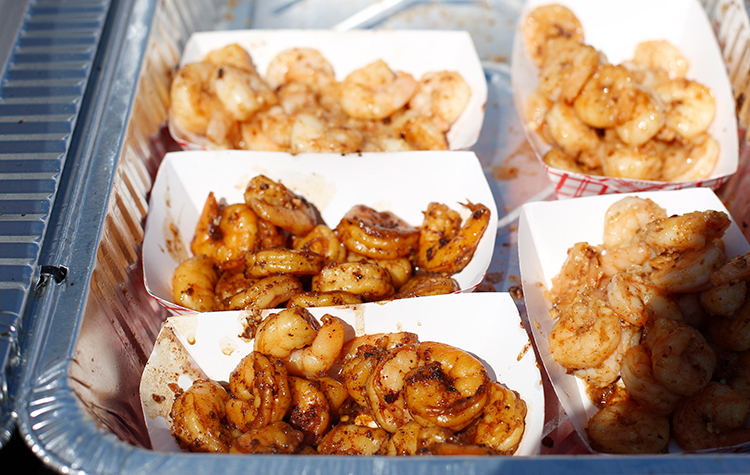 There was nothing small about the ShrimpFest & Craft Brew Hullabaloo hosted by the Rotary Club of Sebastian and the Exchange Club of Fellsmere, which raised funds to benefit youth sports organizations in North Indian River County.
Troupes of people flocked to Riverview Park during the three-day celebration that featured the tasty crustaceans in a wide variety of culinary fare.
Shrimp lovers feasted their way through myriad dining options from the Rotary and Exchange Club's ShrimpFest "restaurant," and another 14 food trucks served up their own take on the diminutive critters plus plenty of other menu options for those less inclined to partake of the palatable prawns.
Additionally, a Craft Brew Tasting in the twin piers area on the water enticed ticketholders over to enjoy unlimited samples from 29 craft brewers.
"We decided to move forward and hold the event because people want something to do," said event chair Marc Gringas. "They're ready to get out there, and we felt like we could do this safely."
Music filled the air as six different bands played throughout the weekend, so many folks made a day of it, setting up lawn chairs and enjoying the sunshine and breeze off the Indian River Lagoon while they ate and chatted with friends. Their hunger satiated, people could walk it all off by taking in the classic car show or perusing the various vendor offerings.
"We consider this the sixth annual ShrimpFest," noted Marc Gringas. "Even though the ShrimpFest was canceled last year due to COVID, we were able to give out $15,000 through the generosity of our sponsors that told us to keep the money."
While that money wasn't as great as in past years, Gringas said "what little bit we did give helped the beneficiaries to get through the year. Half of them didn't have kids in their programs, but they still had to pay their insurance, mow lawns, pay club or organization dues."
Proceeds from this year's event will support youth groups including Sebastian River track and field, girls basketball, boys lacrosse, wrestling, rowing, varsity cheerleaders, Sharks football and the Sebastian Soccer Assoc. Each year, beneficiary representatives volunteer to work at the event.
"That's the skin in the game," said Gringas, adding that nearly $200,000 has been donated to some 20 beneficiaries over the years.
For more information, visit sebastianrotary.com or nationalexchangeclub.org.
Photos by Kaila Jones