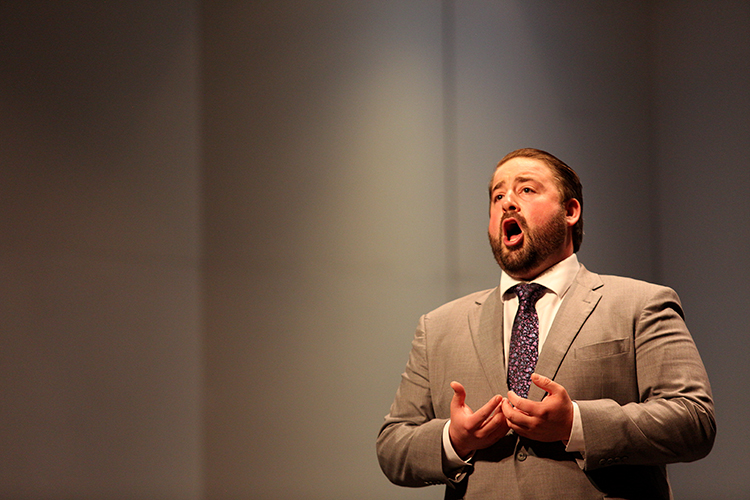 The Vero Beach Opera once again brought a bouquet of the top rising talents in the opera world to town for its annual Rising Stars Vocal Competition. Their expertise was clearly evident last Friday during the competition's finals, when 10 singers demonstrated their A-plus game on the Vero Beach High School Performing Arts Center stage. The group further showcased their impressive vocal and dramatic skills at a concert gala Saturday evening, which climaxed with the announcing of the 2021 winners.
As COVID swept across the globe in 2020, performing arts seasons across the country were canceled, including the 2020 Rising Stars Competition, which was rescheduled this March.
With the COVID battle still being waged, peering into the PAC house was a bit surreal, with everyone socially distanced and wearing masks, with exception of the accompanist and the competitors while singing. But despite the differences, the glorious music remained thrilling and true, and the VBO certainly nailed High C in choosing the artist competitors.
VBO president Joan Ortega-Cowan explained that for the first time since the competition began, participation was invitation only. The 10 competitors – five men and five women – were selected from among winners in various nationwide Metropolitan Opera regional competitions, thus ensuring top-level, experienced performers, while eliminating the lengthy process of auditioning hundreds of applicants.
The stage was empty save a black grand piano and its diminutive, powerhouse competition pianist Caren Levine. No stranger to VBO, the New York native is known as one of the finest musicians around. She has assisted numerous renowned conductors, including the late James Levine, and has been on the Met roster since 2003.
On Friday, with just three jurists, several VBO staff and volunteers, and perhaps 50 or so opera aficionados, the 1,000-capacity PAC felt empty. And, because it was a competition rather than a performance, no applause was allowed.
But from the moment the first artist took the stage, none of that mattered. No longer empty, the room was filled with spectacular operatic talent; amazing voices performing the works of the Masters. And it was most assuredly all the sparse audience could do to keep from applauding, shouting Bravo! Brava! and rising to its feet.
Judging the competition were a trio of highly experienced members of the opera world, headed by jury president and VBO artistic director Roman, with returning jurists and longtime VBO supporters Russell Franks, director of the Stetson Opera Theatre at Stetson University, and Eva Franchi, founder of the Sergio Franchi Music Foundation.
A total of $28,000 was awarded this year, $23,000 of which was generously donated by the competition sponsor, the Kleinschmidt Family Foundation.
The top prize of $10,000 was awarded to Cuban American soprano Meryl Dominguez, who is from "New York and Miami." She has previously performed for VBO, as a winner in the inaugural Deborah Voight/Vero Beach Opera Foundation's International Vocal Competition in 2016. Now, returning to the PAC stage in 2021, she displayed strong vocal and dramatic skill and diversity singing "Non mi dir, bell'idol mio" from Mozart's "Don Giovanni" (Don Juan), and "Robert, toi que j'aime" from Meyerbeer's "Robert le diable" (Robert the Devil).
A double degree graduate of Oberlin, Dominguez also holds a degree in dance and, in a delightful non sequitur, shares that she enjoys baking complicated pastries. Dominguez "loves to portray strong women" and hopes someday to sing the titular role of the revenge-obsessed Elektra. A favorite role so far is that of Lucia from Donizetti's "Lucia di Lammermoor," with which she made her professional debut on the Knoxville Opera House stage in 2019.
Soprano Sylvia D'Eramo took the $5,000 second-place prize, displaying an impressive vocal range and dramatic flair, from the cold Chinese princess in "Turandot" to a far lighter turn in an aria from Mozart's comic opera "Cosi fan tutte" (Thus do they all). From Tyler, Texas, D'Eramo says she "grew up dancing" and, having danced in several musicals, discovered she was also a singer and decided to take lessons and "give it a go."
She is currently on the 2020-2021 roster of the Met's Lindemann Young Artist Development Program. D'Eramo's favorite role to date has been as Gretel in "Hänsel und Gretel" at the Santa Fe Opera. Her dream role? "I'd love to sing Mimi in 'La Bohème' someday."
The $3,000 third prize went to tenor and current Floridian Anthony Ciaramitaro, who has been drawing attention with what LAOpera.org terms his "Italianate sound and compelling stage presence," both of which were on full, impressive display on the PAC stage. He wowed judges with his interpretation of the well-known, upbeat "Questa o quella" aria from Verdi's "Rigoletto," followed by the pain and angst of Massenet's "Werther."
At 29, Ciaramitaro recalls when he made it to the finals in VBO's Marcello Giordani Foundation Vocal Competition in 2015, saying, "I was just a kid." Ciaramitaro was headed for a career as a drama teacher when, happily for the world of opera, his teacher told him he had "the instrument" to go intro opera. And indeed, he does. Now, he says, smiling broadly, "I'm going to make it!"
In addition to the top three, the Kleinschmidt Foundation also provided $1,000 Encouragement Awards for baritones Andrew Hiers and Kenneth Stavert, and sopranos Evelyn Saavedra, Murrella Parton and Monica Dewey.
A special $3,000 award from the Sergio Franchi Music Foundation was also presented to Parton.
Bass/baritone Alan Higgs received a $1,000 special award from Tommy and Simonetta Steyer, and Windsor presented a $1,000 special award to tenor Joshua Lee Wheeker.
Ending the 2021 Rising Stars Opera Festival on a high note, tenor Matthew White thrilled attendees at a gala concert Saturday night, at which the winners were announced. White made his operatic debut with VBO in 2015 in Puccini's "Il tabarro," and returned to Vero in 2018 to take first prize in the Deborah Voigt/Vero Beach Opera competition. He has been wowing opera audiences far and wide ever since.
Among the many prizes and encouragement awards that VBO provides for young vocalists, since 2015 it has funded first prizes in the Metropolitan Opera National Council auditions in the Florida District that takes place in Winter Park, as well as in the Met's Southeast Region auditions in Atlanta, a total of 24.
With hopes that the world will be back to normal next year, the VBO has rescheduled its canceled 2021 season presentations of "La Bohème" and "Broadway Meets Opera" for its 2022 season.
For more information, visit verobeachopera.org.
Photos by Kaila Jones