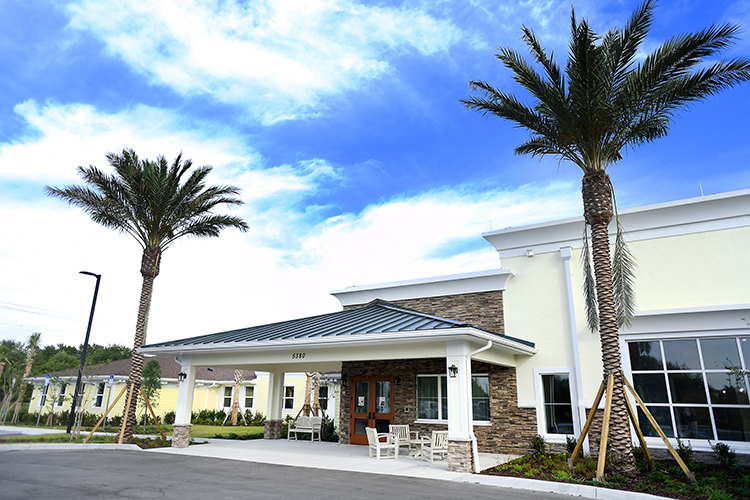 Another assisted living facility is opening on U.S. 1 in Indian River County, this time a dedicated memory care center offering space for 64 residents.
Certus Senior Living, a Sanford-based company with three similar properties in Mount Dora, Orange City and northeast Orlando, is expecting its certificate of occupancy for the property just a short distance north of Grand Harbor "any day, any minute," according to marketing director Deirdre Murray.
The project has been underway since at least 2018, when it won conceptual plan approval from Indian River County's planning and zoning commission.
It follows on the heels of another recently opened assisted living facility, the Promenade, with 116 beds, including some for memory care, a few miles north of Certus on U.S. 1 in Sebastian.
That facility opened last August, just weeks after the county experienced a frightening COVID-19 surge in July. Protocols for move-ins were stringent at the facility, as total deaths from COVID-19 countywide doubled in August, half of them in long-term care.
Certus is hoping to open in May and, with luck, in far calmer circumstances, with vaccines available and covid cases stable, if still high. Executive Director Becky Preidis is already talking to families of potential residents.
Certus will be the first freestanding facility in the county designed exclusively for dementia patients. It incorporates elements shown to benefit people struggling with memory loss.
Faux balustrades and streetlamps are meant to inspire nostalgia in residents; certain colors are used for specific reasons as the mind's palette fades with illness: lime green, among the last colors to be perceived, is used for certain seating – including toilets.
Baseboards are painted brown to keep walls from looking concave, Preidis said. Trip-resistant carpeting, helpful for those who walk with a shuffle, is spongy underfoot, meant to minimize injuries from falls.
"We're super, super proud of the design," said Murray, who along with Preidis came from an assisted living facility in Fort Pierce.
Certus and Promenade mark the county's first new construction in long-term care in more than a decade, even though nationwide the sector was popular with real estate developers prior to the pandemic.
Both projects were on the county's radar long before COVID and tracked local population spikes in the age group destined to be in the senior living market right around now, either for themselves or their parents.
But the combined availability of the two new communities, with close to 200 beds between them, has deepened the concerns of other long-term care operators struggling to fill their own vacancies as more families opt to keep their senior relatives at home while the coronavirus circulates.
Nationally, assisted living occupancy rates have fallen to their lowest level since 2005, to less than 80 percent, with Tampa and Miami markets faring even worse. Pre-pandemic occupancy rates were at record highs.
While the market for senior living may be thinning, patient costs are rising. In 2020, assisted living rent went up more than 6 percent nationally, and more hikes are expected, according to Senior Housing News. On average, apartments now cost $4,300 a month with special care costs added to that depending on the resident's needs.
At the same time, the cost of home health aides also went up by more than 4 percent as rates climbed to $24 an hour on average, a fact that could play into families' care debate.
"Keeping census up has been difficult since the pandemic," said Don Wright, owner of three small, middle-market assisted living facilities in Indian River County – Pelican Garden in Sebastian, Rosewood Manor in Vero and Dixie Oak Manor in Winter Beach.
While Rosewood's memory care unit is at 95 percent occupancy, Wright said, assisted living occupancy has fallen off. "The lockdown and no visitations that went on for so long, combined with families being scared to place their loved ones in this environment, has been very challenging – especially with the crazy nursing home news coming out of New York. Families simply buckled down and provided care at home."
As revenues dropped with lower occupancy, unbudgeted costs like PPE went up.
Wright also is partner and board chairman of another company with 850 beds in five states. "What we're dealing with here is no different than what we are dealing with in all those other states. Every long-term care facility is in the same boat."
But Wright sees a turnaround on the horizon, and he is planning expansions at Rosewood and Pelican Garden. As his residents applauded last week at the news the dining hall was reopening, Wright anticipates there will be "pent-up demand" for long-term care post-COVID.
However, "at the same time, two new facilities are coming online and adding to an already very competitive marketplace," he said, adding that his facilities "are feeling pressure with the new facilities matching or undercutting rates."
"But that's business," he said. "We will just keep doing what we love to do. While we try to be aware of all competitors, our focus is for our resident and employee welfare and safety."
After the first nursing home was ravaged by COVID-19 in Washington State, the virus soon showed up in Florida facilities in March 2020. In Vero, the first cases were confirmed in early April at HarborChase – in the memory care wing. Five residents died that month in a 10-day span.
"Long-term care was the ground zero of the pandemic," said Emmett Reed of the Florida Health Care Association, a trade group supporting nursing homes and assisted living facilities. "Our world completely changed in Florida."
Reed's comments came during testimony before the state Senate Committee on Pandemic Preparedness and Response.
"This surpassed any scope of any infectious disease through Florida nursing homes and around the world," Reed said. "We quickly became the focus of state and federal government."
Reed spoke two days after a healthcare COVID-19 liability protection bill was filed in the state Senate. At the time, Reed said the long-term care facilities in his organization had received 90 notices of intent to sue related to COVID-19.
When the bill was signed by the governor Monday, rolled into protections afforded businesses in general, the notices of intent list had grown to more than 120.
The new law doesn't mean businesses – including healthcare – are off the hook for negligence related to the pandemic. But plaintiffs now have to prove defendants deliberately didn't follow COVID guidelines. There's also a requirement for a doctor's note that the illness or death from COVID-19 was a result of the defendant's actions.
Support for the bill went beyond long-term care operators. Reed's plea for passage was joined by key healthcare lobbying groups, including the Florida Hospital Association, the Safety Net Hospital Alliance of Florida and the Florida Medical Association.
"Our facilities have shown incredible resilience and commitment getting through this," Reed said. "We got lots of different requirements with little time to adjust to it. It was like drinking water from a fire hose. And we were managing the fears of families and residents."
Reed's group has in its membership 690 nursing homes and 3,100 assisted living facilities with a combined 200,000 staff members. He pointed out that the average age of residents is 85 in Florida's long-term care facilities, and most have underlying conditions.
"We have congregate living, so our residents play bingo and some share rooms. It's a very difficult environment to manage in a pandemic."
"Every organization has been saving lives," Reed said.