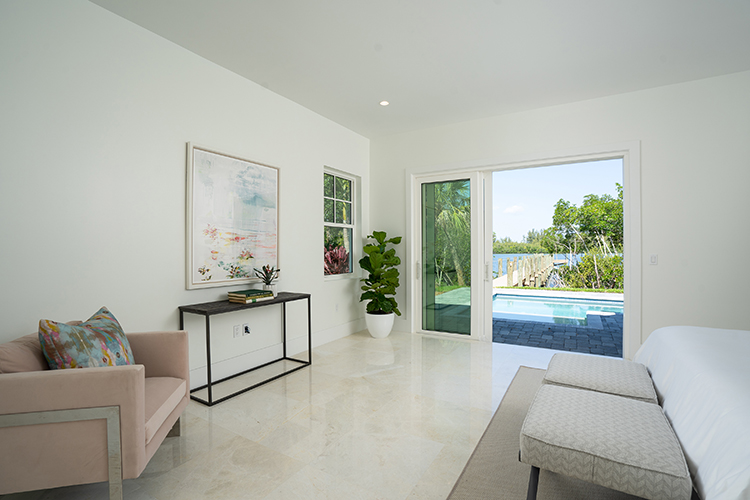 If you decide to tour the cool, contemporary-style home at 1409 Old Winter Beach Road, prepare to be amazed.
The white exterior and ocean blue shutters reflect the colors of sky and water, and hint at the clean, modern vibe inside. From the covered entry porch, step through sleekly elegant double glass and dark wood doors into the lofty foyer with marble flooring that continues throughout the entire house.
The light-filled interior is wonderfully inviting: a mist-pale palette; long, clean stretches of wall; handsome, 12-foot ceilings; and minimal embellishment create a serene ambiance.
The 3085-square-foot home, offered for $2,095,000 by ONE Sotheby's broker associate Janyne Kenworthy, has 3 bedrooms, 3 full baths, 2 half-baths, a swimming pool and dock.
The precisely placed doors and windows become "frames" for nature's unparalleled works of art, providing lovely views of the storied Indian River and the tropical wildlife that call it home, including resident bottlenose dolphins, West Indian manatees, pelicans both white and brown, and a wide array of other creatures.
A spacious den/office off the foyer features full-wall bookshelves and plenty of illumination from large double windows facing the front lawn, along with recessed lighting you'll find throughout the house.
The heart of the home, a huge, beautiful central living space, accommodates kitchen, dining room and living room, for a virtually seamless flow of activities and conversation.
For entertaining guests, and family gatherings of any size, this home is ideal. Open the sliders to the broad covered patio and pavered pool deck, then across the lawn to the private dock, and it is plain to see the lifestyle options are endless.
The ceilings throughout the home definitely deserve special mention – they are sleek iterations of the tray ceiling, further enhanced by the artistic choice and placement of the recessed lighting.
The kitchen features sleek cabinetry with under-cabinet lighting and Viking appliances, including a gas range with stainless-steel hood, microwave, dishwasher and fridge. The island has lunch counter seating for three, dishwasher, deep sink and storage, illuminated by a trio of simple white cylinder pendants. There is also that always-hoped-for kitchen feature – a pantry.
A spacious dining area just off the kitchen flows into the large living room area. This entire kitchen/dining room/living room space is endlessly flexible, ready to accommodate any number of furniture configurations. With two 4-panel glass sliders, and a trio of windows in the kitchen, you'll have magnificent river views from wherever you are.
The cool and quiet owner's suite occupies the home's southwest corner. Spacious walk-in closets make organizing your wardrobe a cinch. A wide slider provides access to the patio and pool, wonderfully handy for a brisk morning dip. Take your coffee out to the dock as the river and its inhabitants greet a new day. Return at day's end, as the water birds settle in for the night, to enjoy the natural beauty all around you as the sun sets over the quiet reflective.
An indulgence of another kind is the owner's sumptuous bathroom, a pale beauty with a long stretch of white cabinetry and a pair of rectangular sinks, each with its own large, white-framed mirror and simple cylindrical light. At the far end, under a double window, is an indulgent, stand-alone soaking tub, resplendent beneath a delicate and dreamy chandelier.
On the other side of the house, the two cozy en suite guest bedrooms each enjoy ambient light and fine views from corner windows.
Embraced by nature as few others are, this exquisite riverside home will provide you with all the privacy, peace and solitude you desire. And you will still be only a short, pleasant drive away from Vero's charming seaside village, with its excellent shops, salons, restaurants, pubs and resorts. Nearby, in Riverside Park, you'll find Riverside Theatre (Equity), the Vero Beach Museum of Art, tennis and pickleball courts, boat launch, walking trails and a variety of art, garden and other shows and festivals "under the oaks" during the year.