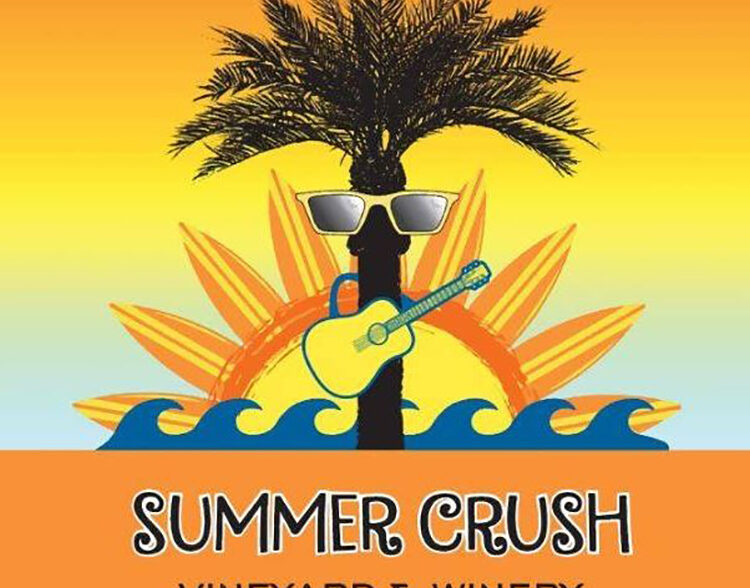 With Florida's spring bustin' out all over, this is probably the ideal time to take a tiny trip out of town and enjoy something different – concerts at Summer Crush Winery in Fort Pierce. This is a family-run boutique winery showcasing Florida's own muscadine and fruit wines. It also offers a chance to get away from it all. "It's so much fun, I even come out on my days off," said assistant manager Brie Laurion. "It's an unplugged place – no Wi-Fi, no TVs. It's a way to escape the day-to-day and just reset and recharge … get back to the 'face-to-face.'"
There's so much to do at Summer Crush that you won't have time to check that cellphone. There's a tasting room, a 10-acre vineyard, a gift shop, occasional car shows and art shows, outdoor relaxin' by the pond, boats, lawn games, a nine-hole disc golf course, and more.
Weekend concerts are held in a surfboard-festooned pavilion and always include a food truck. When people purchase tickets to the concert, they'll either reserve a place at tables in the pavilion or plan for a spot in the 1-acre lawn area by the pavilion. The dance floor has reopened, but dancers are required to wear masks. The concert schedule for the next few days kicks off with memorable music from the '60s show "April Fools Day Down with the Old Hippies," which runs 2 p.m. to 5 p.m. Thursday, April 1. Country and trop-rock Parrothead fans should enjoy "Billy Dean and Bertie Higgins with special guest Thom Shepherd," 6 p.m. to 8:30 p.m. Friday, April 2. Impersonator Bill Connor takes the stage in a "Rocketman Meets Pianoman Tribute to Elton John & Billy Joel" concert 1 p.m. to 4 p.m. Saturday, April 3. Hairpeace performs in "A Peaceful Easy Easter" concert, which also includes a Crazy Easter Hat Contest, 1 p.m. to 4 p.m. Sunday, April 4. Admission to the winery is free. Tickets to the concert range from $3 to $15. Table and tent reservations are extra. Concertgoers may want to bring their own lawn chair, umbrella or tent. No coolers or off-premises food or beverages, including water, is allowed. Social distancing and masks required. Summer Crush Winery is at 4200 Johnston Road, Fort Pierce (just south of the Indian River County border). Call 772-460-0500 or visit SummerCrushWine.com.
The First Friday Gallery Stroll takes place 5 p.m. to 8 p.m. this Friday, April 2 in the Vero Beach Arts District. If you've never done an art stroll, you will find this to be a delightful way to get back into the world. People who join in are generally a congenial bunch, easy to chat with and happy to be there. Gallerists are welcoming, as are artists who are eager to chat with you about their works, their processes and inspirations. You'll find decorative, whimsical, artful works and more. The First Friday Gallery Stroll runs along and around 14th Avenue, from 21st Street to 18th Street. Be sure to save time during the Gallery Stroll to sink into something provocative and challenging – Raw Space Gallery's new exhibition, "3 Steps Forward – 2 Steps Back," which will have its opening reception during the Gallery Stroll and will run through April 30. The exhibition explores multicultural and multiracial issues informing systemic racism. It's an immersive experience with art by Pamela Pike Gordinier, poetry by Rhonda Ward, music by Kirk Edwards and research by Glenn Gordinier. Raw Space Art Gallery is at 1795 Old Dixie Highway, Vero Beach. Regular hours are 3 p.m. to 6 p.m. Wednesdays to Fridays, and 11 a.m. to 2 p.m. Saturdays. Call Raw Space at 772-453-8667.
Reflect on all this at the Guided Meditation and Labyrinth Walk from 5 p.m. to 5:40 p.m. Sunday, April 4 at the Unity Spiritual Center of Vero Beach. The labyrinth walk begins with a history of the labyrinth, an ancient symbol and tool for meditation. Guided by Leslie Haatvedt, guests will be invited to walk the labyrinth by themselves. This can be a quieting experience with a surprising power to reflect inward. Moreover, it's held outdoors, so chances are warm breezes and sounds of nature might add to the experience. You may be compelled to linger, so bring a lawn chair. Unity Spiritual Center of Vero Beach is at 950 43rd Ave. Call 772-532-8310.
The Community Church of Vero Beach will present "Requiem for the Living" by Dan Forrest at 7 p.m. Friday, April 2. The concert features soprano Rachel Carter with the Chamber Choir and Orchestra, and will be conducted by Andrew Galuska. Limited seating, reservations suggested. The Community Church of Vero Beach is at 1901 23rd St. Call 772-469-2321 or visit CCOVB.org.