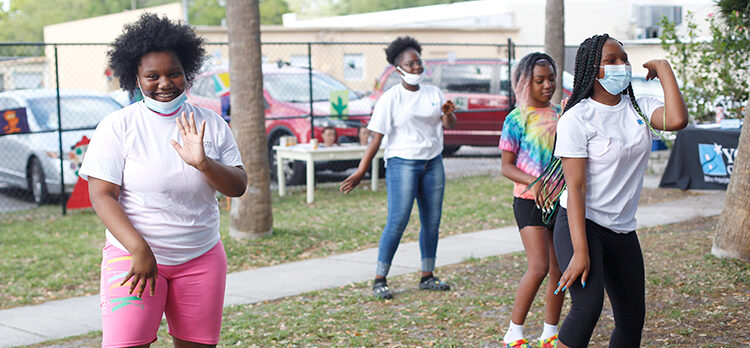 The Youth Guidance Mentoring Academy ushered in spring 'like a lion' during its recent Spring Fling, where families gathered for dinner on the campus of the nonprofit under a canopy of oak trees before registering their children for the spring semester.
"We want to celebrate our families," said Phillip Barnes, YG executive director, to the crowd. "We have some exciting programs in store for you. We're really looking forward to an incredible semester."
Attendees perused work samples from the cosmetology program and student art projects, and watched a performance by students in the dance program.
Andrew Edgcomb, recently hired as the YG program manager, was on hand to help parents and children select suitable programs, noting that Youth Guidance has partnered with several other nonprofits to bring in new programming.
At the Environmental Learning Center, students will get up close and personal with nature, learning about different species and their habitats. Staff from the Substance Abuse Center will be teaching life skills, including how to cope with anxiety, build self-confidence, enhance self-esteem, make good decisions and resist peer pressure. Other new offerings include pottery, creative writing, journalism and dance.
S.T.E.A.M. (Science, Technology, Engineering, Art and Math) classes will continue to be offered, and those students with an interest in pursuing a career in a trade or vocation can participate in bike or boat repair training.
"This is an area we're looking to enhance in the coming year," shared Barnes. "Our kids really latch on to it. We do bicycle repair and boat mechanics, and we are looking to start a full-fledged pre-apprenticeship program in the fall. The kids will actually get certification for completing coursework and hands-on activities in the areas of HVAC, plumbing, carpentry and welding."
Older students can participate in Pathfinders, a program sponsored by the Exchange Club of the Treasure Coast to nurture the next generation of leaders by developing research skills, leadership and civic engagement.
Additionally, Youth Guidance plans to continue providing a safe space, with tutors and supervision, for those students still attending virtual school, and will offer summer programming five days a week, beginning in June.
The youth mentorship program, founded in 1973, is dedicated to enriching the lives of Indian River County youth through mentoring relationships that inspire trust, self-esteem and positive futures through engagement, entertainment and education.
For more information, visit youthguidanceprogram.org.
Photos by Kaila Jones