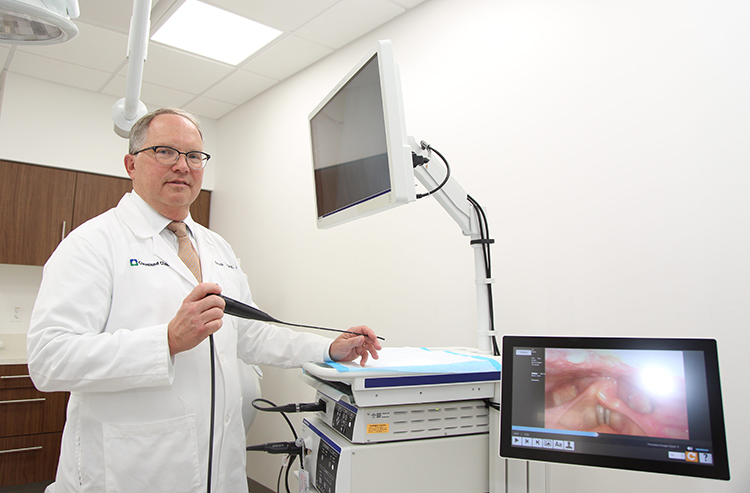 Most of us think of a sore throat as an annoyance rather than a serious health issue, but if you've experienced hoarseness, a change in voice tone, trouble swallowing or noticed a lump in your throat, it is a good idea to get checked out by a doctor.
Sure, it could be a simple infection – or a warning sign of throat cancer, according to Dr. Brian Burkey, chair of the Department of Otolaryngology/Head and Neck Surgery at Cleveland Clinic Indian River Hospital and Chair of Surgical Specialties for Cleveland Clinic's Florida region.
"My role as an otolaryngologist is to complement the current otolaryngologist ENT (ear, nose and throat) practice in the community," said Dr. Burkey, who joined the team at Cleveland's hospital here earlier this year. "I do not do the general ENT practice, but instead I tackle the more complex issues like tumors and advanced ailments to the head and neck. Cancers of the throat, tongue and upper digestive track from the lip down to the esophagus are my specialty."
Throat cancer grows in the organs used to swallow, speak and breathe. About half of these cancers happen in the throat itself, the tube that starts behind your nose and ends in your neck. These diseases tend to grow quickly, so it's best to get treatment early.
"The top three cancers I treat are of the tongue, tonsils and voice box," explained Dr. Burkey. "Not surprisingly, the most common cause for malignancy is smoking and chewing tobacco. Alcohol use also plays a key role, and the two combined increase the risk factor greatly. Another key risk factor that has only become apparent in the past 20 years is the human papillomavirus (HPV)."
Scientist have known about the link between HPV and cervical cancer for decades. They've also known for years that an oral infection with the virus can cause cancers of the head and neck. Most people who get oral HPV don't get cancer, because the body usually fights the virus off before you know you have it. Head and neck cancers are on the rise, however, and scientists believe oral HPV may be the cause.
According to WebMD, only about 7 percent of Americans have oral HPV, far fewer than the number who have the genital version, which is the most common sexually transmitted disease in the U.S. There are hundreds of types of HPV but only a handful are carcinogenic.
The strain that causes cervical cancer is also linked to most HPV-related head and neck cancers. Most doctors agree that oral HPV is passed on through oral sex.
When HPV infects cells, it causes them to physically change, and when your immune system can't fight the infection, those changes lead to tumors. These tumors usually develop in the throat, near the tonsils, at the back of the roof of the mouth or the base of the tongue.
"This area known as the oropharynx is very distinct because it has big lymph nodes giving it a lymphatic component," Dr. Burkey explained. "This is where the HPV tumors exist.
People think it's part of the mouth but it's really not. The part of the tongue you can see will never have cancer caused by HPV. It's always in the back of the tongue or tonsils."
The good news about all this is that throat cancer can be treated. The multi-disciplinary team at Cleveland Clinic consists of an otolaryngologist with expertise in head and neck tumors, a medical oncologist who can administer chemotherapy and other newer drugs, and a radiation oncologist. All three decide on a treatment and work together. In most cases smaller tumors are removed surgically and larger tumors are treated with chemotherapy and radiation together, saving surgery in case they come back.
"We've treated these types of tumors for decades with surgery, radiation and chemotherapy," continued Dr. Burkey. "The HPV finding has been a big development and these tumors are very responsive to treatment. Doctors are trying to do less invasive surgery through the use of robotics and laser. We are also implanting the use of immunotherapy which jazzes up the immune system.
"Tumors have the ability to dial down the immune system around the tumor and immunotherapy and that class of drugs has the ability to turn them back on so you can generate your own self-defense. This form of therapy with its new classes of drugs has revolutionized the treatment of cancer.
"The other new development in the last decade is in reconstruction," added Dr. Burkey. "Surgery can sometimes be pretty destructive, and through the use of microvascular reconstruction we are able to give the patient good function and better quality of life."
Surprisingly, the tumors caused by tobacco use and those caused by HPV are distinctly different. Virally related tumors have a much better prognosis and respond very well to radiation, and patients have a much better prognosis than those that are not HPV-related.
While HPV cancers are the new epidemic, they have a very good prognosis with cure rates approaching 90 percent.
"The best thing anyone can do to limit their risk of throat cancer is not smoking and getting the HPV vaccine," implored Dr. Burkey.
While Dr. Burkey has only been at Cleveland Clinic Indian River Hospital for a little over a month, he is not a newcomer to Cleveland Clinic or to Vero Beach. Prior to his move to Vero, Dr. Burkey served as vice chairman and section head of Head and Neck Surgery and Oncology at the Cleveland Clinic Head and Neck Institute in Ohio. He came to Cleveland Clinic after nearly 20 years at Vanderbilt University Medical Center, where he rose to professor of otolaryngology and vice chairman within that department.
"I'm excited to be here and help develop the Indian River Hospital clinic so that residents will get the excellent care they deserve," Dr. Burkey said enthusiastically. "I was overseeing the surgical group in Florida and had visited Vero Beach prior.
"We fell in love with the area and bought a vacation home here last June. I honestly didn't even know where the hospital was at that time, but soon realized that many of my colleagues in Cleveland were transferring to Indian River Hospital. The thought of being involved in growth both regionally and locally sealed the deal, and our vacation home became our permanent home. It's great to live and work in paradise."
Dr. Brian Burkey is now accepting new patients at Scully-Welsh Cancer Center at Cleveland Clinic Indian River Hospital, located at 3555 10th Court, Vero Beach. To schedule an appointment, call 772-563-4673.