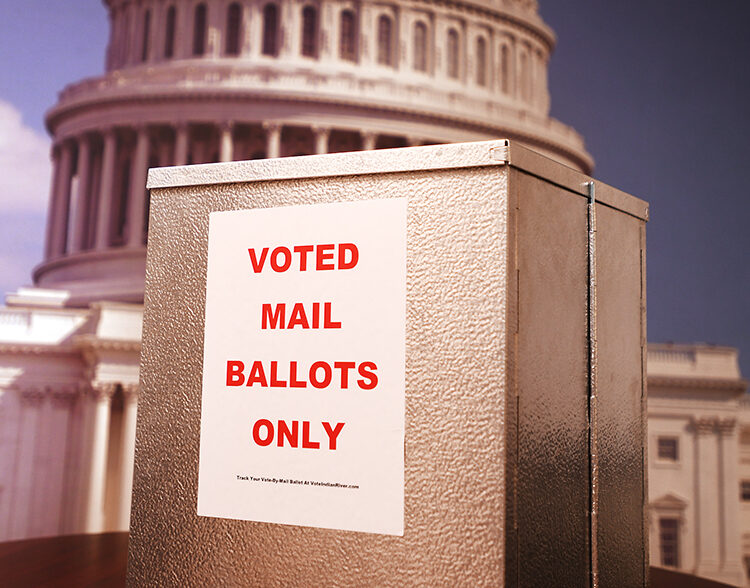 A number of local elected officials in Indian River County – and election supervisors statewide – have a problem with SB-90, a bill now making its way through the Legislature that would put new limits on the use of vote-by-mail ballots and eliminate drop boxes for the return of those ballots.
Indian River County Supervisor of Elections Leslie Swan said the drop boxes "are great," and "what people are used to" since they were first mandated by the state.
She said there have been no problems with four secure drop boxes located at early voting sites in Indian River County, convenient drop-off spots that were used extensively by county voters in the last election.
Other election supervisors agree with her. 
Mark Earley, vice president of the nonpartisan Florida Association of Supervisors of Elections and Leon County Elections Supervisor, has said his group is "vehemently" against SB 90. "This bill appears to my perspective to be setting us up for another 2012, where we have chaos and long lines and confusion." 
Vero Beach Vice Mayor Ray Neville opposes the bill, too, calling it unnecessary and restrictive and "much ado about nothing." Ballot drop boxes here, he said, "are secure in all locations, emptied and locked every day. It's no different than the mail, and it's hard to mess with the mail."
District 5 County Commissioner Laura Moss agreed. "I am not in favor of prohibiting drop boxes. I have voted that way myself many times. Some people don't want to mail in their ballot because they don't have stamps, or they don't want to or can't stand in line. A stamp isn't required with the drop box.
"These days, if half the registered voters vote, that's considered good. I think, bottom line, we should be looking for ways to make it easier, to promote good voter turnout, not diminish it, especially in the midst of a pandemic. People should have options."
According to the Supervisor of Elections website, Indian River County had the kind of great voter participation Moss wants in the November election, with nearly 79 percent of eligible voters casting 98,200 ballots, including 45,734 ballots that were mailed in or deposited in drop-boxes. 
The only local elected official contacted by Vero Beach 32963 who supports SB-90 was District 7 senator and current Senate Majority Leader Debbie Mayfield.  She voted in favor of the bill when it came before the Governmental Oversight and Accountability Committee March 10. 
When asked why she felt the changes were necessary, even though election officials across the state oppose them, Mayfield's office replied: "Senate Bill 90 ensures those wishing to vote by mail in Florida submit the most up to date information in a timely, secure fashion to allow for a fair election with fewer chances for fraud. It is critical that we safeguard against abuse and continue to maintain the integrity of our free and fair elections – a cornerstone of our nation's democracy."