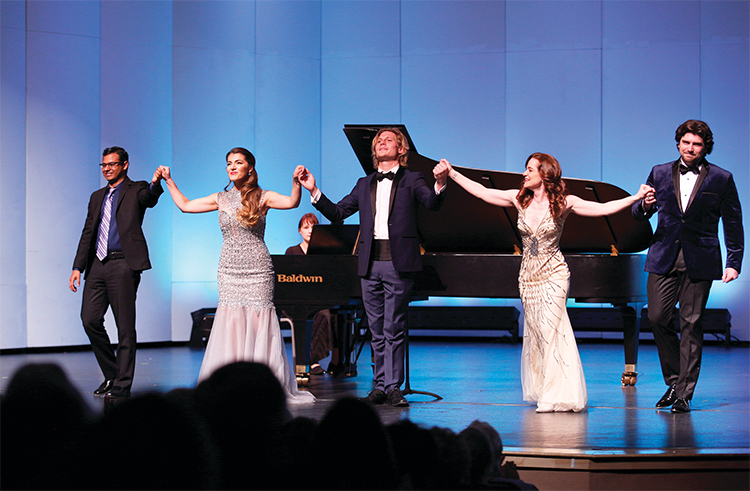 It's all about the young ones this week. And we're talking young! From infant to teens, there are many great, inspiring and heartwarming items on family lists.
You may have been spending the past year in isolation, but there are a whole galaxy of rising stars who have been preparing and waiting to show you their brilliance. One such place to see them this weekend is at the Vero Beach Opera Rising Stars Festival. It runs March 25-27 at the Vero Beach High School Performing Arts Center. The highlight of this, of course, is the Rising Stars Vocal Competition, which runs 2 p.m. to 5 p.m. Thursday, March 25 and Friday, March 26. In past seasons, the organization has invited the Metropolitan Opera National Council Auditions Semifinalists to compete. Many of those competitors win top prizes. The competitions have a grand finale on Saturday when guest artist tenor Matthew White and Met conductor Caren Levin (on piano) accompany the Rising Stars competitors in a 7 p.m. performance. At the end of the concert, the prizes will be announced. All performances are held at the Vero Beach High School Performing Arts Center, 1707 16th St. Tickets are $30 for a two-day pass to the competition. Tickets for the Finals Concert range from $30 to $50, with students at half price. Call 772-569-6993 or visit VeroBeachOpera.org.
Dress up the little ones and get your cameras ready, because it's time for the 61st Annual Easter Egg Hunt sponsored by the City of Vero Beach Recreation Department, Mulligan's Beach House and ABC Printing. The Easter Egg Hunt is free for children up to 9 years of age. And every one of those precious participants gets a prize. The hunt begins 10 a.m. Saturday, March 27 on the beach behind Mulligan's Beach House Bar & Grill, 1025 Beachland Blvd. Still, masks are recommended as well as social distancing. Organizers ask that each family bring a donation of six new empty plastic Easter Eggs. Call 772-978-4500 or visit COVB.org and click onto the Recreation Department's page.
Older children should love "Legally Blonde: The Musical JR.," which is being presented Saturday, March 27 for free outdoors at the Vero Beach Outlets. The show is a production of the Riverside Theatre for Kids program. This is a fun show, filled with music and dance and verve. It follows the warm-hearted exploits of Elle Woods, a determined young woman who finds herself at Harvard Law. The production features 33 student performers directed by Kevin Quillinan. The show is free. No tickets required, but masks are. It performs twice, first at 11:30 a.m. and then at 2 p.m. at the outdoor venue near the Williams Sonoma Outlet, Vero Beach Outlets, 1824 94th Dr. Call 772-231-6990 or visit RiversideTheatre.com.
And it's always a great treat to take the family to LaPorte Farms. Add to the fun on Saturday when the Keep Indian River Beautiful presents an "Environmental Awards Western Shindig." The event will hand out awards and honors to friends, neighbors, young people, local businesses and civic clubs who have gone above and beyond when it comes to improving the community during a very trying time – 2020. The event includes games, a petting zoo, a mechanical bull ride and all the other goodies you find at LaPorte Farms, the event host. It will also have an auction, a dance floor and a cash bar. Moreover, a trip to LaPorte Farms will get you smiling from the moment you step foot onto their 5 acres of old-fashioned outdoor fun. So step away from the electronic device and get back into nature with the family while helping support the important mission of the Keep Indian River Beautiful organization. The Western Shindig runs 4 p.m. to 8 p.m. this Saturday, March 27 at LaPorte Farms, 7700 129th St., Sebastian. Free entry. Meals cost $25 per person and $10 for children 12 years and younger. Call 772-226-7738 or visit KeepIndianRiverBeautiful.org.
OK, you've been very good at keeping the younger ones fully engaged. Now here's an excuse for you to dress up and, at the same time, help raise scholarship funds for young people – the Vero Beach Woman's Club's inaugural "Mad Hatter's Tea Party." The catered afternoon tea includes an Easter Bonnet contest, so do your best on that. Funds raised will go to the new Vero Beach Woman's Club Scholarship funds and the Gifford Youth Achievement Center Scholarship Fund, which helps send young women to college. The Mad Hatter's Tea Party begins 2 p.m. Saturday, March 27 at 1534 21st St. Tickets are $75. Masks are mandatory. There will be social distancing. For more information, call 772-205-2259.