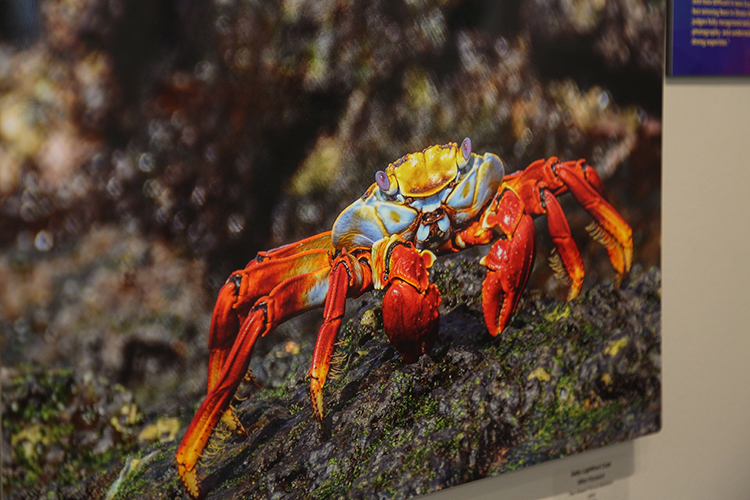 The A.E. Backus Museum and Gallery in Fort Pierce is observing the 60th year of its founding with a show inspired by past Best of Show winners in the museum's perennially popular "Best of the Best" and "Through the Eye of the Camera" competitive exhibitions. The show is on display through April 25.
The "Top 60 Anniversary Invitational" includes six artworks each of 10 fine artists; five photographers and five artists working in the medias of watercolor, pastel, oils and printmaking. The 10 participants are Laurie Aguera-Arcas, Patricia Corapi, Dawn Currie, Debby Marriott, Erika Masterson, Dawn Miller, Susan Pantuso, Mike Ricciardi, Frank Spino and (full disclosure) this writer, Ellen Fischer.
It is an interesting mix. The artists' works are hung as a group, with the result that the color photographs of Masterson, fantasy montages of children in underwater environments, hang on the same wall as Spino's watercolors of Florida landscape and citrus still life. Likewise, the bold black-and-white photos of regal egrets and languid water lilies by Currie, share a wall with the jewel-bright colors of Marriott's Florida-themed watercolor batiks.
And yet, the display looks exactly right. Perhaps this is because photographs today are digitally printed, in color or black and white, on everything from paper to aluminum sheet and canvas in a variety of finishes and sizes. Long past are the days when paintings on canvas lorded over other mediums in mixed-media exhibitions, unmatchable for impact and size. In fact, in the current show, only two of the artists present works on canvas; an oil painter and a photographer. And the gallery-goer will be hard pressed to say which medium has the larger "wow" effect.
Georgina "George" Love, director of exhibitions, says that the show, the first of its kind to be offered at the Backus, was not easy to hang.
"It was a challenge to showcase everybody's works equally. That was the big challenge; to allow myself to show everything on an equal footing. That was the most important thing to me, that everyone in the show feel special."
She adds: "It was Marshall's idea to have the invitational of 10 Best of Show winning artists from past years. I think it's a great idea."
Says J. Marshall Adams, the executive director of the Backus Museum: "I will take credit or blame for the idea, but I passed it over to George to make sure she had creative freedom to review different artists. We set a kind of arbitrary point of 10 years in the history of the two competitive exhibitions, because we wanted see how far we could go back."
Adams says that some of the award-winning artists from years past are now deceased, while others no longer appeared to be active. He and Love wanted the show to be about actively creating artists.
"We also wanted them to submit work in the same medium with which they won best of show. You didn't want somebody who won in photography come back to you and say, well, I'm doing pottery now. We wanted consistency in that respect," says Love.
Love feels that the artist as an active part of a community's social fabric is what Backus, the artist and the museum, is all about.
"Part of the mission of the Backus museum comes from Backus' embrace of local artists. What better way to do it than this? There obviously had to be some sort of criteria, so picking people who had won Best of Show in the past would be a good place to start."
The idea of continuity in a community-based museum is a good way to observe its 60th anniversary in an era when many small museums, started with love and hope by their founders decades ago, are fading away because of woeful lack of support from their communities. You don't need to look far for evidence of this. Melbourne's Foosaner Museum will permanently close this July 1, and the Ruth Funk Center closed last year.
Adams points out that all the previous directors of the Backus museum knew A.E. "Bean" Backus firsthand, as a working artist and as a friend.
"I am the first director who didn't meet Backus," he says.
Adams notes that fewer and fewer of the museum's visitors can say they remember Backus the man, but he has no doubt that for generations to come, exhibiting artists as well as gallery-goers will continue to follow Beanie's example of making art accessible to all.
The brief artist statements exhibited alongside the works in Top 60 confirm this. Sharon Masterson wrote that being included in this show was special to her because her late father had been an award-winning photographer in the Through the Eye of the Camera competition many years before.
"My father would've been thrilled to see me follow in his footsteps," she wrote.
"That is a personal history that parallels our institutional history," says Adams. "You could say that the art speaks for itself, but having the artist's voice, those words, that is what Backus would have wanted. If you go back to the beginning of the history, he wanted the artists to be able to have their voice. This gives us the opportunity to amplify that."
Adams notes that Frank Spino won Best of Show in two consecutive Best of the Best exhibitions, in 2019 and 2020. Spino chose to display both of those works, "Sabal Palms on Turkey Creek" and "Key Lime #1," in the current show. The back-to-back win was a first for the museum, says Adams, who confirmed the fact with Director Emerita Kathleen Frederick, who oversaw 27 years of competitive shows at the museum.
Other Top 60 artists also included their award-winning work in the show. Dawn Miller chose to exhibit her 2018 Best of Show winner, an engaging pastel portrait titled "Miss L," as well as her 2020 Director's Award-winning pastel over paper collage titled "The Look."
Adams is particularly happy the latter is in the show; he was the one who awarded it Director's Choice.
"The more you look at Dawn's work, the more you see. That is what is compelling about her works. The art should stop you and make you look," he says.
Would Adams consider doing another such exhibition in, say, another five years?
He chuckles and asks, "65 for 65?"
"If we do something like this again, the histories of these two juried shows, Eye of the Camera and Best of the Best, is like a mine. You could go into that mine and find all sorts of treasures, if you were diligent, if you were thoughtful, if you were sensitive and were able to go back and talk to some of the artists."
Artists like Laurie Aguera-Arcas. Based in Stuart, the artist is fluent in different media but for this show focused on her specialty – printmaking. Her six linocut prints feature the female figure, nature, flowers, a portrait, and a still life with octopus. Their individual strength comes from the economy of line the artist uses to limn her subjects, and their unity as a group is due their graphic black-and-white format. Her six works command the wall on which they are displayed.
Aguera-Arcas was the 2013 Best of Show winner in Best of the Best and, according to her artist's statement, the honor was something of a welcome mat when she was a newcomer to Florida.
"Best of the Best 2013 was the first time I exhibited in Florida since I moved south from Baltimore," she wrote. It put "wind in my sails, and Florida was looking better and better. I entered other exhibitions, won other awards, got some teaching gigs, and continued to be inspired by Florida … so winning the Best of Show at the Backus Museum was THE BEST."
Photos by Kaila Jones