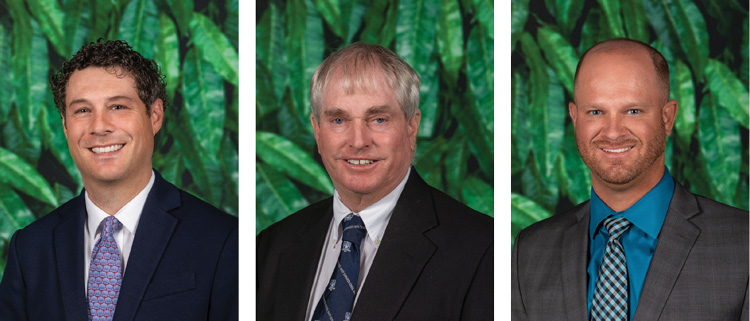 A few weeks ago, St. Ed's announced that Greg Zugrave was selected to fill the director of athletics position, succeeding Jeff Lamscha. At the same time, Jeremy Gillan was promoted to assistant athletic director.
Everyone interviewed expressed confidence that these are the right moves at the right time. Now all that remains to be seen going forward is how everyone adapts to a new professional lifestyle. Change is always accompanied by the loss of familiarity for what you are leaving behind, and uncertainty for what you have signed up for.
Lamscha has been at St. Ed's since 1982 in an assortment of positions and functions, most notably as a physical education instructor, and for the past 12 years as AD. Zugrave burst upon the scene a decade ago. The self-described gym rat is well north of 100 wins as boys varsity basketball coach. His love for running was a natural fit coaching cross country.
He taught history and entrepreneurship classes. Gillan, a former professional baseball player, has earned volumes of respect as head athletic trainer, a full-time position he will maintain while assisting AD Zugrave.
"I was very excited for the opportunity to build upon the rich tradition of athletics here at St. Edward's," Zugrave told us. "We have such tremendous young men and women at the school, great coaches and a supportive teaching and administrative staff. The ability to grow what folks like Jeff Lamscha have accomplished will lead to future success and create new opportunities for our students.
"I am pleased that the student-athletes, especially the seniors, had the opportunity to compete this year. While the seasons have been disrupted, coaches know that an important factor for high school athletes is the time the teams spend together; whether it be a game or practice, it really doesn't matter. Competing and being together is good for the students' mental well-being during these difficult times.
"I will assume the role of AD officially on July 1. Jeff and I have been working closely together for the past few weeks to get things in order for the fall season. What I will coach is something we need to determine. My teaching role will be quite limited.
"My main focus is keeping the athletic department going full steam ahead, building on the tremendous success we have had this year thus far. The duties of AD are numerous and come in all shapes and sizes."
Zugrave went on to mention hiring, scheduling and providing the needed resources to coaches and athletes as important aspects of the job. He and everyone at the school will also be firmly dedicated to maintaining a balance between academics and athletics.
Perhaps the most accurate appraisal of his future was when he said his new duties as AD will come in all shapes and sizes. You realized that instantly by observing Lamscha everywhere campus over the past dozen years.
The departing AD occasionally assumed the role of public address announcer at games. He sprayed down the net with disinfectant for the safety of volleyball players. He tells the story of his first year on campus when he got to drive the summer camp bus. At this stage, however, Lamscha is entirely comfortable about his decision to step down.
"My wife is retired and it's time to give back to her," Lamscha said. "More than just a little bit, a lot. This job takes 16- or 17-hour days and working into the night to do it correctly. I think it was time for me to pass the baton. I've run my race.
"You can't really put it into words. I just know that family considerations were a lot of it coming to an end. It was time for somebody else to carry the torch. I'm really ecstatic for Greg and Jeremy. I think they are going to do a wonderful job. I don't think I could have turned it over to two better people.
"I kind of kid everybody that I'm still going to be around. I will still teach PE at the lower or middle school. I'm now sure what else I will be doing, but I'm open for anything. Coaching again, I don't know. I haven't really thought that far ahead yet. Coaching is my passion but family comes first now. That's the way I look at it."
So did he care to look back and share any top memories from four decades at St. Ed's? Maybe 300-plus wins as the girls varsity head soccer coach?
"That's crazy," he said. "I can't pick No. 1. First of all, though, I met my wife at St. Ed's. We met when she was teaching at the lower school. That's got to be No. 1. There are a lot of 1-B's, including this boys soccer season."