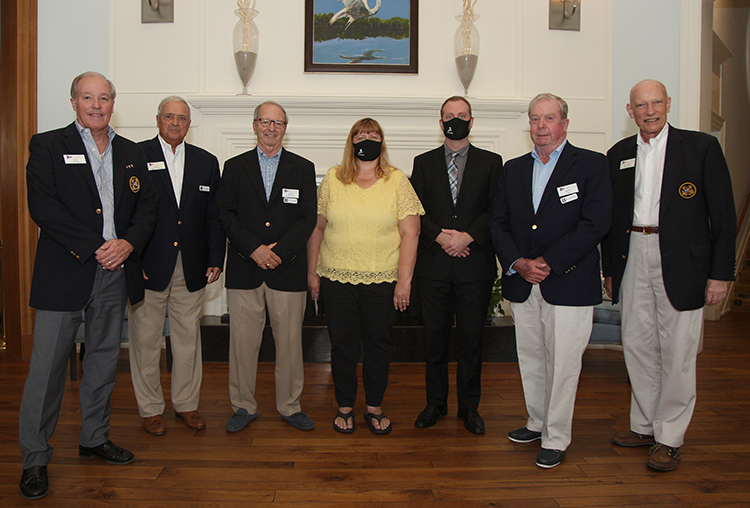 The Wheels & Keels Foundation got a head start on their giving this year with a special check presentation of $10,000 each to the VNA & Hospice Foundation and the Vero Beach High School Orchestra Boosters, during a cocktail reception last Thursday evening at the Moorings Yacht & Country Club.
As Moorings Club members gathered for the check presentation the room's energy level was high, with friends catching up after the year-long reduction in normal club activities.
While the programming of past grant recipients has been geared toward water-based activities, Vincent DeTurris, Wheels & Keels Foundation vice president, explained that the services of these two nonprofits align with their support of groups that help children and adults to have a better quality of life.
"The Yacht Club here at the Moorings has had a long and traditional relationship with the Wheels & Keels Foundation," said Kip Jacoby, Moorings Yacht Club commodore, adding that last year's Wheels & Keels event had been canceled due to the coronavirus.
"We could not have the success we have had over the past 10 years with Wheels & Keels without the support of our Moorings Yacht Club, but specifically you members who volunteer for everything," said DeTurris to the crowd.
Michele Murphy accepted the $10,000 donation on behalf of the VBHS Orchestra Boosters. She said they plan to use the funds to bring in additional clinicians to work with the students, upgrade bows and instruments, and provide lessons to students who have a love of music but whose parents are not financially able to cover the cost of lessons.
"We are so appreciative of this money, because we want to continue our mission of taking care of people regardless of their ability to pay," said Lundy Fields, VNA president and CEO. "This money will go to direct patient care. There are a lot of people who have been suffering in a lot of different ways, and that's been compounded by COVID."
This year, the 10th annual Wheels & Keels fundraiser at the Moorings Yacht & Country Club kicks off with cocktails, dinner and a live auction at 5:30 p.m. Friday, April 9. The main event – an antique and exotic car and boat show – takes place Saturday, April 10 from 10 a.m. to 2 p.m., followed at 2:30 p.m. by a Red Carpet Awards Ceremony.
"This will be the first classic car show in the state of Florida since the pandemic," said DeTurris.
Proceeds from the event will benefit the Youth Sailing Foundation, ARC Oyster Mat project, Navy SEAL Trident House Charities, Vero Beach Rowing and Lines in the Lagoon.
For more information, visit wkvero.com.
Photos by Kaila Jones