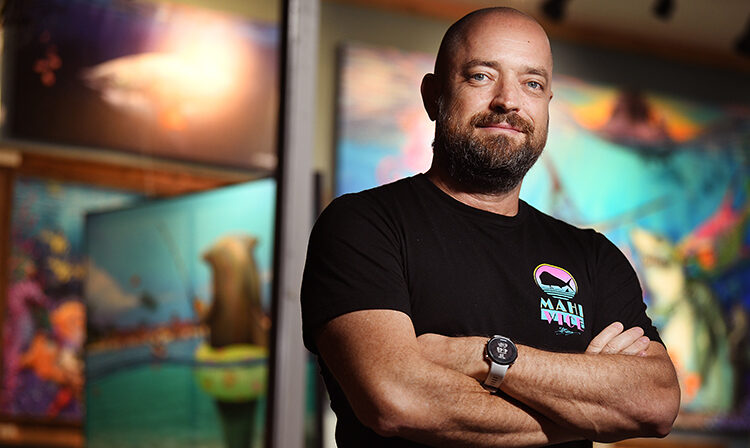 The ocean has always loomed large for artist Steve Diossy. He grew up around it, surfs in it and has an almost spiritual connection to all things aquatic, especially dolphins. And this past December, he opened the Steve Diossy Marine Art Gallery on Ocean Drive, just a block from his happy place.
Even if you haven't visited the gallery or browsed through his colorful website, you've likely already seen his work. Diossy was the artist who created Florida's "Protect Wild Dolphins" license plate which, since its debut in 1998, has raised millions of dollars for marine mammal research.
"Art, surfing and being in the water in general are my greatest passions," says Diossy. "In my artwork, I try to capture the fun of growing up around the water … a lightheartedness, a peace and happiness."
Diossy spent his early years by Sarasota Bay, on the west coast of Florida, before the family moved to Vero Beach. He says his parents had immigrated to the United States from Hungary – his actual first name is Istvan – and struggled financially.
"We lived in a little mobile home park near the beach," he recalls. "My brother and I fished every day and we used to live off the fish we caught. We were kind of poor at the time. The best thing we could do was go to the beach."
But what really propelled his fascination with the sea was watching his first big storm.
"It was hypnotizing," he says. "You get so inspired. It was like a big playground. It looked like so much fun."
He found a used surfboard, one that was barely holding itself together, and taught himself to surf.
"I was at the Tracking Station (beach) when I caught my first wave," Diossy recalls. "It was a very spiritual experience; every surfer will tell you that. It was a rainy, cold day. It was a smaller, 2- or 3-foot wave. I was moving and it just felt like I had a motor under me. I was just hooked."
He also became increasingly fascinated by the marine life all around him, and on clear days would wear a snorkel and float on the water, watching as fish, turtles, sharks and even a giant Manta ray swam beneath him.
"The time I was the most scared was at Sebastian Inlet. Out of the blue, these two giant things just popped up next to me. It was two manatees. It was mating season and they just didn't care."
And then there was the time he shared a breaking wave with a migrating school of fish, and twice, while sitting on the beach ruminating over a question, he saw a dolphin jump which, he says, is a rare sight. Each time he took it as a sign to "go for it."
One of those instances was the inspiration for that famous license plate. Renowned marine mammal conservationist Steve McCulloch, who at the time co-founded a marine research and conservation program at Harbor Branch Oceanographic Institution, had seen some of his surfboard artwork. McCulloch asked Diossy to "take a crack" at designing a license plate for the cause.
"It was really amazing," says Diossy. "I went out on the beach, prayed about it and again, I saw a dolphin jumping from the water."
His interest in art began in high school, a time when he was "always doodling." He recalls making flipbooks with characters inspired by Looney Tunes cartoons. Once after sculpting characters out of tin foil, he used them with his sister and mother to make a stop-motion film.
"He was always drawing and sketching," says Joni Fenton, his sister and business manager. "I always remember him drawing these funny people with these weird looking feet and extreme faces. I found a box of all his (flip books) when I was cleaning up, so that brought back a lot of memories."
Doodling became a way for him to quiet his mind during lectures and was also a method to make friends at St. Helen's Catholic School, where his classmates would often ask him to draw pictures for them.
"I was a really shy kid," says Diossy. "Kids would come up and look at what I was drawing. Then we'd strike up a conversation."
Wanting to financially assist his mother, who had separated from his father, Diossy began bagging groceries at Publix at age 14, and later bussed tables at local restaurants.
In his heart, though, he imagined making a living as an artist but felt it wasn't possible because he could not afford to attend art school. Instead, he took classes from area artists, including noted ceramicist Glenda Taylor, who would eventually open the door to his dreams.
When Taylor told him that her friend Eric Swanson, owner of Inner Rhythm Surfboards, needed an artist, Diossy quickly made a beeline for Swanson's shop.
When Swanson asked if he could use an airbrush, Diossy replied, "Nope, but I'm a fast learner." Swanson gave him two weeks to get up to speed.
"You could see he was a total creative talent," Swanson recalls. "He would come up with originals that were just mind blowing. That's when he was just 19 years old. He's the real deal."
As Diossy's concentration in marine art took hold, a printer sought him out.
"He'd seen some of my work and was looking for an artist," Diossy says. "He asked if I had worked with computers. I said 'Nope, but I'm a fast learner.'"
Five years later, an Internet company reached out to Diossy to design a Polynesian theme for their website. Again, the artist countered with the fact that he had no experience in website design but that he could learn fast.
"My entire career was self-taught," he says.
In 2002, when the Internet bubble burst, he realized that he needed to rethink his career, and took a leap of faith to return his focus to his own artwork.
"I was like, finally I can work for myself. I started my own freelancing business. I've been working for myself ever since."
His work soon became so popular that he decided to open a gallery in Islamorada in the Florida Keys. A year later tragedy struck, when his friend and business partner, Scotty Terry, was killed in a car crash. It was a crushing blow.
Later, during a stressful time caring for his father, who was suffering from Alzheimer's, Diossy's art became a balm for his own raw soul.
As he threw himself into painting and took his creations on the road to art, marine and boat shows around the state, his patronage blossomed, as did his fame.
His career was expanding, and his vibrantly colored, often tongue-in-cheek humorous creations were featured on everything from decals and T-shirts to phone cases and cornhole boards. And, of course, originals, prints and giclees.
Then the pandemic hit.
With the cancelation of all shows and festivals, Diossy decided that the time had come to open a gallery in Vero Beach, one complete with a bar to impart that Jimmy Buffet or Bob Marley feel, he explains.
"All of us are going to have tough days," Diossy says. "That's why I want to surround myself with happy art. A reminder that every day that is not a terrible day, I just want to enjoy it to the fullest."
The Steve Diossy Marine Art Gallery is at 3247 Ocean Dr., Vero Beach. For more information, visit SteveDiossy.com.
Photos by Brenda Ahearn