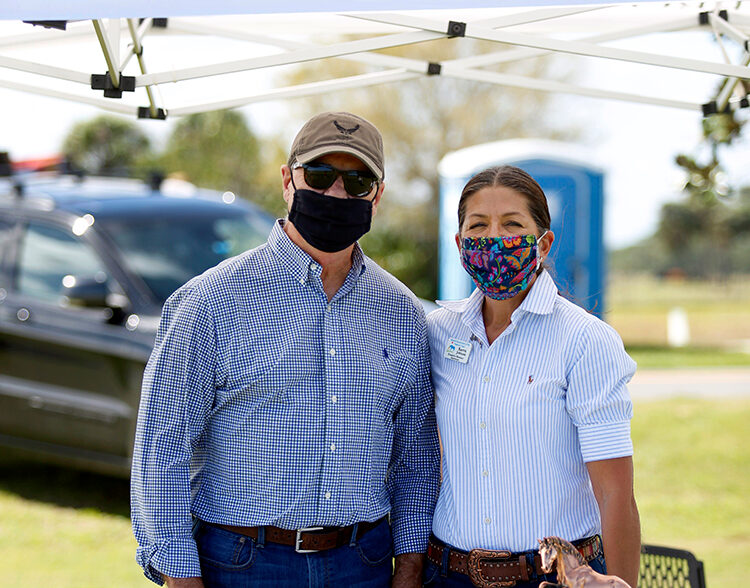 Players with the Vero Beach Polo Club and Sunset Farms galloped into action during a beautiful afternoon charity match, a tie after seven chukkers, to benefit Special Equestrians of the Treasure Coast. The match, just the second game of the season, was well attended with polo fans eager to view the action, as the pandemic has reduced the schedule from weekly to monthly matches.
"We're very appreciative for all of the support we get from the Vero Beach Polo Club," said Diane Parentela, SETC board president. "This is probably our third or fourth year where they have done some kind of a benefit for us. We're thankful we can be out here in these conditions with what's going on in the world."
The mission of Special Equestrians of the Treasure Coast is to "foster personal achievement through equine-assisted activities for individuals with special needs in a safe and stimulating environment."
They, too, had to rein in student sessions with their trusty steeds during the height of the pandemic, as many of their riders are considered high risk, but parents of the more independent participants have been trained to assist.
"We have been able to get some kids back [in the saddle]. That's been a plus for us to be able to train the parents and get their kids back riding with us," said Parentela.
Over the past year, while working on plans to build a handicapped accessible riding facility on donated property in Fellsmere, the nonprofit moved to a new barn in Vero Beach, and recently added another Ride Beyond Diagnosis program so that cancer patients and survivors can experience the healing power of equine therapy.
Polo, the of Kings first trotted into Indian River County during the 1980s when Prince Charles played at Windsor at the behest of Galen Weston and Geoffrey Kent. The burgeoning sport has since grown in popularity locally and is now also played at the Polo Grounds near Pointe West.
The goal of the Vero Beach Polo Club is to ensure that everyone has a chance to learn, play and watch polo. Considered one of the world's oldest team sports, the game pits riders and animals against an opposing team on a quest to drive a ball with a mallet down a grass field and through the goal posts.
Supporters of New Horizons of the Treasure Coast turned out to lend their support and to play the fashion game, parading along the sidelines and garnering interest for an upcoming charity Fashion Bizarre, May 10 at Quail Valley River Club.
Upcoming fundraisers for Special Equestrians include an Argentine Asado Experience on March 13, and a Clay Shoot on March 27. For more information, visit specialequestrianstreasurecoast.org.
Photos by Kaila Jones