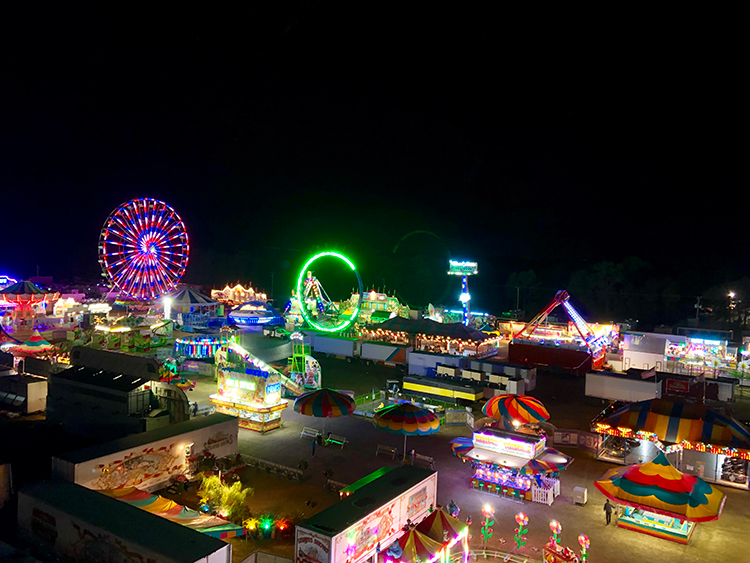 The Firefighters' Indian River County Fair has returned. Because of the pandemic, last year's fair was canceled just hours prior to opening. But now it's back in all its glory. (Well, except for the live country music concert, but more on that later.) The fair opens this Friday, March 12, and runs through March 21 at the Indian River County Fairgrounds. It has entertainment galore, carnival rides, activities for the whole family, comedy, acrobats, a 4-H Club livestock pavilion, amazing acts under the big tent and gobs of food. The big tent acts will star "World of Wonders," the largest and longest-running touring show featuring sword swallowers, fire eaters, "Human Blockheads," the Strong Lady, magicians and escape artists. One of the most popular annual events is the Firefighter Training Show, which is designed for children to pretend to be firefighters. Instead of using actual fire, the show uses smoke to suggest that a small house is on fire. Children get involved by putting on special firefighting gear, ringing a bell on the fire truck and holding the hose to help put out the "fire." Another popular offering is the Jon Simon comedy hypnosis show. And, local gymnasts, who have prepared for months, perform their "Aerial Antics" show. Traditionally, the fair has always included a country music concert. Last year they had scheduled country music star Mark Chesnutt. Since the fair had to be canceled, and since we're still practicing social distancing, that concert has been rescheduled to June 19. People who bought tickets to last year's concert can use the same tickets for the June 19 concert. And, if you purchased tickets to last year's canceled fair, you can use those tickets to this year's fair. For everyone else, admission is $8 general, and $5 for seniors 55 and older, children 6 to 12, military and first responders. Free to children 5 and younger. Wristband unlimited ride specials start at $20. Funds raised go to a variety of charities. Parking is free. The Indian River County Fairgrounds is at 7955 58th Ave., Vero Beach. For more information, visit www.firefightersfair.org.
Add to the variety when the Edwards Twins perform Saturday, March 13 at the Emerson Center. For the past 35 years, this duo has made a name by doing vivid impersonations of big celebrities. Their show, "Evening with the Stars," brings their musical and comic takes on Las Vegas superstars in a variety show format. They perform their celebrated impersonations of Sonny & Cher, Billy Joel, Elton John, Lady Gaga, Celine Dion, Bette Midler, Barbra Streisand, Andrea Bocelli, Tom Jones and so many more performing their big numbers. One of the duo, Eddie Edwards, was featured in a comic send-up of "Barbra" performing at a funeral on the Netflix show "The Kominsky Method." They have also been seen on NBC's "Today" show and have gained the attention of enthusiastic critics from USA Today and the Boston Globe. The show begins 7 p.m. Saturday, March 13. (By the way, their 2 p.m. matinee was canceled.) Wear masks. Expect social distancing with reduced audience capacity. Tickets are $40 to $60. The Emerson Center is at the Unitarian Universalist Fellowship of Vero Beach, 1590 27th Ave. Visit TheEmersonCenter.com.
You'll want to plan ahead for this one-time only performance of "Legally Blonde: The Musical Jr." While Riverside Theatre has not been having live performances on its main stage, its Riverside Theatre for Kids program has been busy training and rehearsing for its free performance of this show in a special outdoor venue at the Vero Beach Outlets. The musical is a fun, upbeat look at pert and perky Elle Woods as she tackles stereotypes and snobbery in the rarefied environs of Harvard Law. The show is free. No tickets needed. Masks are required. Curtain is 11:30 a.m. and 2 p.m. Saturday, March 27 at the outdoor venue near the Williams Sonoma Outlet, Vero Beach Outlets, 1824 94th Dr., Vero Beach. Call 772-231-6990 or visit RiversideTheatre.com.