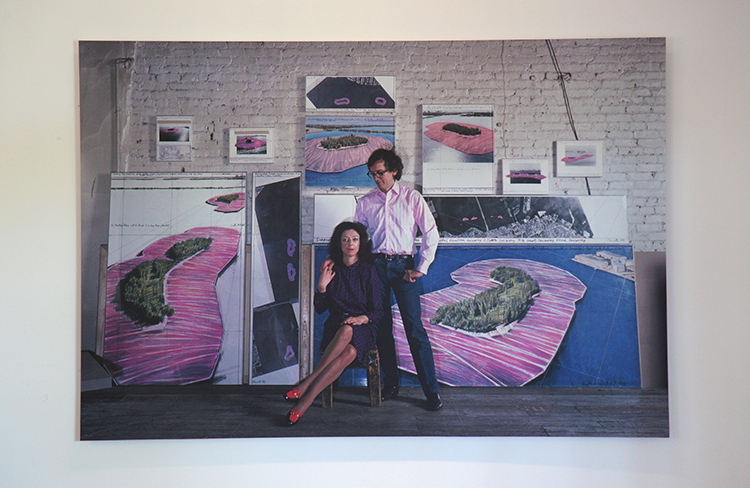 "Christo and Jeanne-Claude: Selections from the Weston Collection" is currently on display at Windsor Gallery in the residential community of the same name. Unlike past years, when the gallery's international shows were open by appointment to the public, COVID-19 precautions have made this exhibition viewable only by Windsor members.
Perhaps the works on view will come back for an encore showing post-pandemic, as the Weston Collection contains a number of Christo's spectacular collage drawings from important periods in the couple's career.
In all, 25 works are on display. Sixteen of these are original collages by Christo made in advance of the couple's notable, ephemeral, monumental installations. Christo's drawings were always made in advance of the projects' realization, never afterward.
They include three works regarding the "Valley Curtain" project in Rifle, Colo.; two for "The Umbrellas, Joint Project for Japan and U.S.A."; two for the "Surrounded Islands, Project for Biscayne Bay, Miami"; and one featuring the "The Gates" in New York City's Central Park, among other realized projects.
Also on display are collages for several of the duo's unrealized projects, including the "Wrapped Monument for Cristóbal Colón Project for Barcelona," and the "Wrapped Trees, Project for Avenue des Champs-Élysées and the Rond Point des Champs-Élysées" in Paris.
Eight photographic prints of realized projects by Christo and Jeanne-Claude's longtime photographer, Wolfgang Voltz, give additional dimension to the show, especially those of those projects for which original collages are not included, such as three views of the "Wrapped Reichstag, Berlin" and two of "The Pont Neuf Wrapped, Paris."
A lovely touch is the photo mural of the couple that greets visitors to the Windsor Gallery. The 1981 image by photographer Bob Kiss shows Christo standing beside a seated Jeanne-Claude in their home at 44 Howard St. in New York City, surrounded by an array of large and small collage drawings for the "Surrounded Islands" project, which was to be realized in 1983.
Christo is wearing a pink woven shirt, blue jeans and his signature eyeglasses with no-nonsense black frames; Jeanne-Claude is wearing a dark blue dress with a discreet red print, accessorized with red pumps and bright red lipstick. From her frank gaze to her elegantly crossed legs, Jeanne-Claude is every inch the international art star. For his part, Christo looks not at the camera, but down at his wife's auburn head, as he caresses the fingers of her proffered right hand.
It is a picture made all the more poignant when you remember that a marvelous era in art came to an end with Christo's death on May 31, 2020, 10 ½ years after Jeanne-Claude died, on Nov. 18, 2009. They famously were born on the same day; he in Bulgaria, and she in Casablanca, Morocco, where her French Army officer father was stationed, on June 13, 1935. They met in Paris in the late 1950s and married there in 1962.
The number of people they have touched with their art is inestimable. This writer first experienced Christo and Jeanne-Claude at age 12, when she visited their "Wrapped Museum of Contemporary Art, Chicago 1968-69" on a frigid Chicago afternoon. She was later privileged to meet them during their visit to Vero Beach the last time the Gallery at Windsor featured the Weston Collection, in 2003.
Standing in the gallery before the 8-foot-high, two-part collage "Surrounded Islands, Project for Biscayne Bay, Miami," Jane Smalley, marketing director for Windsor Properties, reminisces about her own first Christo encounter.
"When I was 18, I went to Miami for an extended summer stay. I remember the pilot coming on and saying to look down and see it (gesturing to the work on display)."
Like all Christo and Jeanne-Claude installations, that one, which encompassed 11 of the islands situated in Bakers Haulover Inlet, a channel connecting Biscayne Bay with the Atlantic Ocean, took years to realize, but was viewable in the flesh for a relatively brief period.
"It was only there a couple of weeks, so I was really lucky to have seen it," says Smalley.
Executed in 1982, the "Surrounded Islands" collage is framed in two parts. The lower part contains a view of one of the islands, surrounded by a wide, floating mantle of bright pink polypropylene fabric, with deep blue waters closing in from all sides. The narrow right-hand unit of the collage contains a map of the island and a swatch of the project's intended fabric.
(Another "Surrounded Island" collage, horizontally oriented, is on permanent display in the dining room on the club's first floor.)
The vertical work focuses on only one of the 11 islands in the massive installation. The 6.5 million square feet of pink polypropylene fabric was custom fitted to the irregularities of each island's perimeter and extended 200 feet onto the water to form a pink aureole around each green isle.
While visitors could walk neither on the islands, nor the floating fabric that encompassed them, the installation could be viewed from the boats that plied the channel, as well as from four causeways that carried car and truck traffic over it.
The Christo and Jeanne Claude works that comprise the Weston Collection were acquired by W. Galen Weston for the Headquarters of George Weston Limited in Toronto, Canada. The collection contains art works relating to every major phase of the couple's career and then some, from the Storefront projects of the mid-1960s to "The Gates, Project for Central Park" (a large, 1985 collage for that project is in the current exhibition) to the unrealized "Over the River, Project for the Arkansas River, Colorado," conceived by Christo and Jeanne-Claude in 1992 and abandoned by Christo in 2017.
You may wonder how, as a Canadian food processing and distribution company chairman (now chairman emeritus), Weston became interested in the art of Christo and Jeanne-Claude. A foreword by Weston in the Weston Collection catalog, published in 2002, explains all.
In 1980, Weston was looking for "inspirational images" to hang on the walls of the then five-year-old Weston Centre in Toronto, a contemporary, 20-story building that required art with "a commanding presence" that would "reflect the company's global outlook."
Furthermore, Weston wanted works by a living, internationally recognized artist. Weston found that the work of Christo and Jeanne-Claude lent substance to his desire not only to fill a building with art objects, but to expose everyone who worked in the building to the possibilities of creative collaboration.
The often large scale of Christo's collage drawings, done in advance of the monumental installations, appealed to Weston. He knew the exhilaration of planning and building factories and shopping centers for his company, as well as the private pleasure that he and wife Hilary Frayne Weston took in developing Windsor Properties.
In addition to the excitement of building something, Weston was fascinated by Christo's creative process, which involved not only drawn and collaged conceptions of future installations, but also months, if not years, of negotiations, permitting and environmental impact studies.
In the case of "The Umbrellas, Joint Project for Japan and U.S.A.," the process took seven years; "The Wrapped Reichstag" took 30 years to realize. "The Gates, Project for Central Park," took a grand total of 36 years from conception to completion.
Although Christo and Jeanne-Claude won't be around to see it, one of their unrealized works, "L'Arc de Triomphe, Wrapped," in Paris will be realized this year. The monument, shrouded in shimmering silver-blue fabric, will be on public display from Saturday, Sept.18 to Sunday, Oct. 3. Conceived in 1962, it will be Christo and Jeanne-Claude's longest running project, 59 years in the making.
It is all happing per the artists' detailed instructions, says Jonathan Henery, their longtime assistant and office manager and Jeanne-Claude's nephew.
In a recent telephone conversation with the writer, Henery said, reassuringly: "All the permits are in place."
W. Galen Weston's words, written 17 years ago, are a fitting ending to a continuing story.
"Christo and Jeanne-Claude's brilliance exists as much in the practical execution of these projects as it does in the conception of them. Their tenacity is admirable, their energy enviable – but above all it is their ability to look beyond the horizon that makes us raise our heads in wonder."
Photos by Kaila Jones