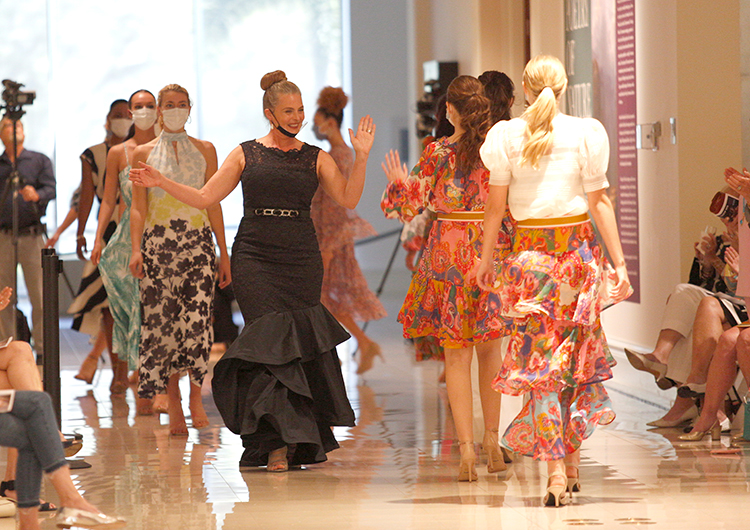 "Fashion really is about to meet art. This is our runway, this is the artwork," said Karen Loeffler, co-chair, with Melinda Cooper of the fourth annual Fashion Meets Art fundraiser at the Vero Beach Museum of Art.
"Most of you who have been here before know that Melinda and I try to add something new to the event. Something that really pays homage to the esteemed speakers that we've had on our podium. This year, with supermodel Kim Alexis headlining our event, we couldn't resist the opportunity to produce a real-live fashion show for you."
The fashion show, a perk for event sponsors, featured spring/summer fashions available from Cooper & Co. and Sassy Boutique. They were modeled by young women from Premier Model Management hoping to break into the industry, who had all volunteered their time.
"They are about the same age as Kim was when she was discovered in New York and signed with Elite Models," said Loeffler, noting that Alexis was 17 years old when she was discovered.
The young models strutted down the museum's long hallway, showing off the multicolored collection of day-into-evening summer dresses, slacks and skirts as well as beachy caftans. As the models passed by the painting "Persian Fantasy" by American artist Pat Lipsky, many of the designs and colors could easily have just popped off the canvas.
Afterward, guests filtered into the Holmes Great Hall, welcomed by Brady Roberts, VBMA CEO, who thanked Cooper and Loeffler for all their hard work.
"They have done such a fantastic job for us. They founded this event four years ago and they have been the catalyst for its growth and continued success," said Roberts. "They brought the fashion world to Vero Beach."
Alexis, now 60 years young, shared insight into her unexpected entrée into the modeling world, confiding that in 1978 she had already been accepted to college where she thought to pursue a career as a pharmacist, but fate intervened. Discovered by a talent scout in Buffalo who saw some photos of her, she moved to New York City and enjoyed a meteoric rise in the 1980s into the high fashion world of New York and Europe.
Alexis worked with top designers and photographers worldwide, her wholesome, relatable good looks and easy demeanor propelling her onto the covers of more than 500 magazines, from Vogue to Glamour, where she set the cover record, as well as six consecutive issues of the Sports Illustrated swimsuit issues. Later, she appeared on television shows, including a number of years as fashion editor for "Good Morning America."
Always an athlete, Alexis said she has run in eight marathons, but also shared some of her struggles with weight in what is often an unrealistic business when it comes to body image. She has since come to terms with what works for her and what doesn't, but notes, "Even supermodels have things about them they don't like."
Photos by Kaila Jones