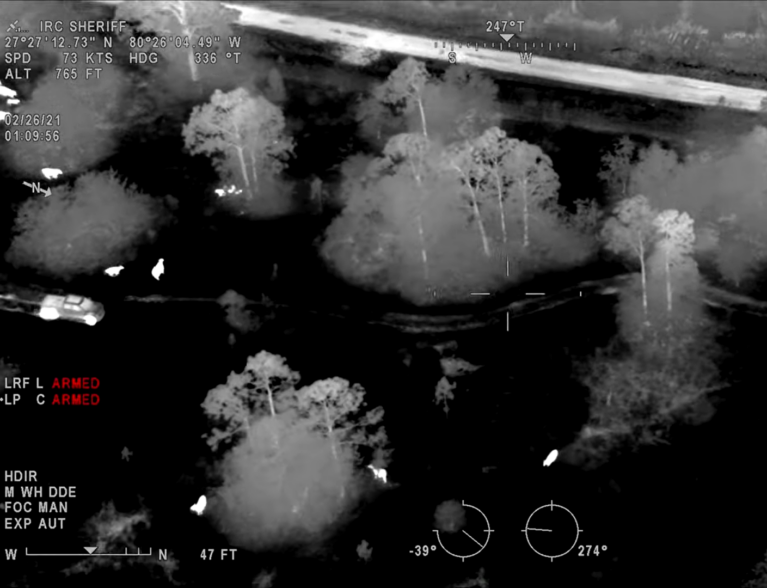 INDIAN RIVER COUNTY — A sheriff's helicopter video showed a stolen pickup veering into a cow pasture – nearly striking the cattle and causing the animals to run for safety – during a high-speed chase.
The Indian River County Sheriff's Office released the footage on Tuesday. The video captured several cows run away from the truck's path as it entered the pasture.
Video provided by Indian River County Sheriff's Office
The pickup appeared to come within several feet of two of the animals, the video showed.  Four teen boys were arrested in the incident and taken to the St. Lucie Regional Juvenile Detention Center in Fort Pierce.
A 15-year-old Vero Beach boy was driving the pickup, reported stolen out of Sebastian, reports show. Three passengers in the vehicle were a 16-year-old and a 13-year-old, both of Fort Pierce, and a 15-year-old from Sebastian.
The Vero Beach teen was charged with grand theft auto and fleeing and eluding, deputies said. The other three youth each were charged with grand theft auto and possession of burglary tools.
The chase involving the Ford F-250 happened shortly after midnight on Feb. 26 when Melbourne police attempted to stop the stolen truck. Melbourne police suspected the youth used the truck while committing several auto burglaries in the city, reports show.
The truck reached speeds of more than 100 mph on southbound Interstate 95 as the driver fled from Melbourne officers and Indian River County deputies.
The truck driver took the Orange Avenue exit in Fort Pierce and traveled westbound. An Indian River County sheriff's helicopter tracked the vehicle as it traveled onto a dead end road and crashed into the cow pasture.
Footage showed the teen driver run away from the truck and rush down a road. The teen ran into the woods, where he was detained by a sheriff's K-9 unit.
The teens who stayed in the truck were wearing masks, gloves and long-sleeve clothing when they were detained.