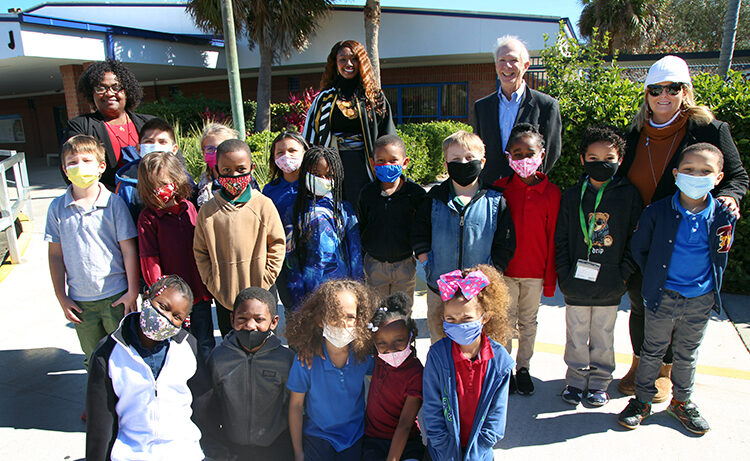 Thousands of Florida students arrive to school each day carrying the weight of the world on their little shoulders, struggling with issues such as hunger, homelessness, poverty, violence, abuse and neglect, mental health issues, and inadequate access to health care, any of which are identified as barriers to education.
To address the problem, Children's Home Society of Florida has developed long-term core alliances with colleges and universities, school districts and healthcare providers to create 20 Community Partnership Schools in Florida, an initiative first launched in New York City.
Utilizing a grant from the University of Central Florida – and in partnership with the School District of Indian River County, Indian River State College and Treasure Coast Community Health – Dodgertown Elementary School was selected to be the first Community Partnership School on the Treasure Coast.
Sabrina Sampson, CHS regional director, says that Dodgertown was chosen based on a number of factors, including its demographics and academic outcomes, and the school district agreed to a 25-year commitment to the project.
As the school's nonprofit partner, CHS coordinates efforts and, being a 501(c)3, is eligible to apply for grants.
"We were able to apply to University of Central Florida for the seed money to start the Community Partnership School model at Dodgertown. Every school has to make their own application," Sampson explains, adding that she provides UCF with quarterly outcome reports.
Sampson also applied for and received a 2020 grant from Impact 100 toward the salaries of a Community Partnership School director and a Family and Community Engagement coordinator.
She explains that the director is on-site at the school daily, working with the principal to make sure services are delivered appropriately to the children and their parents, whereas the coordinator is out in the community seeking whatever resources and services are needed.
The CPS model is based on four pillars: Expanded Learning, Wellness Support, Family and Community Engagement, and Collaborative Leadership.
A Community Leadership Council chaired in Indian River County by Nat Bruckner, United Way director of community impact, includes representatives from the four pillars along with additional members of the community.
"We're being very strategic in who we're inviting to participate, because we want worker bees who are going to help with the fundraising and sustainability," says Sampson.
The intent of the CPS model is to provide resources aimed at eliminating barriers that limit a child's ability to study and obtain a good education, from recognizing that a child needs glasses or new shoes, to providing them with an academic boost, healthy food and healthcare.
"One of the biggest components of Community Partnership Schools is that the model is not designed to come in and be all. It is, how do you serve the community and how do you partner with those agencies that are already in the community providing those services," says Sampson.
"I don't need to have a food bank at the school, I just need to partner with Treasure Coast Food Bank. I don't need to have a clinic there, not when Treasure Coast Community Health has a clinic around the corner.
"I just need to get those people to the table and work out a memorandum of agreement on how we can best work together to serve the children and the parents."
For example, to promote academic support and enrichment activities, they have partnered with Gifford Youth Achievement Center.
"They already have a well-established afterschool and tutoring program and are doing it really well. We don't need to duplicate that," says Sampson. "We reached out to Angelia Perry and her board and they agreed to scholarship 50 Dodgertown students for expanded learning and tutoring at GYAC, which is huge."
Other UCF grant money is being used to reimburse teachers for additional hours spent tutoring students at the school. The school does have some volunteer tutors, but on a limited basis due to COVID.
Obtaining transportation to the Mueller campus is often a struggle for low-income and single parents, so this would remove that barrier.
"We've begun conversations around bringing GED (high school academic equivalency) and ESOL (English as a second language) to the school," says Sampson, noting that parental education can ultimately lead to an improved standard of living.
"There is always a health partner; we understand that sometimes health and wellness is a barrier to education," says Sampson, adding that a child who isn't feeling well, has a toothache or is acting out in class because of a mental health issue cannot focus on school.
"Vicki Soulé at Treasure Coast Community Health is working with us to have a wellness coordinator, who will work with TCCH but will come to the school," says Sampson. She says the coordinator can identify physical, dental and mental health needs, and work with parents to arrange appointments.
"The greatest challenge here has been getting families to open up a bit. One of the things we were very, very careful about is that as we were presenting this to the families and to the community, we said we are here to partner with you. We want to hear from you.
"We would like to hear what it is that you would like, as opposed to saying I've read a report, and this is what you need," says Sampson, citing the importance of parental engagement.
"This is not a fly-by-night model; this is a proven model, certified by the University of Central Florida. Every partnership, every collaboration, every service we are providing, we report back to the university. So far, the outcomes at Dodgertown as far as the community collaborations and the partnerships and where we are with our working agreement, we're about six months ahead of where they projected we would be, which is great."
For more information, visit chsfl.org/schools/Dodgertown.