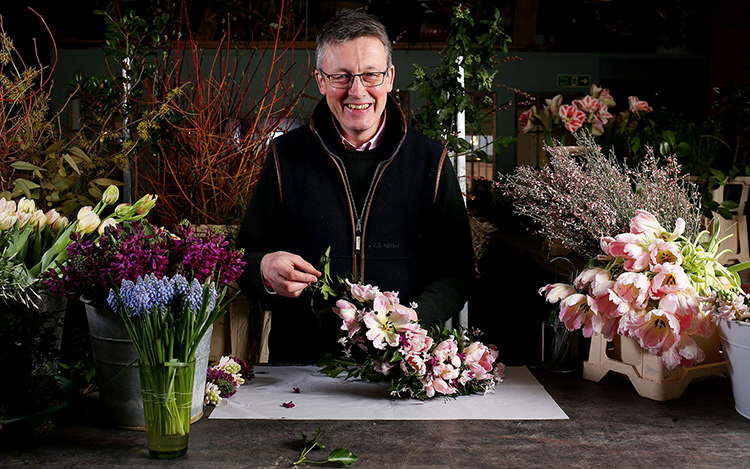 Concerts, art, fashion and theater pave the path for a great next few days. So grab your mask (doubled, please) and head out.
Get your whole family out for some fun this Saturday by paying a visit to the McKee Botanical Garden. There, the little ones can have a blast at the Sean Kenney's Nature Connects Made with LEGO Bricks exhibition. This award-winning and popular exhibition uses LEGO bricks as a sculpture medium to explore animal endangerment and our relationship with nature. There are narratives, intricate displays and inspiration to be found in "Nature Connects." The sculptures are pretty astounding. There are polar bears, sea turtles, iguanas, butterflies and some four-legged beasts as well. The exhibition runs through April 25. But do plan your visit for Saturday, March 6, because that's when the Space Coast Symphony Orchestra's woodwind quintet will perform its family concert "Once Upon an Orchestra." The 40-minute concert will bring to life the story of "The Lion and the Mouse." The orchestra's music director, Maestro Aaron Collins, will narrate it. Children will receive a free copy of the "Once Upon an Orchestra" coloring book. The concert is designed for preschool- and kindergarten-aged children. It will be presented twice, at 10 a.m. and 11 a.m. Saturday. Admission to the McKee is $15 general, $13 seniors 65 years and older and children 13 to 17 years, $10 for children 2 to 12 years. Children under 2 years of age are admitted free. Special rates of $8 for first responders and $10 military. You can buy your tickets online at McKeeGarden.org. The McKee Botanical Garden is at 350 U.S. 1, Vero Beach. Call 771-794-0601.
The Atlantic Classical Orchestra's chamber music series will present more serious music designed for a more sophisticated ear 3 p.m. Sunday, March 7 at the Vero Beach Museum of Art. The concert features two works: Reger's Serenade, op. 141 and Beethoven's Serenade for string trio I D Major, op. 8-1. They were composed to be enjoyed in a festive manner. As such, there is a "buoyancy, lightness of spirit" to them. The concert will be presented in the museum's Holmes Great Hall. Admission to the concert also includes admission to the beautiful Hudson River Valley School exhibition. Concert tickets are $35 for museum members and $50 for non-members. Tickets are $5 for students and children. You need to pre-register because space is limited. Visit VBMuseum.org and click onto "Programs & Events," then scroll down to "Music." The Vero Beach Museum of Art is at 3001 Riverside Park Dr., Vero Beach. The museum will be open 1 p.m. to 4 p.m. Sunday. The concert begins at 3 p.m., so, if you plan to visit the galleries, get there before the concert. Call 772-231-0707.
In addition to the concert and exhibition, the Vero Beach Museum of Art will present "Art in Bloom Luncheons" 11 a.m. and noon on Wednesday, March 10 and Thursday, March 11. The luncheons feature floral exhibition viewing, a lecture presented by British floral designer Shane Connolly and luncheon. You can also attend virtually. For those not in the know when it comes to Connolly, he ranks high in the rarefied world of horticulture and has frequently worked for very special occasions for the House of Windsor. All table seatings will be done with strict observance of CDC safety guidelines. Those who attend virtually may pick up lunch from 9 a.m. to 11 a.m. at Elizabeth D. Kennedy & Co. Catering. Call 772-231-0707, ext. 111, or visit VBMuseum.org.
San Telmo's Décor at the Village Square will present a special art exhibition to commemorate Women's History Month. A special opening of the exhibition is planned for 10:30 a.m. to 5 p.m. Saturday, March 6. Artists with works on view are Sylvia Baldeon, Marta Estrems, Niurka Inurrieta, Patricia Liguori, Paula Vibert and Robin Woodward. San Telmo's is at 900 Village Square Dr., #2, Sebastian. Call 917-618-8428 or visit SantelmosDecor.com.
Now how about a few laughs. Certainly that is just what any doctor would order at this point, don't you think? If that sounds like a prescription you could use, then Vero Beach Theatre Guild has just the thing – "A Shot in the Dark." This very funny farce opens Thursday, March 10 and runs through March 21. The whodunit send-up concerns a parlor maid who has affairs with a dead chauffeur and her aristocratic boss. The New York Times calls it a "bubbling, saucy comedy." Tickets are $15 to $30. The Vero Beach Theatre Guild is at 2020 San Juan Ave., Vero Beach. Call 772-562-8300 or visit VeroBeachTheatreGuild.com.