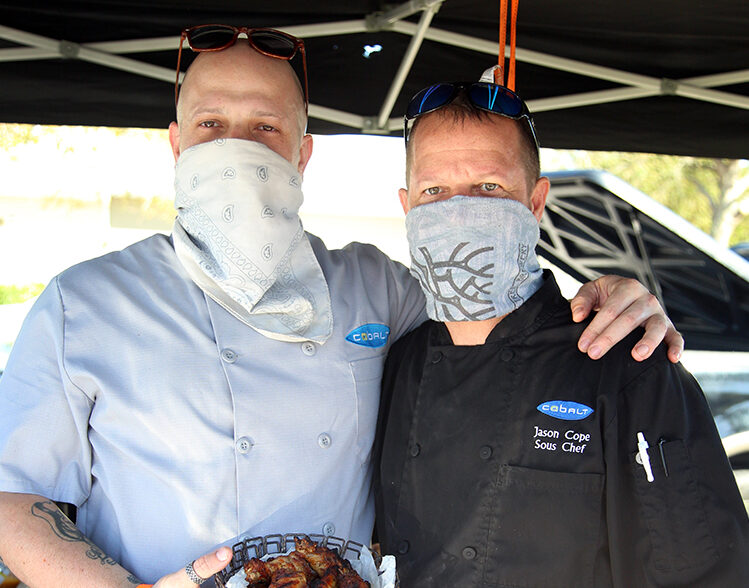 When news reached local brewers that the annual Florida Craft Brew & Wingfest hosted by the Sunrise Rotary Vero Beach was being canceled due to pandemic health concerns, Walking Tree Brewery stepped up to host a mini version of the popular gathering.
The recent Wing N' Beer, Anyway Fest benefited the Coastal Conservation Association of Florida to support its mission to "protect not only the health, habitat and sustainability of our marine resources, but also the interests of recreational anglers and their access to the resources they cherish."
A sold-out crowd of 350 conservation-minded anglers, and brew and wing lovers sampled their way through a selection of frosty beverages from 15 Florida microbreweries and homebrew clubs to wash down tasty wings from chefs competing for top honors.
The finger-lickin' first place prize went to Chef Scott Busick from High on the Hog BBQ for his BBQ wings; second place to Chef Lenny Gagne of Len and 10 Food Truck for his Sassy wings; and third place to Chef Jason Cope from Cobalt Restaurant at Kimpton Resorts for his Buffalo wings.
Live music filled the air as attendees mingled over the succulent barbecue, curry, raspberry chipotle, teriyaki and Buffalo wings, paired with beers, seltzer and hard cider featuring hints of pineapple, coconut, peach and blueberry, with names like Not Taco, a Mexican lager; Pirate Party, a rum raisin porter; Sassy Flamingo, a cherry sour; and Blues Had a Baby, a sour blueberry.
Proceeds from the event support CCA's efforts to clean our waterways, particularly the purchase and placement of reef balls, according to Paul Fafeita, CCA Treasure Coast Chapter president.
He explained that reef balls are artificial modules designed to mimic a natural reef's structure and function. Concrete additives with a pH similar to seawater are used to create a marine environment that attracts colonizing organisms.
Once funding has been secured, reef balls will be purchased and placed in a location identified for optimal lagoon restoration. The hope is that oysters, which act as water purifying filters, will attach themselves and improve the water quality in the Indian River Lagoon.
"This will be a way for the spat, or the eggs of the oysters, to adhere themselves to a substance that they enjoy and, hopefully, find a home forever, and at the same time create a habitat for other fisheries, crabs and shrimp," said Fafeita. "It's important to everything out there. Especially the replenishment of seagrass, a habitat for a whole host of sea life."
Next up, on March 19, CCA Treasure Coast will host a Beer-B-Q & Auction at Walking Tree Brewery. For more information, visit ccaflorida.org.
Photos by Kaila Jones