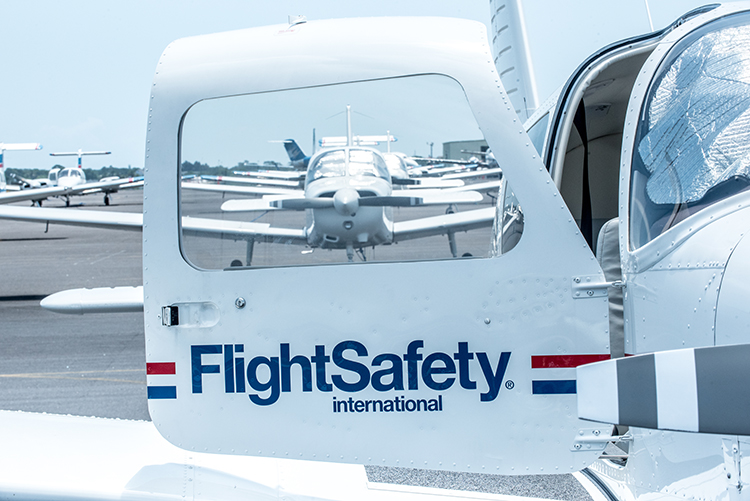 The decision by FlightSafety International to sell its 55-year-old Vero Beach pilot academy to a British flight-training school isn't going to break our hearts – even though the pilot training school once was a significant part of the Vero scene.
The school has been troubled for years, with an abysmal graduation rate in recent years, and it tanked badly during the pandemic. A new owner and new approach to flight training here seems like a good thing.
"With decades of experience in training and education, and long-standing relationships with the world's leading airlines, our team of directors and staff are committed to attracting top U.S. talent and building the No. 1 flight-training school in the country," Skyborne Aviation Chief Executive Officer Lee Wodward said in a news release announcing its purchase last week.
According to the release: The Skyborne group signed a definitive agreement on Feb. 16 to purchase the Vero Beach academy. The transaction is expected to close in the second quarter of this year. No purchase price was announced.
Based at the Gloucestershire Airport in the United Kingdom, the Skyborne Airline Academy was "established by industry experts" and will bring a "fresh approach to airline pilot training," the release stated, adding that its school here will be rebranded "Skyborne Airline Academy Vero Beach" and open this spring.
The release did not identify FlightSafety as the seller, referring to only a "pilot training base" in Vero Beach but the coyness was a little silly.
The Skyborne release refers to a "10-acre site" and states: "With over 200 recently renovated bedrooms, a swimming pool, soccer field, volleyball court, cafes and book shops, trainees can enjoy a full campus experience."
Of the flight schools in Vero Beach, only FlightSafety Academy offers such facilities, or anything remotely like them.
Nevertheless, FlightSafety International officials would not confirm the pending transaction or comment on it.
They didn't need to.
Vero Beach Airport Director Todd Scher said he met with a Skyborne representative last month to discuss the procedure for taking over FlightSafety's lease with the city.
"They were doing their due diligence, making sure FlightSafety is in compliance with the terms of the lease so there's nothing to hinder them taking it over," Scher said. "The process is pretty straightforward, as long as they don't want to change any of the terms."
In the meantime, Scher said he'll be educating himself on Skyborne.
"To be perfectly honest, until they came into my office, I had never heard of Skyborne Aviation," Scher said. "But based on what I know now, I'm optimistic that they'll be a good partner, and I'm excited to see what they do here.
"This is their first venture into the U.S. flight-training market, so I'm sure they want to make a good impression here," he added. "Everything is in place to train young, aspiring pilots. And, obviously, they have the money to satisfy FlightSafety."
I'd love to know how much money Skyborne agreed to pay for the Vero Beach flight school, but that figure has not been made public. It wouldn't be surprising if the price were heavily discounted.
Two years ago, FlightSafety Academy surrendered its accreditation, ending a three-year struggle to comply with standards set by an organization that evaluates post-secondary vocational and technical schools.
Among the more-alarming deficiencies cited by the Accrediting Commission of Career Schools and Colleges, which had placed the academy on "warning" in 2017 and then "probation" in 2018, was a failure to maintain a graduation rate of at least 50 percent for its professional pilot program.
The academy's reported graduation rates for that program plummeted from 38 percent in July 2016 to 14 percent in July 2017 to a dismal 3 percent in February 2018.
FlightSafety Academy's performance appeared to be improving last year – until the COVID-19 pandemic arrived, crippling the airline industry and sending many of the school's foreign students back to their home countries.
Scher said FlightSafety's operations – takeoffs and landings – dropped to about one-third of their usual numbers.
Flight Safety got its start here in 1966, when the company's founder, Albert Ueltschi, opened the school at what is now Vero Beach Regional Airport.
It enjoyed a long, mostly successful history here, earning national acclaim in the industry by training entry-level pilots and filling the cockpits of commercial airlines and corporate carriers across America and around the world.
And it played a significant role in the airport's development and brought more than 25,000 flight students to town.
Despite that history, though, few in Vero are likely to mourn FlightSafety's departure.
Nostalgia isn't what it used to be, especially with more newcomers moving here every year.
If people don't miss the Dodgers and grapefruits – both of which put Vero Beach on the map – there's little chance they'll even notice FlightSafety is gone.