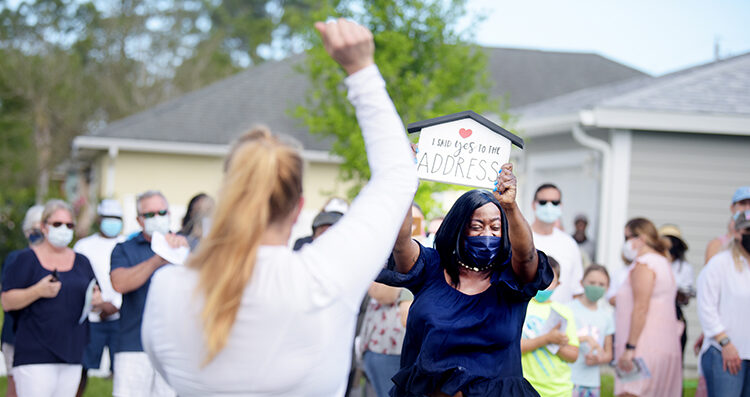 On Saturday about a hundred people gathered in the front yard of a new home on 11th Court Southwest in Vero Beach. Friends, family, students, parents, teachers, and participants in the Indian River chapter of Habitat For Humanity. They had come together to celebrate with Wanda Travis as she was presented with a new Bible and a set of keys to her new home. 
Travis is a familiar face to many people on the island. She works in the guardhouse at St. Edward's School so she is often the first face students see in the morning and one of the last when they leave. She is beloved by the parents and students as well as faculty and staff. Well known for her smile and her infectious dancing, which the rest of the island can experience when she is called on to direct traffic, Travis has built deep relationships with the "Pirate nation" since starting her job there in 2014.
Travis began this road with Habitat back in 2019. She was approved during the prescreening, filled out her application and got approval, but then the pandemic kicked in created certain delays. However, by June of 2020 she was beginning to work on the 300 volunteer hours required by the program. As part of the "hand up not a handout" philosophy of Habitat for Humanity a person must put in their own sweat equity; 150 hours can be donated by friends and family, but 150 hours must be completed by Travis herself. 
Travis finished her hours on Saturday, February 20, 2021. When the school found out what she was working toward, many of the staff, students and even parents signed on to donate as much as they could. Collectively they knocked out the 150 hours that were allowed to be donated in just a few weeks. 
Through it all, one of the greatest encouragers for Travis was a woman she met in 2015 at St. Edward's named Kimberly Thorpe. "I get to know the people who come through the gate personally," said Travis. "When she found out I was going to get a home, she stood by me from day one. She was always calling or sending me positive texts, checking in, asking how I was doing. On the Friday before she passed she was even more excited than I was. She was really wonderful."
Travis got to see Thorpe on Friday, February 19, when she came to pick up her son, who is a student at the school. "She met me as I was getting ready to close up. She was walking toward the guard shack; I was jumping up and down and we hugged. As she was walking away she said, 'I can't wait for next Saturday!'"
Sadly, on Sunday, Feb. 21, Travis learned that her long-time friend and supporter would not be able to be at the home dedication. Kimberly Thorpe, who was a successful broker associate with ONE Sotheby's International Realty on the barrier island, had passed away in the night that Friday.
As Travis and the St. Edward's community grieved, she knew she wanted to somehow include Thorpe in the dedication ceremony. So, Travis added her own piece to the day with a balloon release in honor of Thorpe. "This has been so sad. That's why I did what I did Saturday. She was part of our St. Ed's community. I wanted her to be there with us. I had to put her in there to say, 'I'm thinking about you girl!' I wish she could have been there in person."
Many others from the school turned out to cheer and celebrate this milestone in Travis's life. The strong emotions of the day were clearly getting to Travis as she told all those gathered that St. Edward's is not just her job, that they are her family.
At the conclusion of the ceremony Travis and her new home were blessed by a prayer from the Rev. John H. Barrett, the chaplain for St. Edward's. She was then given her key and a pair of scissors to cut the ribbon into her new home. "I am a person of faith. God has answered my prayer. There were times I wanted to give up, but I kept praying. As I turned in my application I kept praying, 'If it is meant to be Lord, it will be,' and as I handed it in my prayer was, 'Lord, it's in Your hands.'" 
Now, thanks to her own hard work alongside the many hands of help she received from St. Edward's, Wanda Travis is a homeowner. "My daughter is so proud of me!" she said. "I have a house I can call my own. My home. I have privacy, my yard, I can plant flowers to trees, or whatever. My favorite part is the front porch. When my daughter comes we will sit out there or maybe fire up the barbecue. 
"Now that I have my home, I'm going to become a [Habitat] volunteer," Travis added. "I was helped, now I want to help somebody."
Photos by Brenda Ahearn