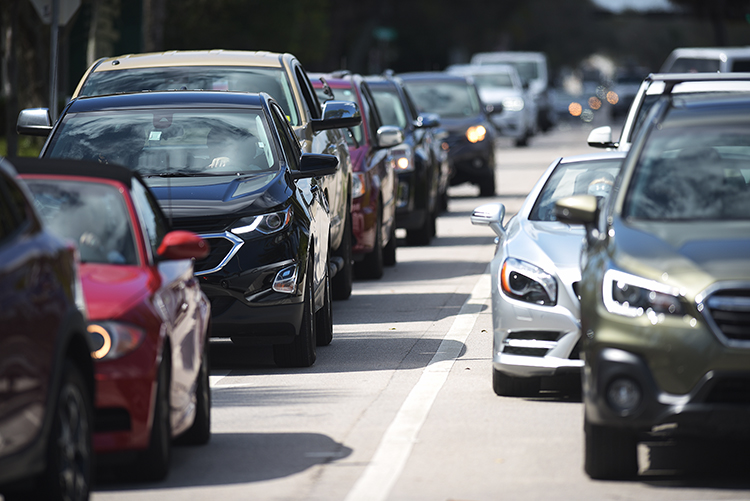 Vero Beach police officers wrote 1,052 speeding tickets in 2020, compared to only 696 the year before, but crashes are down considerably.
Which raises the question: Is the increase in citations the reason Vero Beach police responded to only 741 crashes in 2020 after being called to 968 the year before?
Vero Beach Police Chief David Currey believes there is a correlation.
"When you reduce drivers' speeds through enforcement, you hope the number of crashes goes down," Currey said last week after release of the Vero Beach Police Department's annual Traffic Crash/Enforcement Analysis Report.
"We issued a lot more citations for speeding last year, and the number of crashes dropped significantly," he added. "Also, when you reduce speeds, crashes tend to be less severe, and we had fewer crashes involving injury in 2020 than we did in 2019, too."
In fact, only 113 of the motor vehicle crashes in the city last year resulted in injuries, compared to 179 the year before. Fatalities fell from four in 2019 to two in 2020.
There was also a noticeable decrease in the number of vehicle-versus-pedestrian accidents from 24 in 2019 to 10 in 2020, as well as vehicle-versus-bicycle crashes, which dropped from seven to four.
The police crackdown on speeding on city streets included Currey's decision last year to add a third officer to the agency's traffic unit and, as the report states, embracing a "zero tolerance mentality" in enforcing speed limits – especially in response to citizens' complaints in areas known for speeding and, particularly, in school zones.
After issuing 49 speeding tickets in school zones in 2018, Vero Beach police officers wrote 141 in 2019 and 346 in 2020.
"When we say, 'zero tolerance,' it doesn't mean everyone that gets stopped is issued a citation," Currey said. "Our officers still can give warnings, depending on the circumstances, just as we did initially along Indian River Drive East and Live Oak Road.
"We do have details where there's zero tolerance," he added. "School zones are big areas for that, and for obvious reasons. But there's no mandate, no quota for writing speeding tickets.
"Whether to write a ticket or not is still left to the officer's discretion."
The 2020 report also identified the city intersections where the most crashes occurred, and there were no surprises – 17th Street and U.S. 1 jumped to the top of the list with 20, after being No. 2 in 2018 (24) and 2019 (20).
The intersection of Indian River Boulevard and the Barber Bridge moved into a three-way tie for the No. 2 spot last year with 17 crashes, the same number as U.S. 1 and 20th Street and U.S. 1 and 20th Place.
The boulevard-bridge intersection was sixth in 2019 (11) and fourth in 2018 (19). The worst intersection in both 2018 and 2019 was U.S. 1 and 20th Street, where a city-high 26 crashes occurred each year.
The report attributes the department's increased enforcement of speed limits in 2020 also to its use of traffic watches, more visible patrols in areas of concern, radar recording kits to identify problem areas where increased enforcement is necessary, speed trailers and electronic message boards.
"We've wanted to add a third traffic officer for a while, and we finally had the staffing opportunity to do it last year," Currey said. "But, really, our efforts involve all those other measures, too.
"As a police chief or sheriff – no matter where you are, not just Vero Beach – traffic is the No. 1 complaint you get from citizens," he added. "We talk to the community, and we try to respond to the feedback we get."
The department's traffic analysis report also revealed:
For the past three years, most motor-vehicle crashes occurred from January through April.
DUI arrests dropped from 55 in 2019 to 19 in 2020 – a decrease Currey said probably was the result of COVID-related closings and capacity restrictions placed on restaurants and bars last spring, more diners relying on take-out and home-delivery services, and more people using Uber and Lyft when they go out.
Tickets issued for motorists running stop signs dropped from 517 in 2019 to 318 in 2020; and careless driving citations dropped from 240 in 2019 to 135 in 2020.
However, Vero Beach police wrote 90 failure-to-yield tickets in 2020, compared to only 65 in 2019. They issued 93 citations for not wearing seatbelts in 2020, after issuing 131 in 2019.
Currey didn't venture a guess as to the increase in traffic volume, but he said he expects to see more vehicles on city streets every year.
"Vero Beach is truly a gem, and it has been discovered," Currey said. "More people are coming here, and more of those people are staying here. We're a city of 17,000-plus citizens, but that number swells to double – or even triple – our population at this time of year.
"The city is only about 13 square miles, but the county is growing, and those people come into the city to eat, shop, go out, go to the beach and do all sorts of things," he added. "That puts a lot more traffic on our streets."