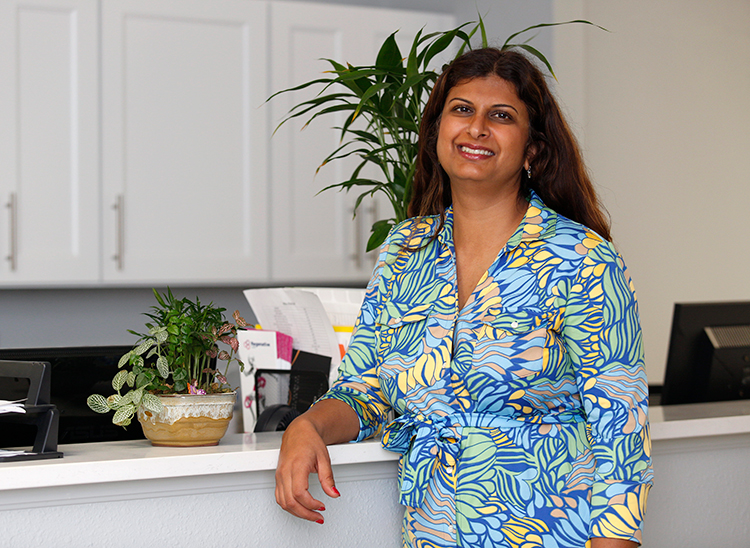 Platelet Rich Plasma (PRP) is changing the way doctors treat musculoskeletal injuries, arthritis, facial wrinkles and even hair loss, as new developments in the field of regenerative medicine make it possible to use your own body's growth factor to regenerate cells.
"PRP is using the power of your own body to heal your body," explained Dr. Alita Sikora, MD, a physical medicine and rehabilitation physiatrist. "We extract a small blood sample from the patient and spin it in a centrifuge to separate out the healing components (platelets with cytokines and other nutrients), and then inject into the area that needs healing.
"The specially prepared PRP concentrate contains 5-to-7 times the amount in your own blood and its natural growth factors stimulate your own stem cells to heal and repair. We are in essence making medication from your own body."
The basic process has been around since the 1970s and is one of the founding treatments in the field of regenerative medicine. It's been used in dentistry, wound care and plastic surgery, as well as for regenerative treatment for arthritis, tendinitis and muscle strains. High-profile professional athletes like golfer Tiger Woods, baseball player Takashi Saito and football player Hines Ward all have used PRP for wound healing in order to expedite healing and return to play.
"My specialty is physical medicine and rehab, so I've been treating joint and tendon injuries since I moved to Vero Beach in 2007," says Dr. Sikora. "I've used and continue to use traditional treatments like steroid injections and hyaluronic gel injections, and of course physical therapy. But the whole field of regenerative treatment is constantly evolving as an option for people who want a more holistic approach or for those who may have failed with regular treatment yet still want to avoid surgery."
PRP's entry into the realm of aesthetics is more recent. It has been used to combat facial lines, wrinkles, acne and acne scarring because of its ability to stimulate and grow collagen. The PRP is injected into the face through micro needling. While the idea of having injections in your face may sound uncomfortable, Dr. Sikora numbs the face with lidocaine with nerve blockers so that there is very little discomfort during the process. There typically is some slight post-treatment bruising.
"I recommend a series of three treatments a month apart with a booster treatment once a year," said Dr. Sikora. "The PRP stimulates your body to make more collagen, resulting in firmer, tighter skin and the reduction of fine lines and wrinkles. It also enhances skin tone and texture."
Now technology has made it possible for PRP to be integrated into a cosmetic serum, which Dr. Sikora says is "an amazing advancement. The patient's PRP is added to a skincare serum that can be used daily. I have one patient who had severe acne and had already tried facial peels and lasers with no results, yet when she used the SoME serum with her own PRP she saw significant improvement."
Just within the past few months, Dr. Sikora has started using PRP to treat hair loss. "We inject PRP directly into the scalp and it stimulates inactive follicles to become active. It takes what's already there and stimulates it to grow. It works on men as well as women. Female hair loss is different, and it responds very quickly. I recommend three treatments, but some will notice significant results after only one.
"There are just so many options with regenerative medicine," continued Dr. Sikora. "It's a growing industry and people are becoming more aware. I started this regenerative journey by taking classes in Ayurveda medicine and acupuncture. I went to India for several months to study and learn about it. I've always been interested in integrated medicine than can complement traditional allopathic medicine. That's why I opened my own integrated practice in 2017."
Dr. Sikora is currently participating in a national clinical trial for knee arthritis that employs another natural substance. The study involves a series of three Wharton's jelly stem cell injections into the knee done every 30 days, with follow up in between.
Found in the umbilical cord, Wharton's jelly provides conditioning, support and lubrication for the cord. That functional purpose makes it a perfect product for treating damaged joints. The high concentration of stem cells, growth factors, collagen, hyaluronic acid and anti-inflammatory cytokines effectively turns off inflammation and promotes regeneration of the tissue.
"Wharton's jelly comes from the umbilical cord of a live birth. It is not an embryotic product from a fetus" clarified Dr. Sikora. "The jelly of the umbilical cord is injected into the joint and the treatment regenerates cells in the cartilage. There's been an 85 percent success rate with the knees.
"Currently stem cell therapy is not covered by insurance, but if studies like this can prove that it does help with knee arthritis, then maybe in the future it will be covered. Stem cell on a knee is far less expensive than knee replacement surgery, so hopefully it will become the norm in the future."
Dr. Alita Sikora has built her practice around restoring her patients' quality of life, whether it be achieved through traditional or integrative medicine. Her office is located at 1255 37th St. B, in Vero Beach. To schedule an appointment, call 772-228-6882.