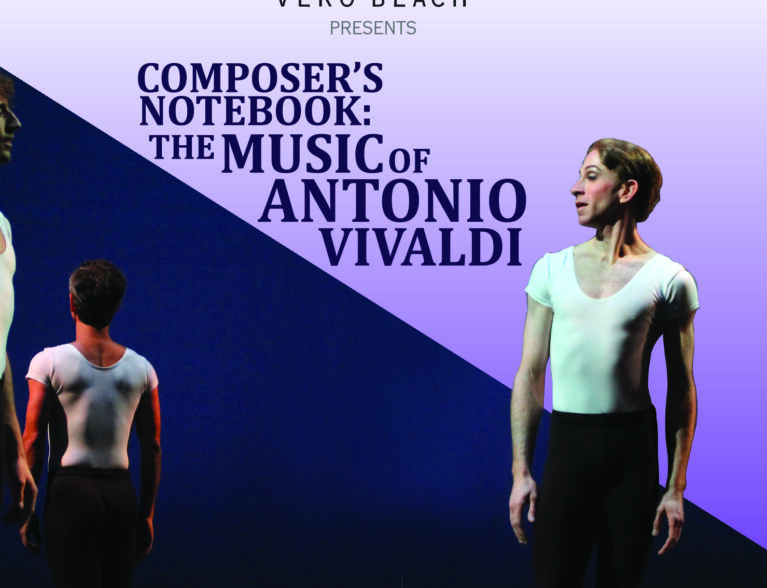 There's no doubt that Vero Beach art enthusiasts consider themselves lucky. While performances in cultural meccas like New York City are still not happening because of the pandemic, Vero Beach art providers are continuing to find safe ways to keeps the arts in our lives. Indeed, Ballet Vero Beach has been presenting both in-person and special "watch at home" productions, like this weekend's "Composer's Notebook: The Music of Antonio Vivaldi" ballet. Patrons are invited to mask-up, keep themselves socially distanced and be part of a reduced audience to thrill at "the dance." Or, for those who are still nervous about venturing out, they can watch in the safety (and pajama-friendly setting) of their own home. The performance is a second in the company's "Composer's Notebook" series. This one features three original pieces choreographed by artistic director/CEO Adam Schnell and one piece choreographed by Matthew Lovegood. The choreographers explore the intricate orchestrations in Vivaldi's masterful works. The live performance begins 7:30 p.m. this Friday, Feb. 26; and 2:30 p.m. and 7:30 p.m. Saturday, Feb. 27. The company's "Accessible Series," designed for the needs of differently abled individuals and their families, will present the performance at 2 p.m. Sunday, Feb. 28. All live performances will be held at the Vero Beach High School Performing Arts Center, 1707 16th St., Vero Beach. Tickets start at $10 for both live and recorded performances. Call 772-564-5537 or visit BalletVeroBeach.org.
Renowned presidential historian, international keynote speaker and Pulitzer Prize-winning author Doris Kearns Goodwin will be the featured guest at the Vero Beach Museum of Art's International Lecture Series next week. Goodwin wrote the New York Times bestsellers "No Ordinary Time: Franklin and Eleanor Roosevelt – The Home Front in World War II," "Team of Rivals: The Political Genius of Abraham Lincoln" and "The Bully Pulpit: Theodore Roosevelt, William Howard Taft, and the Golden Age of Journalism." Kearns Goodwin is expected to speak on momentous decades in American history, from the Industrial Revolution, the rise of the robber barons, the Progressive Era, the Great Depression and the two World Wars. The program begins 4:30 p.m. Monday, March 1. There are still tickets left for the simulcast, which will be presented at the museum. Those who want to remain at home can also take in the lecture via livestreaming. Tickets are $80 for museum members and $95 for non-members. The program will not be recorded, so if you buy a ticket for the livestream broadcast, be sure to set a reminder to be at your computer to watch. The Vero Beach Museum of Art is at 3001 Riverside Park Dr. Call 772-231-0707, ext. 123 or visit VBMuseum.org. Wear a mask and social distance, please.
Enough of this seriousness. Time to laugh it up. Best place for that is the Comedy Zone at Riverside Theatre. The stand-up comedians scheduled for this weekend are headliner Philly Plowden and opening act Nathan Wallace. Plowden has opened for big names such as Julio Iglesias and the late Robert Palmer, performed on "America's Got Talent" and has brought his good-natured, high-energy comedy to clubs around the country. Wallace was in the top 100 in the "World Series of Comedy" and in the finals for the "Florida's Funniest Comedian" competition. The shows begin 7 p.m. and 9 p.m. Friday, Feb. 26 and Saturday, Feb. 27. Tickets are $20. Get there early enough and you can enjoy the Live in the Loop free concerts. This weekend, "Collins and Company" will perform rock, pop, country, Motown and more on Feb. 26; "Jessie & the Thieves" will perform hits from yesterday and today, including those by the Beatles, Mumford and Sons, Billie Eilish and Bruno Mars. You can make table reservations for the Loop concerts or bring your own lawn chair. The bands will perform three sets, beginning 5:45 p.m., 7 p.m. and 8:15 p.m. Food and drinks will be available for purchase at both the Live in the Loop and Comedy Zone performances. Riverside Theatre is at 3250 Riverside Park Dr., Vero Beach. Call 772-231-6990 or visit RiversideTheatre.com. Wear a mask and social distance, please.