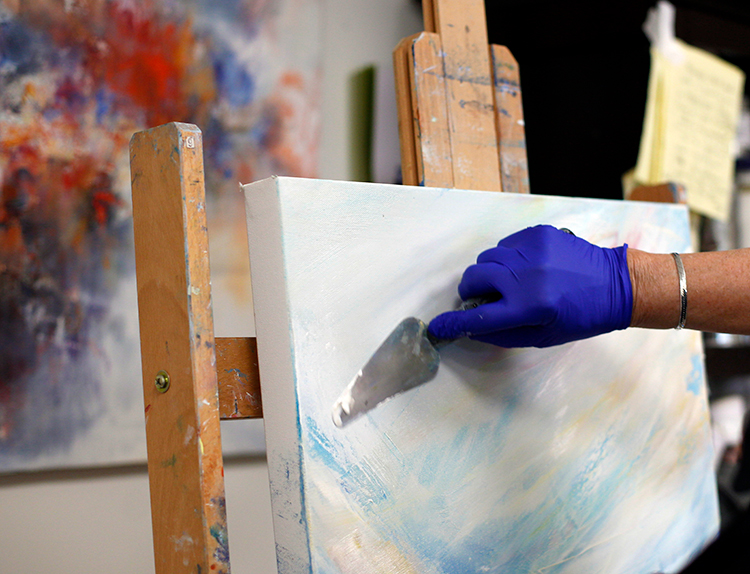 Vero Beach artists Dr. Elise Geary and Ernestine Vicari Stafford have a lot in common. Both were raised in Michigan and have retired here, enjoying Vero's casual and uncongested appeal.
Each has had substantial German influences in their lives, and they have both been accepted into the 15th annual "100% Pure Florida" juried art show at the Fifth Avenue Art Gallery in Melbourne this March. They are two out of 45 artists chosen from around the state for the exhibition.
There, however, the comparison stops. While Stafford is drawn toward more representational art, focusing heavily on seascapes and images of boats, Geary paints abstracts with a heavy focus on the feelings evoked by various topics.
"Rather than paint the wave, I'm trying to depict what you feel," says Geary, an owner/artist at Ocean Drive Gallery. "The mass of that wave. The strength of the breeze. The moisture in the air. The wetness of the sand."
Indeed, for her 36-by-36-inch oil painting "Phoenix Rising," which will appear in the show, Geary found inspiration in September, when news of the vaccine was coming out after the bleakness of the pandemic that had changed our world.
"I can't say I was depressed," she says. "Things were just kind of getting to everybody, including me. One day I was ready to paint … I felt hopeful. There was sort of that blue flame of hope in the middle of a better day."
Intriguingly, the emotional aspect to her work belies her Swiss/German upbringing (her first name, Elise, is pronounced "Ay-lee-zeh") in the academically informed Weinrich family. She can't recall a time when there was not a foreign exchange student staying at their house.
Her parents were so no-nonsense that they allowed their daughter, who was about to turn 14, to take advantage of a rare invitation from the Cranbrook Academy of Art in Detroit to attend its life drawing class, a study technique employing nude models.
Yet, while Geary loved to paint, she chose to pursue a career in dermatology, because she feared she would have trouble supporting herself as an artist. While completing her residency at Duke University School of Medicine, she met her husband, Leon Geary, who was studying pulmonary medicine.
The couple had built their careers in Durham, N.C., and her parents moved from Michigan to Chapel Hill to be close. After her father died, Geary took her mother, who had once painted watercolors, to an art class.
"I became re-addicted to art and knew that I would do this more and more, and that it would be a second career as soon as I quit practice," says Geary.
They remained in North Carolina for 30 years before moving to Vero Beach, which they discovered on a golf trip.
She says they appreciated that Vero was quiet and uncrowded, adding "we could park by the boardwalk, walk on the beach. I said this is just perfect. The restaurants were small and good. It was just wonderful, not my bad stereotype of Florida."
Geary and her husband built a home on Vero's barrier island and moved here full-time in 2010. She worked part-time for a while and in 2015 took up the paintbrush once again.
She loved her medical practice and is still happy to answer friends when they ask her about a spot on their skin, but she cherishes her art-filled days – whether actively painting or even those times when she produces nothing. And that surprises her.
"Being an artist has really enforced that the contemplative time, the down time, is just as critical," she says. "That's just as important. Georgia O'Keeffe once didn't paint for three years and went back to it with a vengeance."
Geary prefers to paint large and favors working in oils on canvas. She says she tried acrylics, but their fast-drying characteristic did not fit with her style as an artist who likes to blend colors into an "atmospheric" impression. She uses brushes, a palette knife and even spatulas to get those bursts of energy and vibrant colors onto her canvases.
"I just used the analytical side for decades," Geary explains. "It was like I had been in a desert and here was my oasis."
Stafford, too, knows all about that "oasis" feeling. She was raised in Lake Orion, Mich., on the outskirts of Detroit, and says the water and boating is in her blood.
"I used to disappear and take my sketchbook with me," she recalls. "It was like camping on the water. I would go over to some lonely dock and sit by myself and paint."
In fact, the artwork that gained her entry into the "100% Pure Florida" exhibit is "Top Mast," a 33-by-39-inch collage of a regatta of sailboats, their mainsails filled with wind.
Although representational, there is an abstracted quality to the collage that imparts a sense of movement and excitement.
"Collages are very freeform and semi-abstract," says Stafford. "Collage offers you the opportunity to create without any boundaries. It takes on a life of its own."
Stafford says that she began teaching art to stay busy when her first husband was sent to work for two years near Heidelberg, Germany, on the banks of the Neckar River.
Later, they moved to Florida and settled in Punta Gorda, on the state's west coast. While there, she showed in exhibits from Fort Myers to Sarasota and had a small business creating greeting cards of the area's lighthouses and historic scenes. Her work was in 20 gift shops, galleries and art centers and, when not painting, she again taught art.
Stafford remarried after her first husband passed away and the couple eventually made their way to Vero Beach. Like Geary, she had been attracted to the town's casual appeal.
She says she still finds herself drawn to the water – in this case the ocean – and takes walks along the beach almost daily.
She recalls that receiving word that she had been accepted into "100% Pure Florida" was a wonderful moment.
"I was excited, absolutely," she says. "I want people to feel good when they look at my art. To see it and feel happy."
The 15th annual "100% Pure Florida" juried exhibition runs March 5 to March 27 at the Fifth Avenue Art Gallery, 1470 Highland Ave., Melbourne. Hours are 10 a.m. to 5 p.m. Monday through Saturday.
A reception is planned for 5:30 p.m. to 8:30 p.m. Friday, March 5 during the Eau Gallie Art District First Friday Art Walk. Awards will be announced that evening at an outdoor ceremony. Call 321-259-8261 or visit FifthAvenueArtGallery.com for more information.
Photos by Kaila Jones