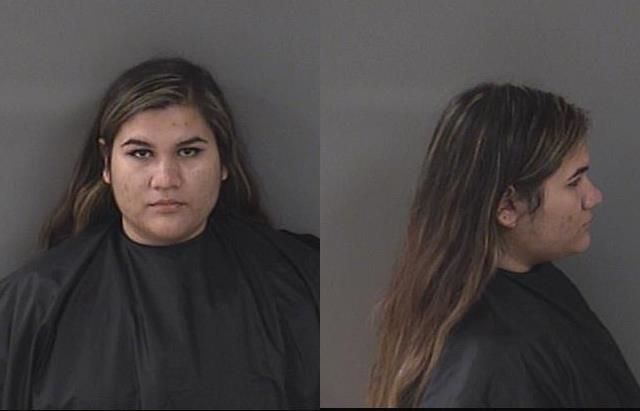 INDIAN RIVER COUNTY — A 19-year-old motorist was jailed after deputies said she struck a bicyclist with her vehicle late Monday and did not stop or call 911.
The driver, Isabella Elania Claudio, eventually returned to the scene about 30 minutes after the wreck, reports show.
The bicyclist, a man, suffered a gash on his forehead and a possible broken leg, reports show. The man lost consciousness and was taken by ambulance to Lawnwood Regional Medical Center & Heart Institute in Fort Pierce with traumatic injuries, sheriff's and fire rescue officials said.
Deputies arrested Claudio, of the 1400 block of 22nd Avenue, Vero Beach, on charges of no Florida driver's license and leaving the scene of a crash involving injury without rendering aid. Claudio was held Tuesday at the Indian River County Jail without bond.
Indian River County deputies responded to reports of a vehicle leaving a crash scene about 9 p.m. in the 2100 block of 58th Avenue, north of State Road 60. Deputies arrived and saw the bicyclist lying in the middle of the roadway.
A witness told deputies a Hyundai driver continued traveling southbound on 58th Avenue and then fled westbound on S.R. 60 after the wreck, reports show. Deputies said the Hyundai Santa Fe came back to the scene about 9:30 p.m.
Claudio admitted to deputies she was driving the sports utility vehicle during the crash, which happened just east of Wells Fargo Bank. Claudio said the bicyclist darted out in front of the SUV, causing her to press the brakes, but she was unable to avoid the collision, reports show.
Claudio told deputies she drove to a nearby CVS parking lot and then to her friend's house. Deputies asked Claudio why she did not call 911 at a business or at her friend's residence, and she could not give an answer, reports show.
Deputies booked Claudio in to the county jail. Claudio has an arraignment at 8:45 a.m. March 26, court records show.